Screening start from November 2012 throughout 2013 around the world!
DOTMOV is a digital film festival organized by online magazine "SHIFT", aiming to discover unknown talented creators and provide an opportunity to show their works. We had a total of 194 works from 16 countries this year, and an excellent 13 works among them were selected by guest judges. All the selected works are also presented on the website.
This year's festival will take place in several cities in Japan and overseas from November 2012 throughout 2013.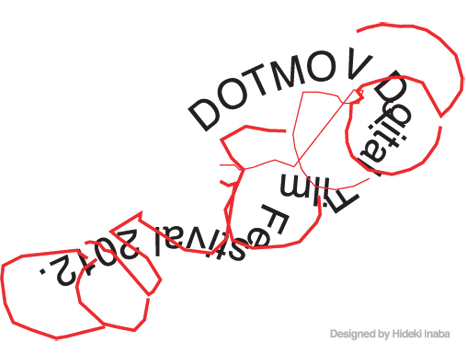 SCHEDULE

11/01 – 11/03__Sapporo, ATTIC
11/01 – 12/30__Sapporo, CAI02
12/08 – 12/21__Sendai, book+cafe BOOOK (Tohoku University Cooperative)
11/16 – 11/28__Tokyo, TOKYO CULTUART by BEAMS
12/01 – 12/28__Shizuoka, CCC
11/07 – 01/29__Osaka, Umeda Hankyu Department Store
11/28 – 12/12__Osaka, digmeout ART&DINER
11/01 – 11/11__Kyoto, Cafe Independants
01/25 – 01/27__Fukuoka, konya-gallery
11/12 – 11/24__London, ICN Gallery Cafe
11/15 – 12/15__Bali, Celebrating Openness at Wisnu Open Space
12/01 – 11/00__Stockholm, Revenue S:t Eriksgatan 79
11/10 – 12/12__New York, Zakka
12/13 – 01/31__Los Angeles, Norbertellen Gallery
01/30 – 11/00__Melbourne, Federation Square
02/01 – 02/15__Sydney, Koskela's store
02/02 – 11/00__Rio De Janeiro, TechArtLab at Bhering Factory
11/13 – 11/00__Kuala Lumpur, Design Weekend 2012
03/23 – 03/31__Kuala Lumpur, Visual Graphic Art festival
04/02 – 04/30__Shanghai, Q Italian & Wine

SCREENING PROGRAM Click image to see movie.

SUPPORTING MEDIA

Creative Manila, designboom, IdN, Japan Design Net, Netdiver Mag, REVOLUTIONART Magazine, SUPERIOR Magazine, TOKYO CULTUART by BEAMS, Web Designing, 登竜門, 10magazine

<!- Rubicon OS Player -->