This is an architectural unit that's been crossing borders on solid footing.
Koichi Suzuno and Shinya Kamuro established TORAFU ARCHITECTS in 2004. The two have undertaken architectural design and spatial design of course, but also architecture-based projects ranging from exhibition space layout to furniture, products and installations, to theatre design. In February 2012, "TOKYO FRONTLINE 2012" was held for a second time, where TORAFU and Gallery deux poissons, a supporter of the Japanese contemporary jewelry market and jewelry artists, collaborated on "gold wedding ring." I had the opportunity to talk with the two partners of TORAFU ARCHITECTS who have been progressing in the design world on very solid footing, but with much flexibility.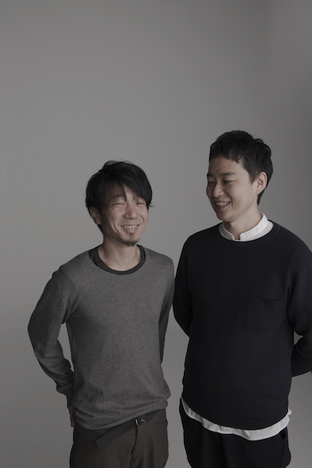 Photo: YOSHIAKI TSUTSUI
You're originally from Kanagawa and Shimane prefectures, respectively. You went to different universities and graduate schools, worked at different firms. How did TORAFU come about?
Kamuro is a younger classmate of a former colleague of mine at Coelacanth K&H, where I worked right out of school. I was introduced to him, and we went out together, and occasionally ran into each other at open houses full of other architects, but that was about the extent of our meetings. A few years later, when the job for "Claska" came up, I was helping out with many other projects, and couldn't concentrate on that one job, and needed someone to help me. And pretty much by coincidence, Kamuro became my partner.
This first project together went very well, and it was extremely enjoyable, too. That project eventually led to the project for Claska's rooftop renovation. We decided to team up again, and jobs led to more jobs, and it's been eight years before you know it. We never decided to start working together, but our partnership developed very naturally.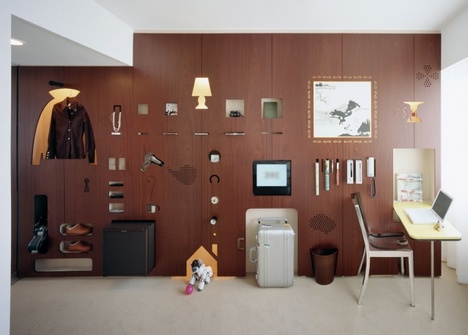 Template in Claska, 2004 Photo: DAICI ANO
I heard that the project was a catalyst, and your work ideas changed after the Claska project.
With the Claska project, we worked in a very small space, and the effect that objects in the room had on the space was big. We were working with items that had to fit into the room. In fact, we began by taking out all the objects, by taking everything apart, and then planning on how to fit everything inside.
The final outcome is a mural that is also furniture, architecture, and a product. The project forged a new relationship between objects and architectural space.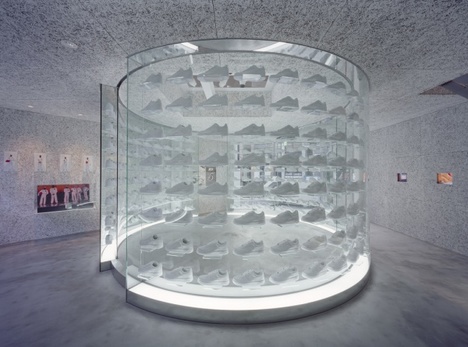 NIKE 1LOVE, 2007 Photo: DAICI ANO
How do you two balance out a project's functionality and its design factor? Is there some sort of criteria or rule on which you rely?
We're architects, so first we organize the conditions. Requests from the clients are part of these conditions. But if it's an architectural project, the conditions of the construction site could be more influential, so understanding these factors is the first major task. Afterwards, issues, inconsistencies, and relationships begin to appear, and the central "problem" of the project becomes apparent. It is only then that designing becomes possible.
We can make convincing design suggestions as solutions to these hurdles. If the basic "requirements" are met, we can satisfy the client. Standards of what we want to see or what we want, our own tastes gradually appear in the project. That's probably the right amount of personal voice to appear in clients' projects.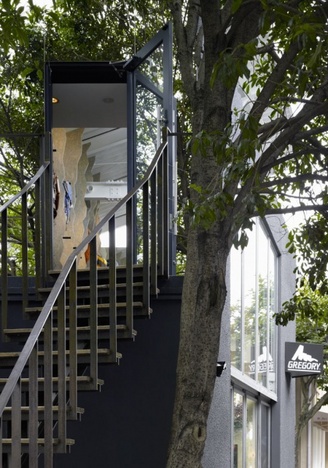 GREGORY TOKYO STORE, 2008 Photo: DAICI ANO
Our design preferences rarely lead our projects. So it's sometimes more difficult for us when we receive a simple request like, "please make a beautiful chair." In such cases, we take an "unraveling" approach by visiting actual production factories, for example, and imagining themes like "chairs that can only be used on a terrace," to restrict our conditions, like on an architectural site. Specifying certain conditions can help us see solutions, so even on projects where we have creative freedom, we will create restrictions.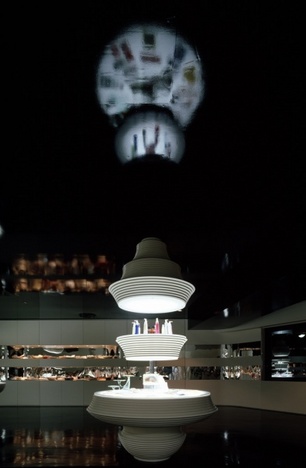 SPINNING OBJECTS, 2004 Photo: Nobuaki Nakagawa
Architecture is a profession that takes money from clients, and transforms it into a certain shape. Clients, too, even if they're using their own property, cannot completely ignore the influence their site will have on the surrounding landscape and neighborhood. We make suggestions based on these senses of orthodoxy and necessity. Buildings are also constructions that last for decades, so we don't force our opinions on a structure's use to those who will actually be using the buildings. We leave room for flexibility, to allow the user to find his or her own way of enjoying the site, so we always try not to complete a project, and leave room for that flexibility.
This style is also reflected in our non-architectural projects as well. For example, "airvase"—which we created imagining air—isn't a product that we presented saying, "this is its shape, please look at it." Instead, an important element of this product is its ability to allow people to change its height and size.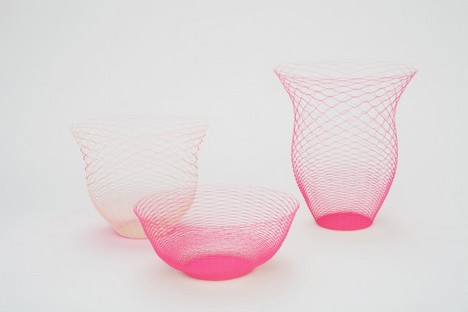 airvase, 2010 Photo: Fuminari Yoshitsugu
Do the materials you use inspire you?
Absolutely. We are very interested in materials, and always keep piles of them in our office shelves. Before, we spoke about using conditions or restrictions as hints for solving problems. Gazing at materials, and imagining what interesting items or spaces could be made solely out of a certain material is another approach.
You have undertaken many renovation projects like Claska, the FREITAG store, and the Nike office. Do you think the "shifting perspectives" approach, as seen in your methods of creating restrictions and leaving room for flexibility, is a viable approach for renovation projects? 
We live surrounded by things. In such conditions, we constantly try to explore ways of changing our perspectives. Oftentimes, we have to work under many restrictions, so that can sometimes give us a sense of purpose.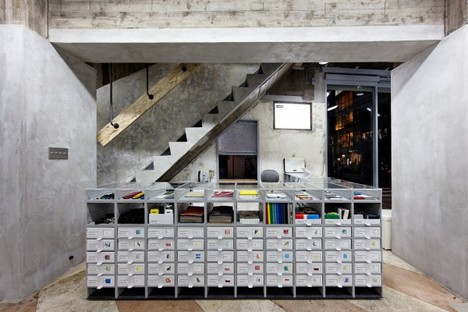 FREITAG Store Tokyo, 2011 Photo: Sebastian Mayer
In the FREITAG store, for example, straws and tags remain on the exposed construction beams. I heard that this is because you reused some of the original construction materials.
That's correct. Such decisions are very big. While work is under progress, we have to stick "to keep" tags on things we don't want touched, or else workers will clean everything up. We have to think about what to renovate and what to keep with a clear perspective. It is very important to consider the balance of new and old items. Even painting over something is not always about hiding what already exists.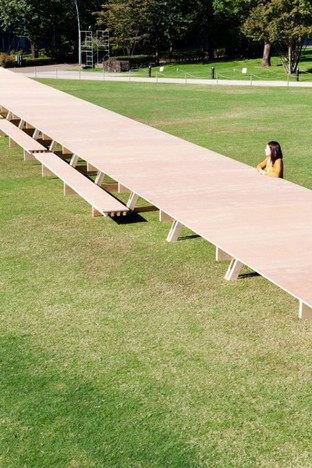 Gulliver Table, 2011 Photo: Fuminari Yoshitsugu
Your recent work, "koloro-desk / koloro-stool" is a product, but also seems to be an artwork.
We collaborated with a structural designer for the Gulliver Table. It was very difficult to make the table larger while keeping its dimensions. If you use fewer members, the construction materials will need to be bigger, and the price of each piece will increase. But using too many members will make its construction more difficult. These are the issues we kept in check as we progressed on this project.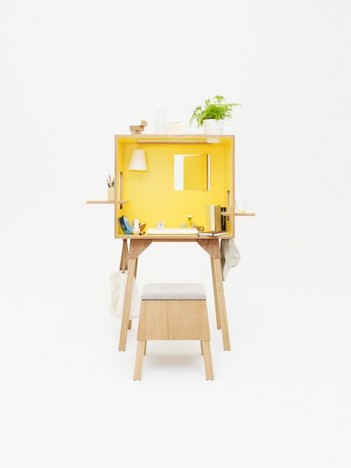 koloro-desk / koloro-stool, 2012 Photo: Akihiro Ito
Your recent work, "koloro-desk / koloro-stool" is a product, but also seems to be an artwork.
It's more like a house that is also an interior. Instead of giving your child his or her own room, you can have this piece in the living room, and your child can make his or her own desk space or hide inside. That was the idea behind this product.
Our client, Ichiro Inc., makes different colored polyboards, starting from just one piece. In a way, this product makes the most of the boards' colors.
It's simple, but just by sticking your head into the vivid colored space, the world changes before your own eyes. We thought it would be the smallest unit of space to work in.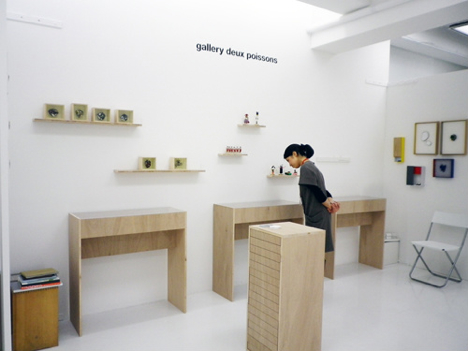 TOKYO FRONTLINE 2012 gallery deux poissons booth
At February's "TOKYO FRONTLINE 2012," you presented a collaboration ring with "Gallery deux poissons"—one of the exhibiting galleries. Can you tell us the story behind this project?
When I was working at an architectural firm in Melbourne, Australia, the owner of "gallery funaki"—a wonderful contemporary jewelry gallery—introduced me to a similar gallery in Japan. That was "gallery deux poissons." That's how I met the gallery director, Mr. Mori.
When I saw the pieces at "gallery funaki," I was surprised to see "jewelry that manifested 'an idea itself'!" and was extremely interested in them. In Japan, jewelry pieces are handled based on their material value, like gold or diamonds. But the pieces I saw at "gallery funaki" were valued, and sold at a very high price. They were jewelry made of paper, for example. It was a very interesting world.
For our project, Mr. Mori asked us to think of a wedding ring. We actually visited his gallery, saw the other wedding bands handled by the gallery, and started sketching right there at the gallery.
We decided on the direction of our project at our very first meeting. Since a wedding ring is something that will be worn forever, we were leaning towards gold or silver when we came up with the idea of using both gold and silver.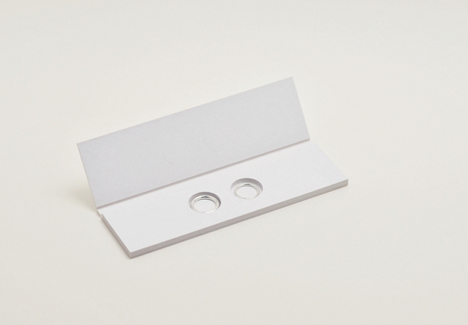 gold wedding ring
It's silver at the beginning, but as you wear it, the base layer of gold begins to appear. In architecture and interior design, we leave room for flexibility so that the space gets better as it gets used. For this ring, we wanted the couple wearing it to enjoy it as the years progress, instead of worrying about scratches, so that the piece itself can be a reminder of the time shared between the two.
I thought it was an interesting piece; someone who wore it all the time would get to the gold part faster, and someone who rarely wore it would have a silver ring for a long time.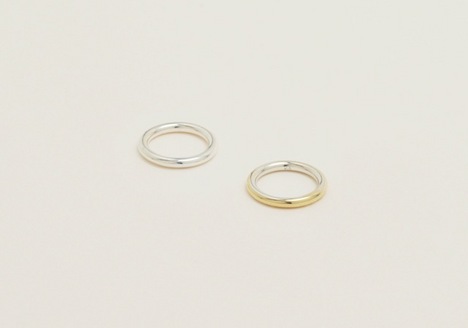 gold wedding ring
Mr. Mori said that it was intriguing, because covering gold with silver plating is very unusual. The gradation that emerges when the two colors appear together is difficult to create artificially. But easily creating this gradation, or "the co-existence of the two," by simply wearing the ring is an interesting approach. There are two designs to the ring. They will transform differently as well. The one with edges will probably start to wear from the rims, and the sides will probably remain silver fro a long time. Regarding sizes, we consulted with Mr. Mori, so that it made the right statement compared to other contemporary jewelry. We thought that there was little Mr. Mori didn't know, so we carried out this project guided by the concept that "it should be a design that Mr. Mori would find interesting."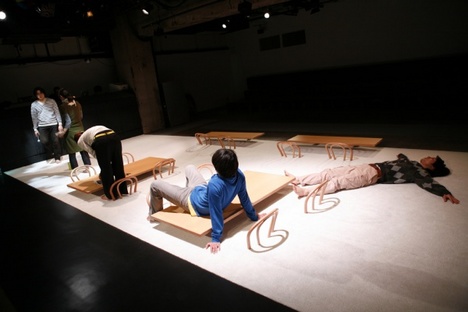 CHELFITSCH "FREETIME", 2008 Photo: Toru Yokota
It seems like you often construct exhibition spaces as well. Are you intrigued by the concept of "for a limited time only"?
Yes, it's interesting. In architecture, a work lasting for a very long time is a given. So, at first, the idea of a space disappearing after a short time seemed too ephemeral and futile. But after doing the stage design for "Pappa TARAHUMARA" and the theater unit "CHELFITSCH," our thoughts on such projects changed.
We realized that even architectural works that are built to last for 10, 20, or even 100 years are sometimes torn down. And after they disappear, people don't remember what stood on that plot. In theater and other performances, you know from the start that there's an end. Rehearsals are held for six months for a one-day performance. Actors hold part-time jobs during the day, and meet at night to rehearse. At first, we couldn't understand how they could keep going under such hard conditions.
Mr. Okada's (Mr. Toshiki Okada, director of "CHELFITSCH") directions during rehearsals were so specific that we couldn't tell the difference. They would do the same scene over and over, and the actors would re-memorize the script, which was constantly being rewritten on the spot.
But their experience up to the day of the performance was a process towards "something that is remembered even for that one day." It was a concept that I had never encountered.

Pappa TARAHUMARA " PunK・Don Quixote ", 2009 Photo: DAICI ANO
You participated in a related workshop the other day.
That was a really good experience. A very memorable exercise was putting a pen that you were holding, for example, on the ground, and picking it up, but very slowly. You were told to spend five minutes on picking it up, and not only five minutes, but the longer you spent to pick it up, the better it was.
You would also stretch out your leg, pick it up, and bring back your leg. It was that simple, but it was really slow, so your leg would start to shake. You began to wonder how you usually moved your hand. Our talk show was supposed to precede the workshop, but we wanted to experience Mr. Koike's (Mr. Hiroshi Koike, director of "Pappa TARAHUMARA") workshop and include it in our talk, so we switched the order. The experience required a degree of emptiness.
For someone who had been told to "think through" everything, it was a fresh feeling to be told "not to think." It made us wonder if we hadn't been thinking, or maybe not thinking too much and taking our "five senses" for granted.
Can you tell us what's coming next?
First, "airvase" and "tapehook," the two product series that we have been presenting as "god's tools," will have a third series. It will be unveiled at the "shashinshiko exhibit" during Interior Lifestyle Tokyo, to be held at Tokyo Big Sight in June.
In April, a picture book titled "TORAFU's Small City Planning" (Heibonsha Ltd., Publishers) will be published. This book was produced, because we wanted to "suggest a different way of looking." Looking at a city from a slightly different perspective, for example, can change your world drastically.
If there are 100 people, there are probably 100 different perspectives, and just walking around a city with a map will probably alter your perspective. If that map indicated the location of a hidden treasure, for example, we wanted to show how your usual city suddenly transformed into a new playground. If it were a vegetation distribution map, you can see that one park had trees from which you could get fruits, so you might want to go there.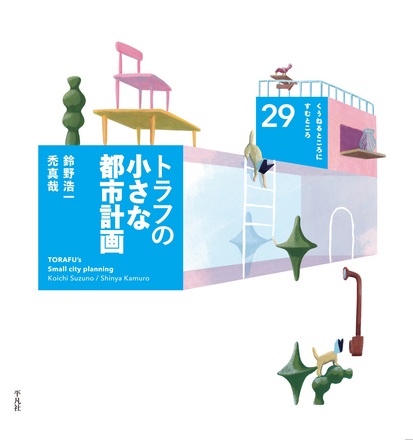 A special pair of glasses comes with the book as a supplement. Through these glasses, the world inside the book appears fluffy as if everything is floating. This allows the reader to experience a "different perspective," as suggested in the book.
Today, an urban setting is almost a given for us, but instead of just changing the interior of your own home, your relation to the same city becomes completely different by looking at the same city from a different perspective.
For example, we built a bookshelf on the outside wall of Nanyodo (an architecture bookshop). It is a simple piece that can be put away on rainy days, but by having such walls facing out towards the city, people will stop and pick up a book. The wall also becomes a shared space, and a part of public space, which can link to the city.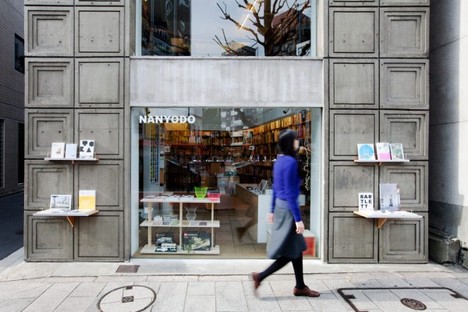 NANYODO SHELF, 2011  Photo: Fuminari Yoshitsugu
Incidentally, the street that appears on the last page of "TORAFU's Small City Planning" is an actual street close to our office. A railroad line that used to connect Fudo-mae and Musashi-Koyama stations became a subway, so the original above ground track became a pedestrian path. But this path has only been used as a regular street. This image shows TORAFU's idea for this street.
There is a Gulliver Table and "Decks" on the handrails along the path. Since the rails are no longer there, houses don't have to turn their backs on this street anymore, but they can have large windows facing it, and use the walls as projector screens. The houses can even have drive-through windows in their walls, like in our FREITAG store.
We hope to continue pursuing ideas that will encourage people living in neighborhoods and visitors to become more involved and communicate with their city.
※The above-mentioned collaboration ring with gallery deux poissons will be on exhibit at "ART FAIR TOKYO 2012" to be held from March 30th. "Deck," which was co-created with Ishinomaki Kobo (Ishinomaki factory) will be produced and sold as "SKYDECK," and will be on display and sold at the Herman Miller Store, among other shops.
TORAFU ARCHITECTS Inc.
Address: 1-9-2-2F, Koyama, Shinagawa-ku, Tokyo 142-0062
Tel: 03-5498-7156
torafu@torafu.com
http://www.torafu.com
Text: Noriko Yamakoshi
Translation: Makiko Arima

[Help wanted]
Inviting volunteer staff / pro bono for contribution and translation. Please
e-mail
to us.