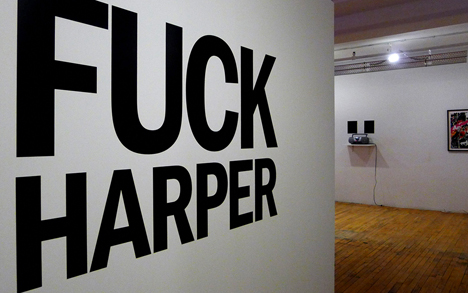 Photo: Kevin Lo
Before entering the exhibition space of SKOL in Montreal, one can see from the hallway a large typographic print: 'FUCK HARPER', a message that becomes a salute from Artivistic's debut exhibition – Promiscuous Infrastructures (Phase 2) (PI2). The welcoming message pretty much represents the collective's politics – everything that Stephen Harper, current Prime Minister of Canada, wouldn't approve.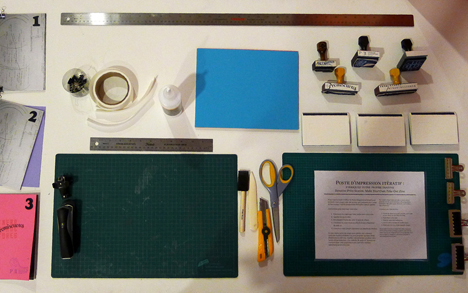 Photo: Kevin Lo
As described in the introduction text, PI2 is "a hybrid between a creative lab, a radical documentation centre and an experimental exhibition." The sizeable space is designed into four separate yet conceptually interlinked areas (a print workshop for making zines, a research library, a meeting space, and a dining room). Developed through a five-week residency, PI2 contains Artivistic's materialised research practice, which focuses on the investigation into autonomous infrastructures and ways in which creative life exists in our contemporary society. Also serving as creative space for public participation, the exhibition features several projects that are largely inviting.One part that validates Artivistic's effort to inspire creativity is the zine production station where visitors are provided with tools, materials and guidelines to make their own zine. On a large desk copies of a wide selection of text and images with a variety of content related to the idea of reform are laid out. A photocopier, markers, glue, cover pages, anarchistic stamps, and binding instruction are available. The inherent political, personal, and artistic nature of zines reflects well what Artivistic wants us as audience to do. Instead of telling us what reality should look like, the entire set up encourages us to create our own ideals.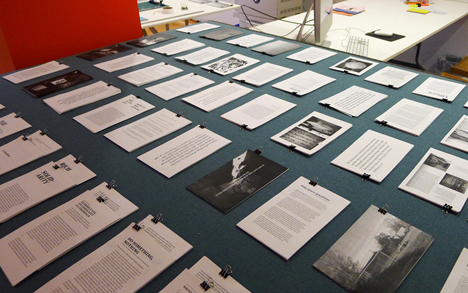 Photo: Kevin Lo
Opposite of the print workshop, which is filled with intellectualism, democracy and creativity (and at times a soundtrack – Wu-Tang Clan's C.R.E.A.M., played through a stereo), we see an installation of another action-oriented project: a partition on which orange-colored forms are hung, the logo of 'Awesomest Inc', an introduction and instruction for participating in the project, and a pink piggy bank standing on a white plinth. Rebelling against the arts funding system, Artivistic wittily invites visitors to submit project proposals (and $1 entry fee which is asked to insert into the piggy bank) to the 'Awesomest Foundation' to win a randomly drawn prize of CAN$500. I find the self-served submission process builds on a high degree of trust, emphasizing the collective's belief in community and autonomy.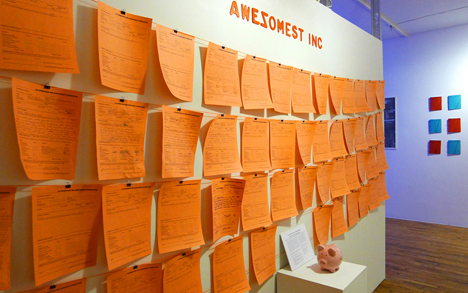 Photo: Kevin Lo
Walking into the dining room of which above the doorway writes "If we can't see our way through this space / we're in trouble…" one can see traces of the 'in-progress' nature of the exhibition. Three hot dog paper trays on an empty dining table, a coffee machine and white sugar cubes at the corner of the room, a thin poster that says "Since all the cash in the world can't save us / Let's give up on money altogether" are visible to all entering the room. Such message creates an ironic contrast with the street view that is seen right through the windows. Neon signs on the busy street of Rue Sainte-Catherine urge us to reevaluate the option to live a life against capitalist hegemony.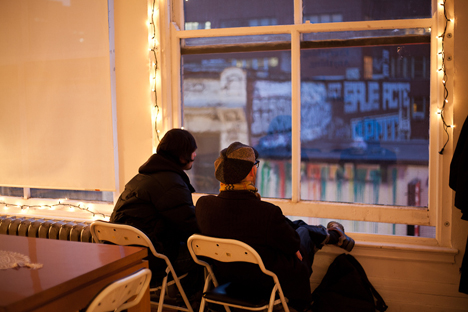 Photo: Thien V. Qn.
While the success of the exhibition relies heavily on process and participation, the visual qualities are nonetheless a highlight. Quotes and slogans of hopes and despair, ideals and revolts are embedded in the exhibition with heavily designed typography. The abstractness of these text serves as a poetic thread that interconnects all four spaces. Details from the style of furniture to the type and color of notepads used in the meeting room are well thought out, assembling a cozy and accessible environment to stimulate creativity and reflection.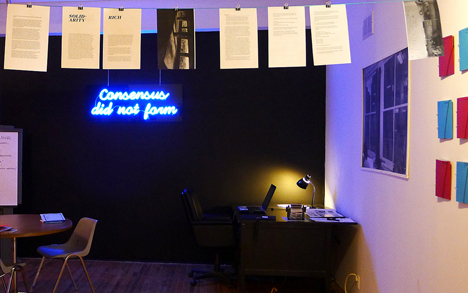 Photo: Kevin Lo
In addition to creating space that contains representation of anti-capitalist ideologies, the exhibition also presents findings of Artivistic's research on Montreal-based organizations and collectives, which are formulated into a '3D cartography project'. Groups such as Eastern Bloc , CRUM, nomorepotlucks and SKOL itself "were invited to participate in a self-mapping project by answering a series of questions of their choice pertaining to desires in relation to working as a group, collective, collaborative or small organization". Answers to the questionnaire from the thirteen groups are divided into six categories: Representation, Circumstance, Desires, Micropolitics, Work Conditions, Strategies & Tactics.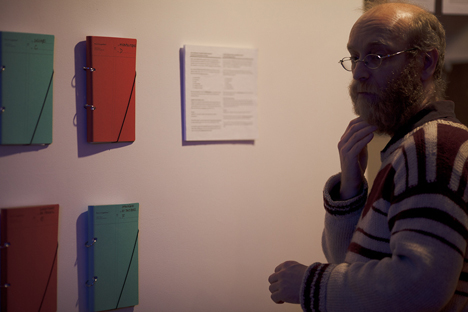 Photo: Thien V. Qn.
Visitors are invited to locate the content presented in the six binders by looking up keywords in the index. I took some time to read through the binders, finding a lot of the same content appearing under different categories. Such experience uncannily echoes with the blue neon sign on the other side of the room that says 'Consensus did not form'. Although slightly confused, I felt deeply engaged by the participation aspect of the project, which pulls the concept of 'tagging' from the online world to the physical world, requesting actual actions from the audience, referring back and forth between the index box and the binders.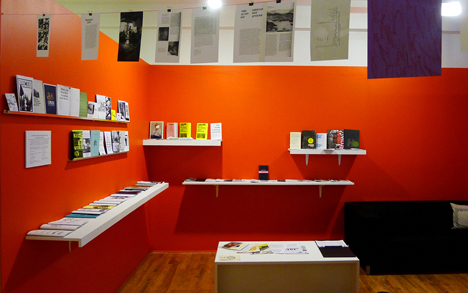 Photo: Kevin Lo
Suggesting the intersection and merging of various disciplines, PI2 focuses on evoking active participation that includes almost everyone from the general public. While some in the art world advocate elitism, Artivistic, after some years of organizing large-scale events since its formation in 2004, explores the format of research and experimentation on designing autonomous systems to give voice to those who are not used to claiming space. PI2 is not only a presentation space of Artivistic's creative process, but also a hub to facilitate creation, hence creating more evidence of process. By marking the end of the exhibition with a research library where visitors are free to borrow whatever publication is available by simply signing a check-out sheet (without any kind of supervision), it seems that the attitudes Artivistic holds carry strong ties to the idea of free education, a concept also lauded by the ongoing revolutionary student movement in Montreal. After viewing and participating in all parts of the exhibition, I feel even more solidarity with the writers of the message to Harper on the way out.

Photo: Thien V. Qn.
Artivistic is currently in transition, experimenting ways of being perpetually creative within a hostile political and economic context. From 2004 to 2009, the Artivistic collective organized thematic events including four large-scale, international and transdisciplinary gatherings on the interPlay between art, information and activism, bringing together diverse artists-organisers and other thinkers & makers. Artivistic emerges out of the proposition that not only artists can talk about art, activists about activism, and academics about theory. Artivistic aims to inspire, proliferate, activate.
Promiscuous Infrastructures (Phase 2)
Date: March 9th – April 14th, 2012
Opening Hours: 12:00-17:30 (Saturday till 17:00)
Closed on Sunday and Monday
Place: SKOL
Address: 372, rue Sainte-Catherine Ouest, Montreal
Tel: 514-398-9322
Text: Alvis Choi

[Help wanted]
Inviting volunteer staff / pro bono for contribution and translation. Please
e-mail
to us.