"Do androids dream of electric shrimp?"
The exhibition by costume designer, Christian Joy who works on costumes of Yeah Yeah Yeah's charismatic singer, Karen O at DIESEL ART GALLERY. In addition to Karen O's performances, as her fame, and as an original daring fashion icon, so did Joy's reputation all over the world. Recently names as one of the "Most Stylish New Yorkers" by Time Out Magazine, she has attracted a great deal of public attention.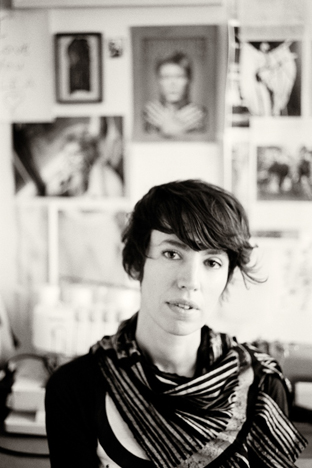 Photo: ioulex
Please let us know the concept of this exhibition. What would be the point that you recommend the most?
The concept behind the exhibition was to show some of Karen O's past costumes as well as a few new ones. I wanted the exhibition to be mostly about my prints so I tried to concentrate on costumes that would show them best. I think the high point is definitely the costumes, but it was a lot of fun for me to make the wall prints. I've never made them before.
Can you tell us about the goods you've made for this exhibition, such as handmade T-shirts and bean bags, etc.?
All of the tees and scarves are in general, one of a kind pieces. I print them all by hand in my studio in Brooklyn. I think they become more of wearable art pieces.
How you feel about your first exhibition in Japan?
I'm absolutely thrilled! I kept asking myself if there could possibly be a better place in the world to do it and just felt like Tokyo was without a doubt the best pave in the world!
We heard that you studied fashion design by yourself. What was a first opportunity or chance you started a fashion design.
I started to study fashion design on my own when I first moved to NY fourteen years ago. I began by re-designing old clothes and then felt like, why limit myself? I started buying pattern making books and sewing books and began teaching myself just by following the directions in the books. A lot of inspiration also came from looking at traditional clothing like the kimono.
Is there any person or thing that you feel inspired by?
Oh yes, lots of people! Director John Waters, Yoko Ono, Kansai Yamamoto, David Bowie, Yayoi Kusama, Issey Miyake.
Karen O' s costume has attracted a great deal of public attention. How do you get inspired her outstanding costume design?
I look at a lot of art. I love African art. It's so expressive! The colors, the prints and the shapes. I also love Japanese woodblock prints. I love the prints and the movement created. Sometimes I'll see people I'm the street or a shape on a building, shapes in plants. Really everything I feel can be inspiring depending on how you look at it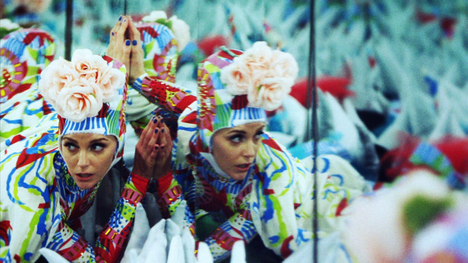 Photo: Claire Carre and Jae Song
How is the relation of your fashion design with music?
Think fashion and costumes help the performer create someone outside of themselves, another person, sort of like the way David Bowie did with Ziggy Stardust. I love the concept of being asexual and almost alien. It's also great for the audience. It makes the performance so much more interesting. It creates a fantasy world
Please tell us things that you care about most when designing clothes.
When I design costumes I always try to create pieces that can be seen even if you're in the last row at a festival. I feel like simple shapes work best for this because the become almost like flags. Also, I love creating prints that I know will create movement on stage. And of course lots and lots of color. I want the costume or piece of clothing to communicate with the audience.
What kind of clothes do you usually wear?
My style is pretty classic. I love simple pieces, but with lots of color. I like mixing prints. It's pretty tomboyish with a little bit of a punk edge.
Have your fashion image changed during the years?
I wear more color at the moment, but overall it's stayed the same.
What motivates you to be a designer?
I can't imagine doing anything else. I think about clothes all of the time!
What does fashion mean to you?
Fashion to me is about creating your own style.
Have you got field which you would like to explore your design practice in the future?
I would be interested in working on a film, theater or dance. I'm sort of up for anything if the project is right. I like trying new things.
Please give a message to Japanese readers.
I love Japan! It has inspired me in so many ways over the years. I was so honored to be able to come to Tokyo and share my artwork with you all. Also, the food was amazing and the fashion is the best!
Christian Joy "Do androids dream of electric shrimp?"
Date: May 18th – August 10th, 2012
Opening Hours: 11:30 – 21:00 (Non-regular holiday)
Place: DIESEL ART GALLERY (DIESEL SHIBUYA)
Address: Cocoti B1F, 1-23-16, Shibuya, Shibuya-ku, Tokyo
Tel: 03-6427-5955
Curator: Kimiko Mitani Woo / MW Company
Supported by SunM Color Co.,Ltd.
Cooperated by SHARP CORPORATION, Yamato Mannequin Co.,Ltd.
http://www.diesel.co.jp/art
Text: Satsuki Miyanishi

[Help wanted]
Inviting volunteer staff / pro bono for contribution and translation. Please
e-mail
to us.