Vårsalongen means "The Spring Parlour." You probably read here about previous editions. Vårsalongen is always hosted at Liljevalchs Konsthall – an independent museum that works as art gallery in the city of Stockholm– This art fair is Liljevalchs' proud start to every new art year! Displayed at the art gallery from 27th of January to 25th of March, it is the first sign of spring in a cold and white Stockholm. Since 1921, it is one of the Swedish's oldest, uninterrupted exhibition formats. This year, the art gallery had 2136 entries. A total of 131 applicants were accepted to the exhibition, with 264 works between 21 and 28 years of age and from all over Sweden. So of course with this wide range of participants you will meet a bursting colourful smorgasbord of art in the gallery halls.
Like always, the mix itself is the concept; high and low, beautiful and ugly, everything in a mix in all kinds of techniques. Here artists have the chance for their often a unique art to meet an audience, but even better we the audience have the opportunity to see art never shown anywhere else. The jury responsible for this year's selection are artists, famous photographer Annika von Hausswolff, Peter Johansson and multitalented Ernst Billgren. Every year Liljevalchs invites a new jury, comprising people with professional experience of artistic activities. To be or not to be selected to the exhibition, that is the question for both well-established and non-established artistic practitioners. And so it has been since the beginning in 1921.
All the works are for sale and the prices have been set by the artists themselves. The works in the Spring Salon are for sale throughout the exhibition period, according to the principle "first come first served" and the prices ranges from 70 EUR for a graphic print to 500,000 EUR for a gigantic unique log sculpture cut from one piece of lime tree.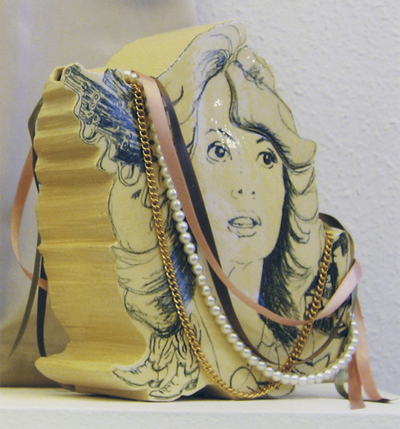 "Lord Only Knows Where Sue Ellen Is," Eva Szentiványi / Ceramic and pearls
She is a crafter that wanted to combine her passion for complex character Sue Ellen of Dallas TV show and her love of tea pots and this is the result. A farfetched combination for most people except artist Eva who managed to put together this funny lovely tea pot.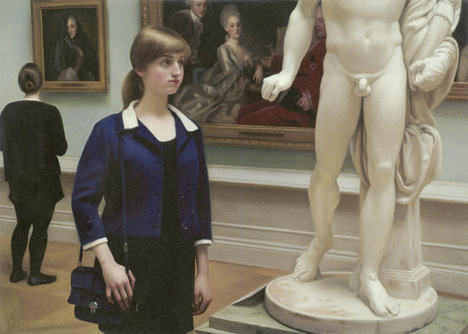 "Strömsalen II, Nationalmuseum" Johan Patricny / Oil on canvas
This amazing traditional oil on canvas was painted on location with live model in one of Stockholms most famous museums, the National Museum. Extraordinary well executed oil painting as from another century.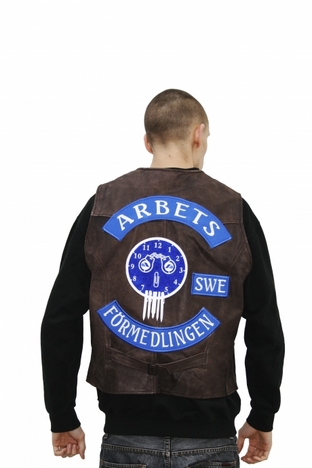 "Samhällsproblem" Ruben Wätte / Three embroidered leather vests
In this three piece art work we find nothing traditionally about it. It consists of three leather vests looking like MC gang vests but with no logo of a horrific criminal gang on it, instead embroidered; "Social Insurance Office", "Employment Service" and "Immigrations Office".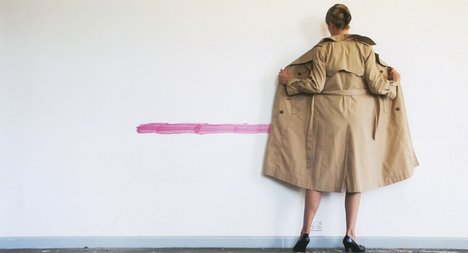 "Drawing a line" Sissi Westerberg / DVD, 1.10 min.
This one minute DVD consists the image of a woman mysteriously drawing a red line on a white wall with an invisible source of red paint hidden under her beige classic trench coat. Very imaginative and innovative, yet in a classical strong format.
Vårsalongen 2012 / The Spring Parlour
Date: January 27th – March 25th, 2012
Open: 11:00- 17:00 (Tuesday and Thursday until 20:00) (Closed on Monday)
Entrance fee: 80/60 SEK
Place: Liljevalchs Konsthall
Address: Djurgårdsvägen 60, 115 21 Stockholm
Tel: +46 (0)8 508 31 341
http://www.liljevalchs.se/varsalongen-2012
Text: Sara Överengen

[Help wanted]
Inviting volunteer staff / pro bono for contribution and translation. Please
e-mail
to us.