Inspiration from a nomad cafe in the city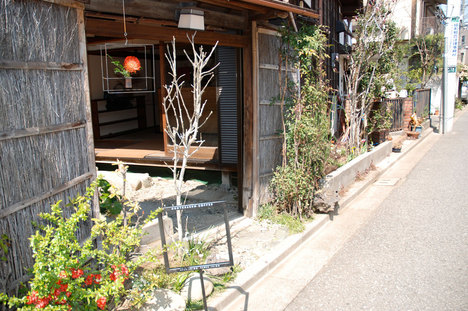 Quietly settled among the deserted side streets of Omotesando, you will find an old Japanese house. Upon finding a "cube" adorned with a seasonal flower arrangement, you have arrived at the take-out-only coffee shop, OMOTESANDO KOFFEE. "I was looking for the best way to serve coffee and I think I've found it," the cafe owner Eiichi Kunitomo proclaims. He started his career as a barista in Osaka, and opened "Bread and Espresso" in Tokyo two years ago.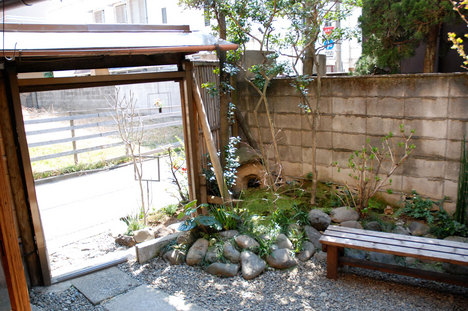 Entering at the gate of Japanese old house, there is a coffee counter in a "cube" style to the right side of the middle of the room. This shop's image is a kiosk; "A kiosk is a perfectly simple form. Not only is the space cost-effective as it is no seats, but it also does not cost much for staff as the barista can additionally function as the cashier. For this reason, I can focus the money on the quality of the coffee. Moreover, this style allows for intimate, personalized attention to our customers, as we can provide them face to face interaction," explained Eiichi Kunitomo. "Drinking coffee can be a daily pleasure for all generations– whether young or old. With 300 or 400 yen, people can afford a little happiness everyday, like a cup of coffee, rather than dining at a luxury restaurant on a special occasion. I hope this custom becomes normal," was the way of thinking that occupied Mr. Kunitomo's mind when he created the concept of the cafe and restaurant.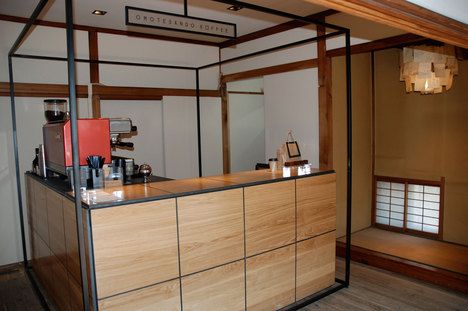 Everything is included in the "cube": espresso machine, register and product display. This functional, minimalistic design directly showcases the philosophy of OMOTESANDO KOFFEE as an take-out coffee shop.
The Omotesando shop is open seasonally throughout the year. Moving to the next location is easy– it can go anywhere by only bringing the "cube". The minimal kiosk style makes it possible. It is designed by Yohei Hayashi at 14sd. Depending on how the shop is modified, there might be glass to make the walls and ceiling, as well as it might create a big unit, putting together 2 cubes or 4 cubes. The "cube" design allows flexibility in terms of form and business; it matches the current notion that one is constantly on the lookout for a better situation, instead of being stuck in one place for too long.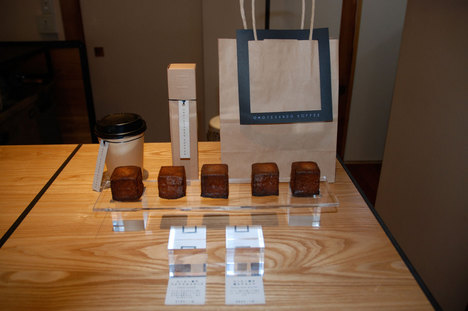 Ogawa Coffee beans from Kyoto are used for the coffee. The most popular blend is "Omotesando Coffee"(350yen), which has a good balance of bitter and sour. Additionally, Coffee sweets(160yen/piece) are created by restaurant chef, the owner's friend, because Mr.Kunitomo thinks it is good to have sweets to accompany coffee– like the relationship between tea and tea sweets. The rich taste of the "cube" coffee's sweets counterbalance the coffee's strength. One can enjoy the two different tastes of the sweets– crispy outside and thick inside.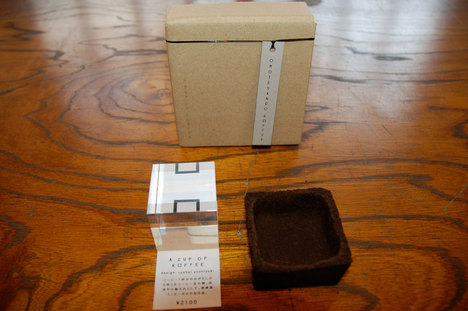 "Coffee is something that is taken directly into the body, so it has a direct connection with people's ideas or emotions. That's why it's interesting. Through drinking and serving coffee, I was given ideas by the customers as I connected with them". Actually, various people, ranging from the young person who works in
neighborhood to the elderly lady who lives on the same street, come to the cafe. "Taste is essential. However, I am constantly thinking of what I can do more– how people can get ideas or inspiration".
OMOTESANDO KOFFEE
Address: 4-15-3 Jingumae, Shibuya-ku, Tokyo
Open: January 17th – for an year, 2011
Opening Hours: 10:00-19:00
Tel: 03-5413-9422
http://ooo-koffee.com
Text: Wakana Kawahito
Photos: Wakana Kawahito

[Help wanted]
Inviting volunteer staff / pro bono for contribution and translation. Please
e-mail
to us.