Richard Byers is an independent new media artist collaborating internationally to create light and video projections that rely on complimenting human interaction with sound and light.
What forms from the relationship of light and natural human movement? A dialogue that is uninhibited, uniquely creating a domino-like effect of the senses. A sight and sound extravaganza, delicately initiating a sense of discovery which has so often been described with his work.
Richard has been involved in group and solo shows in Berlin and Tokyo, to performances in Australia including collaborations with fellow like-minded artists.
He is an established artist of the most admirably vast range of talents, stemming from his various background talents of creativity through hand craftwork; illustration, painting and sculpting alongside over a decade in the Industrial Design industry in Sydney.
Perhaps this explains his wide-angled approach to creating and collaborating. Meeting him, it's hard not to be inspired. His current major project, 'sound.transmission.light' is one to keep a watchful eye on…

Richard Byers solo work Berlin © Richard Byers
Coming from a creative lifestyle, how did the natural progression begin your interest as a light projection artist?
'A creative lifestyle.' I hadn't thought of my life in this way, but yes I guess it is a life surrounded and encompassing creativity.
Working for many years in product design as Digital Concept Artist and then Creative Director, and on the side as a video artist for weekly club called Frigid. These performances grew from the club environment to museums, galleries and The Sydney Opera House (both interior and exterior). Most were using projection systems, and one key element of my style then was to get away from the standard "4:3 rectangle" projection. I used digital masks to create the appearance of irregular screen shapes, to merge the video with the environment as much as could be possible without custom screens, in fact my favourite screen is 'no screen', projecting directly onto the walls, floor and ceilings of a space. These became some of my most favourite events, when the screen was removed and video was applied directly to many adjacent surfaces. Which links to my recent projected video sculptures funnily, but I'm jumping ahead.
Hey it looks amazing outside the train right now (Frankfurt to Berlin), the crisp frosted rural houses and the sun rising with golden flashes into the train.. looks amazing! anyway, back to projections. so yeah, it was a pretty natural progression over about 10 years, starting from a passionate hobby, side project and today being my life, income and still of course my passion. Passion is everything, no matter what you do, if you're passionate, you'll make it work and some amazing opportunities and experiences will materialise if you follow your them. Finding your passion can be the most difficult step.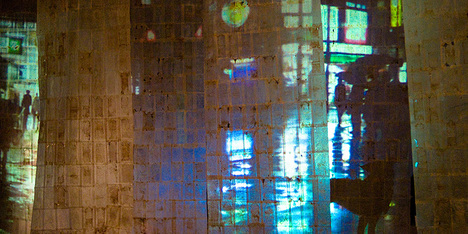 Sound.transmission.light Project Berlin © Richard Byers
Sound.transmission.light Project is: a collaboration with On-Yau Lui, an Australian artist, based in Berlin Germany. It is a concept we developed together in 2009, that revolves and evolves around audio responsive light/video projections on paper surfaces. After developing the idea at Rooftops studios in Berlin, I travelled back to Tokyo, for the first live performance of sound.transmission.light with a musician I knew, Yukiko Tsuda. She brought 2 other musical friends onto the project, and in 2 weeks, they developed an original semi-improvised composition of music and I programmed an audio responsive artwork that visualised the frequencies of their vocal and string and wind instrument composition. We found a venue in inner city Tokyo, thanks to another friends' husband who has a fashion label No No Yes and he kindly lent us his workshop basement in Sendagaya.
One of the key things I remember after the performance was Yukiko describing the experience, as like having a dialogue with light. The projections had been finely tuned to respond to the particular frequencies of their voices, and at one point in the performance the 3 women turned away from the audience to face the projection screen directly, their thrilling chanting and syncopated harmonies 'spoke' with the light, it was magic to experience that moment!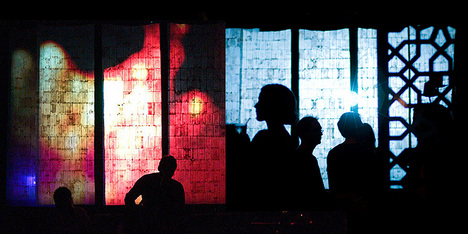 Sound.transmission.light Project Sydney © Richard Byers
Following Tokyo, I came back to Australia, On-Yau visited and we collaborated with 4 musicians for 2 performances in Sydney 2010, both shows proved we had developed something people enjoyed experiencing, both the audience and for the musicians involved. For the musicians it was like performing with a light projection as something of an additional band member, something they could work with, bounce ideas off, and develop something that audiences have found a powerful experience. Brisbane was the next city, and I received a Artist in Residence at The Edge, the State Library of Queensland's, digital culture centre for 4 months, thank you to everyone there (my thoughts are with them after the terrible floods recently). At The Edge I developed the software further and incorporated physical sensors and Arduino microcontrollers into the project. I collaborated with 3 musicians from Brisbane, electric guitarist Bambam and 2 vocalists Arongo Te Whiu & Hannah Shepherd and we created an improvised 5.1 surround sound, 3 channel surround video performance and an installation where the public replayed samples of the music and video from the performances with their movement within the space.
And now in 2011, the circle completes and I travel back to Berlin, as I write this, to work on a performance of sound.transmission.light with Clare Cooper and Clayton Thomas and On-Yau, this will be presented at the the Australian Embassy in Berlin, in April 2011.
What is one thought you are aiming to leave with your audience?
I think more than a thought, we try to impart feeling or emotion within the work, to present a performance, that people respond with emotion and thoughts from their own feelings towards the experience.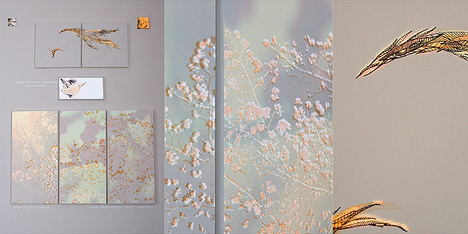 Sound Transmission Light Brisbane © Richard Byers
What kind of things inspire you when creating a new projection?
Life is inspiration! 🙂 The local environment of a particular location is often the most immediate inspiration, I always take a lot of photos of places, especially details or objects that have become overlooked, invisible because they are always there, they have become familiar, and we can stop seeing them, even though they are right in front of our eyes (or ears). For instance, plastic milk crates in a laneway, people sitting of them while waiting or having coffee, but people hardly look at the crates themselves, I might imagine them floating down the laneway, across buildings. and then I work that into a projection. another example when I was developing the Brisbane performance, Surroundings 5.1.3, was of an ordinary Australian backyard of the house I was sharing at the time, it was a little overgrown, and at sunset it become a magic place, the light was just amazing, the golden sunlight across the green grass, so I submerged my video camera in the long grass and shot footage of the light and blades of grass, it was a very simple thing, but when it was programmed into the performance, surrounding the audience and musicians with projections of the slowly moving grass and sunlight, it immersed them into a familiar environment, but from a perspective they perhaps had not considered before, and alternate perspective.
Another major inspiration is music and sound. Working with fantastic musicians on the sound.transmission.light project, has meant there's no lack of amazing inspiration, and on my solo work, I usually listen to a small selection of music and overload myself with it. I might listen to the same album, on repeat, non stop for a day or a week, the same 5 or 10 tracks, over and over and over again.. and through this process, I absorb an underlying emotion or sensitivity from how I feel to the music, this will then lead to some sketches, some words, a concept and things develop from there. Another aspect that provides an enormous amount of inspiration is people, the people directly collaborating with me of a project but also the people I meet for a coffee or dinner or drinks at a bar, everyone is really collaborating when they communicate to each other, it's not just limited to those directly on the project, it's about the surrounding environment, people and emotions that inspire me, and hopefully the inspiration is given outwardly also to those around me and fuels their own thoughts and projects.
Are there any unpredictable circumstances you have come across working with light in each different city and location?
unpredictable circumstances are the best! they are desired! but of course can't be planned. I might shoot some video or take a series of photos that I plan to use for the next project, but often I find it is the photographs or video that I didn't plan that inspires me more and fuels a different project direction. Also every venue we've performed in is completely different and so the space itself, challenges and alters the way the projection system will work. In Tokyo for instance, the show was in a small basement of a fashion labels' workshop, it was mostly emptied for us, but when I started installation it was obvious the room was too small to allow the projection to be large enough, so I remembered using a mirror once years ago, I bought a small mirror, and the idea worked, but the mirror needed to be much larger.. where will I find a large mirror? and I look around me.. i'm in a mostly emptied clothing workshop and there in the corner is a full length mirror! it was right there, waiting for me to hurry up and realise I needed it!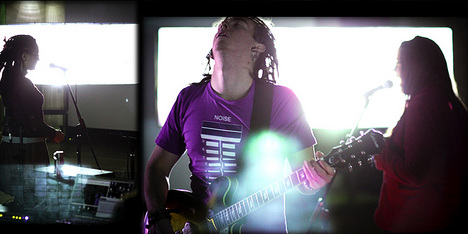 Light on Canvas Berlin © Richard Byers
How important is collaboration to you, and your work?
Without collaboration this project is nothing, it simply wouldn't exist. From the initial concept and experiments with On-Yau, and the chance collaboration with a musical friend of hers, Felix, who played his clarinet to an early experimental version, and this sparked the idea to work more closely with musicians. Then followed amazing collaborations for musicians from Tokyo, Sydney, Brisbane and now Berlin again. And for my own solo work, collaboration is still important but is more subtle, like I said before, when we communicate, we collaborate, and all the amazing people I've met the past few years travelling are all collaborators, and I thank them all and hope their own projects are equally inspired.
Do you think performance art is becoming unrestricted due to technology and accessibility…
There will always be restrictions, it may be less restricted than 5 or 10 years ago, but it's still the idea that needs to be good, before a technical solution can be found to server the idea. Technology is getting cheaper though, and so an individual like myself, can work with technology themselves, that previously would have been restrictive due to the high cost, this then allows another level of experimentation outside of larger organisations, and as a result new ideas may be formed and developed. So yes the restrictions are being lessened, but good ideas and a meaningful outcome should come before using technology just for the sake of it.
Being heavily influenced by music and people, what do you listen to while creating and who else are you inspired by?
This list could be very long… some of the things I'm listening to right now, modern classical by Max Richter(US), Hildur Guðnadóttir(IS), ambient by Lawrence English(AU), Loscil & Minamo(JP), amazing stuff by Ben Frost (AU/IS), Jonsi/Sigur Rós(IS) Moderat(DE), Alva Noto(DE) and brand new listening is Magnolia(AU) oh and a friend lent me a DVD by Brian Eno, 77 Million paintings, superb! I'm a big fan of Last.fm and soundcloud for following musical friends of mine and to tap into what they are listening to or their latest experiments. And of course there's many other artists that inspire me greatly too, light artist Olafur Eliasson, illustrators Audrey Kawasaki, eroné & Malota, sculptor Gehard Demetz, audiovisual artists, Ryoichi Kurokawa, The Light Surgeons and so many others. And lastly great friends inspire me constantly, thank you specially to Onmono.
Thank you Richard!
Text: Joanna Kawecki

[Help wanted]
Inviting volunteer staff / pro bono for contribution and translation. Please
e-mail
to us.