When you follow the feeling only you know through and through, you'll find a narrow road that leads to universality. Masakatsu Takagi is a musician and video creator. He has been a pioneering artist that represents new generations. Takagi Masakatsu's album "Private/Public," which was recorded at a concert in Tokyo after an interval of three years, will be released on May 3, 2007. Takagi mixed sound from the elegant and powerful show that was performed by ten musicians. We asked Takagi about this precious work, which is very different from a live album, and also about himself.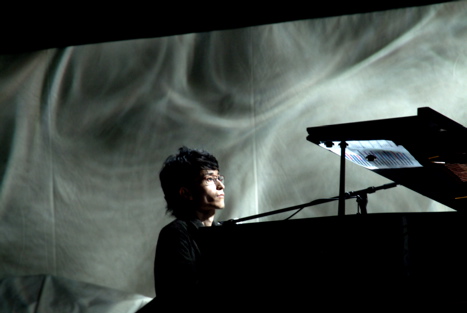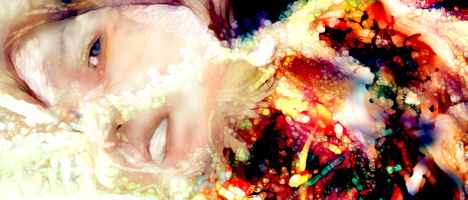 First of all, I would like to hear your thoughts about the album title "Private/Public." I think a lot of writers work by trial and error, not showing the private aspects in their writing, but keeping its originality in their pieces. I have sympathy for this notion and express it straightforwardly in the title. Did such a theme exist in your earlier work or is this something new?
Like many writers, I had a desire to produce something universal. Over seven years, I have been living while creating my work. After that much time there was a moment when I felt that I got close to that "universal thing." This is the moment "God fell into you." I can make a piece or play music as if I'm moved by a power that I can't control. It's like you made something well without noticing it.
I had been more interested in those moments than the work itself. Generally, people think creating work equals self-expression, but that has nothing to do with my intention if I created a piece that was nice. I felt more like something made me create it more than creating it myself… I have been thinking a long time about this feeling.
When I create something where I want everyone to understand or share it only shows my artificial self; and worthlessness is born. On the contrary, when I drop myself and move my consciousness and physical body freely it generates a feeling others and I can understand.
For me, "Private" is a personal sense or a personal history and "Public" is a universal thing. You can't touch a universal thing in front of you with any effort; however, when you follow the feeling, When you follow the feeling only you know through and through, you'll find a narrow road which leads to universality.
I think creators who carry out great activities have done such a thing naturally; and after aging, I have finally begun to think that I need to face what I believe in seriously. It's better to not hang around.

You've released the live album. Were you originally planning on releasing the sound source or did you decide to do it after being inspired at the live performance?
I intended to release it if it went well. I was also thinking to release a video for DVD but decided to concentrate on sound this time. It was hard just mixing for the CD. It felt like making a whole new original CD than making a live CD. It closed a chapter in my activities until now by releasing this tenth album.
What is the difference between playing instruments performed by more than one person and performed by just one of you?
There wasn't much difference between playing after a rehearsal and performing in front of an audience. I think this is because the musicians understood my music well. It was during the preparations when it was different. To explain the necessary elements by writing a music score or to use words to tell the image was harder work than I expected. Preparation took half a year, but I think towards the middle about ten musicians really got the contents properly.

Your live show is considered to be the style of performing that appeals to people who are into computer music. What do you think?
I think that it's the same to use either a computer or instruments. It becomes hard when we needed to think about the sound systems and space. I feel I need to have professional knowledge regarding sound systems because I use speakers to project the sounds that change how people feel and how it sounds in space. Many have done it already and I want to try to use it for more general expression.
Read more ...

1
2
[Help wanted]
Inviting volunteer staff / pro bono for contribution and translation. Please
e-mail
to us.