The childlike characters and playful, dream-like aesthetics of Messy Msxi's art might draw one to savour its intricate details up close, only then to realise these canvases tell of a much darker tale. Messy Msxi illustrates landscapes of pollution, moments of failure, abnormalities and the psyche of the mentally ill.
Recently awarded the 'Talent of the Year' by London International Creative Competition 2010. Her work also spans into fashion and various collaborative projects.
SHIFT now takes a closer look into Messy Msxi's world.
Who is Messy Msxi?
I was born and raised in Singapore by my father who was a chinese painter. I had graduated with a diploma in Visual Communications at Temasek Polytechnic in 2006 and having won a government scholarship the following year, enrolled into Central Saint Martins where I majored in Illustration. Currently, I am working independently as a full-time illustrator.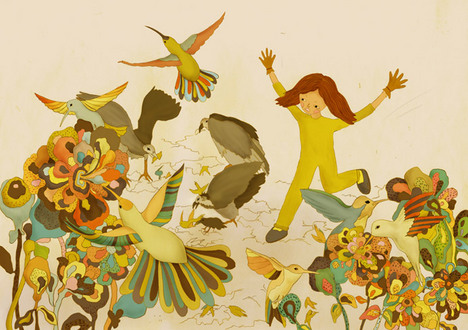 An Effort Most Futile
I see a rather consistent theme running through your work. Tells us about that.
My inspiration mostly dwell in misadventures and the grotesque. I have a fascination with dark humor and that gives a strange slant to most of my work when I push to exaggerate some of the themes. I am always intrigued by unusual experiences and the oddballs of society. Sometimes I pick up on interesting news articles or strange documentaries that lead on to more research and I build a thought around them. My personal mishaps induces the quirky humor in my work.
That is really interesting, which are some favorite projects?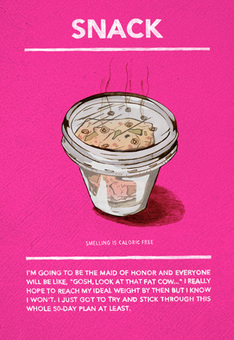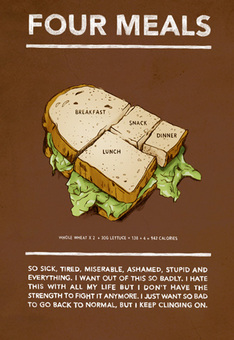 I Am What I Eat
"I Am What I Eat" is a series about Anorexia Nervosa. It is a type of eating and psychological disorder where an individual goes into extreme intensive exercise regimes, restrictive diets and food abstinence. This series is a favorite as it successfully reveals and presents the psyche of a victim. Anorexia is often misconceived so I hope my work would give better insights of a victim and make my audience more empathetic of their condition.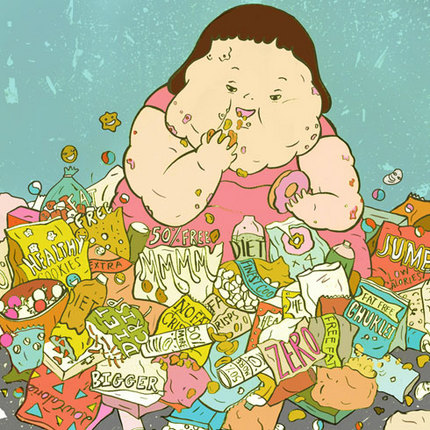 Junk Food Benny
"Junk Food Benny" represents our modern industrialised food culture; the food offered to us and the way we have been conditioned to eat. Benny is symbolic of modern consumerism and indulgent habits. She demonstrates the eating habits of today's society. Being a child, she represents the real victims of current marketing tactics and industrial food conditions. This series of work brings much curious reactions from the audience and that always amuses me.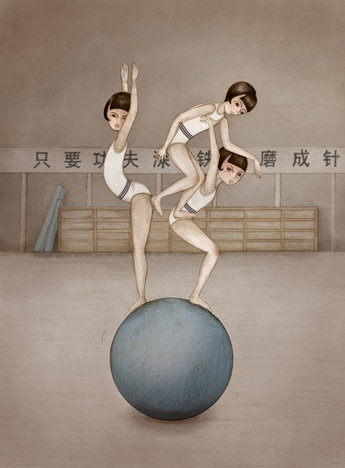 Ten Years of Work for Every Minute on Stage
"Ten Years of Work for Every Minute on Stage" is a documentation of failures, processes, trainings, preparations, sufferings, pain, not giving up and toasting to 'the beginner's spirit'. It serves as a reminder that success never comes easy and it is the journey that builds up one's character. This work is another current favourite as it was a big departure from previous works. Also, the inspiration stemmed from my own difficulty. Infact, completing this series of work was an achievement in itself.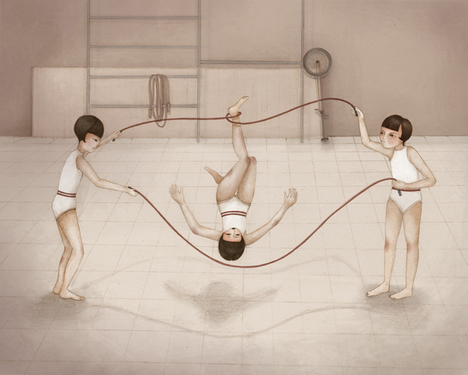 Ten Years of Work for Every Minute on Stage
How did inspiration drawn from your own difficulty result in works featuring the training of acrobats?
As an audience to the acrobats, we are so used to seeing them performing all sorts of acts in perfection and grace, but we have never seen them backstage, witness the training process or the turmoil which they probably face every practice as a child, just to achieve the seemingly impossible.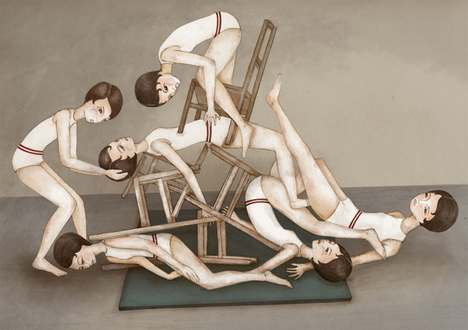 Ten Years of Work for Every Minute on Stage
Many of us are in a similar situation pursuing an elusive objective. We might not feel the physical strain like the acrobats but the pain of re-doing a project and constantly picking up the pieces to start over is something quite common and something most people forget when they just focus on the final outcome.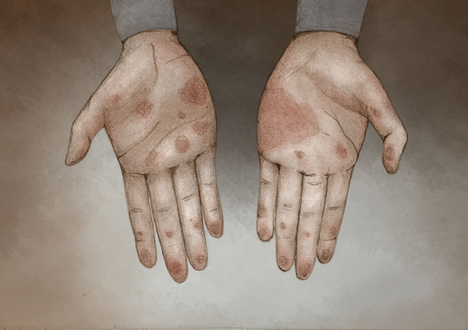 Ten Years of Work for Every Minute on Stage
What about some of the collaborations you have done?
Working alone can be boring but thankfully, I have met and collaborated with inspiring individuals from different fields. It helped me explore new dimensions to my work and I do hope to break out of creating only print work and move on to new avenues and experiments. My most recent collaborative project would be for fashion label Hansel AW09 collection, "Robot Girl". For this project, I made a stop-frame animation inspired by graphic and typographic elements from old cartoons that I felt complimented Hansel's brand personality. The animation was successfully completed with music techie, Adrian Wee.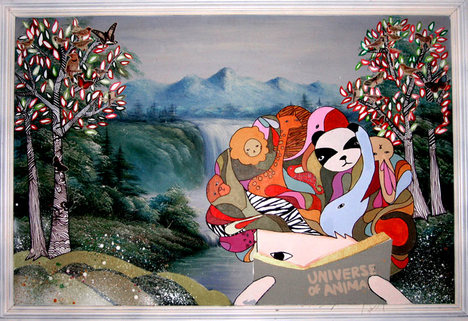 Fantasy Stacy
"Fantasy Stacy" was yet another collaboration for Hansel's 'Nice Try' collection. The illustrations were painted onto found objects to explore the idea of instant renewal instead of first destroying in the process of recycling. The entire process was very interesting as each of these found objects comes with a story and thought these stories weaved the adventures of "Fantasy Stacy".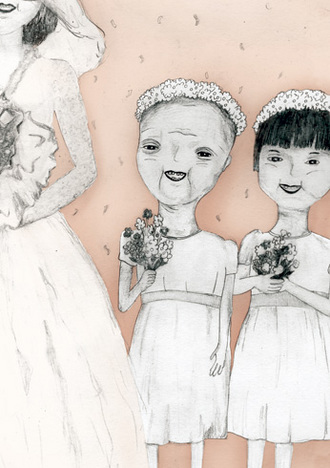 Progeria
Please bring us through a typical hardworking day of Messy Msxi!
I am a morning bird, so I love getting up early to make breakfast and catch up on videos or updates online. Since I live and work from my room both in Singapore and London, I would usually eat quite alot of junk food during my working hours from 9:00 – 18:00 just to fuel my brain. I would then have a better meal during dinner, relax over a tv serial and perhaps continue working till bedtime. For half a year I was addicted to peanut butter, and I had it with waffles and toasts for almost every meal, it was so bad for my health but I loved it.
Working on my own equates flexible hours but it also leaves no one to talk to or trade ideas with and not having an office means a lack of equipment like an a3 printer or photocopier and thus the contant errands to run. I really cannot wait to have my own proper office or share it with some other artists.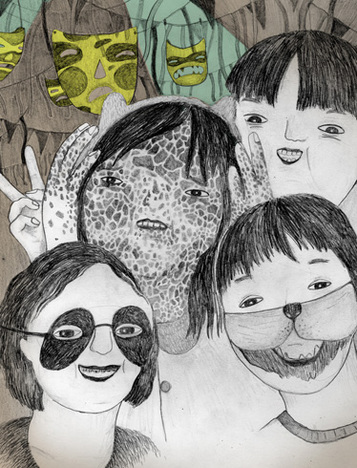 Leopard Girl
With the amass of details going on in your work, what do you enjoying drawing and inserting into your illustrations?
Sometimes drawing and filling in the details can be rather therapeutic, and it gives me satisfaction when people catch onto these little nifty details. I really enjoy drawing childlike girls (its purely unintentional that they look like me).
Haha, I will take your word for it. Lastly what can we expect next from Messymsxi?
I have most recently completed a series of illustration for a new Gelato bar in Singapore, Coccogelo.
Other than that, I'm taking life as it comes but I am currently looking for an agent so I can expand my work opportunities and I am also thinking about my next solo exhibition.
Thank you for the peek into your world Messy Msxi!
Text: Minnie Pommiegranate

[Help wanted]
Inviting volunteer staff / pro bono for contribution and translation. Please
e-mail
to us.