How gratifying it is when you have a printed graphic piece in your hands and it radiates neatness, gorgeousness, pureness. That is what Jason Munn a.k.a The Small Stakes has achieved with this compilation of posters. About 175 pieces compiled in a book, as he himself notes in the prologue –"dedicated to the endless number of bands that have been the source of my inspiration. Without them these pages would be blank. I am forever grateful".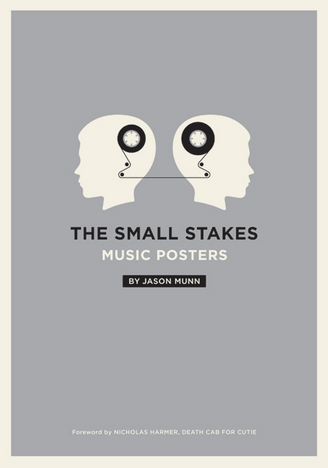 He came up with the name for his studio through a Spoon song about taking chances in life. He values the influences from the likes of Sup Pop´s Jeff Kleinsmith and Aesthetic Apparatus. He is happy to call the bay area in Oakland home since 5 years ago. Different magazines and newspapers in the U.S, ad agencies and a bunch of your favorite bands have asked him to work for them. His work is in permanent collections of several museums, including the San Francisco Museum of Modern Art and the Denver Art Museum. One of Jason´s first commissioned work was for Death Cab for Cutie leading to more other work within the so called industry. In fact, Nicholas Harmer, leading member of the band, writes the forewords in the book that it could be synthesized in – "good people find each other".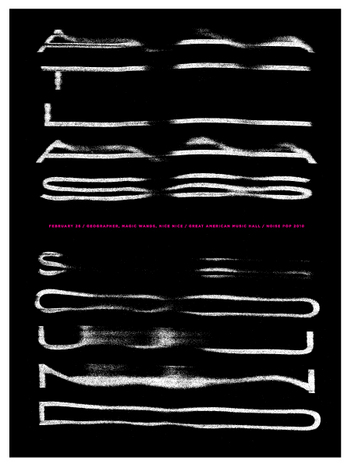 Tell me about how you started with graphic design and illustration.
Skateboard graphics and album covers was were I began to notice art and design. I knew fairly early on that I want to do something art related, but was unsure what that meant. I eventually found a small program at a technical college in Madison, Wisconsin that was dedicated to commercial art. After my first typography class I knew I was in the right place.
How has your work changed from then 'til now?
The main difference is my earlier work used a lot of found images or multiple found images that I thought conveyed a particular band well. Often combining images from different sources to get a new meaning. I rarely use found imagery now, but I feel my thinking is still quite similar in the current work. Often using common objects in a new and different perspective. All while still trying to create work that fits the band I'm making a poster for.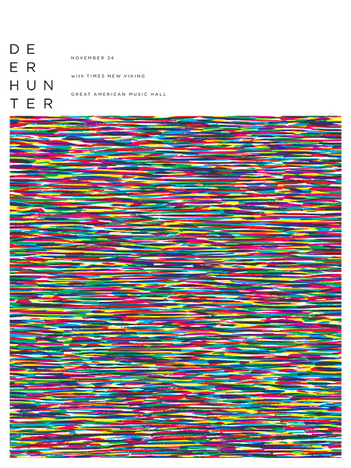 Please describe The Small Stakes studio.
The Small Stakes is a very small operation. It is just me here and I work from home for the most part. I do work closely with a printer – Bloom Screen Printing here in Oakland, who does most of my printer now.
How's life in Oakland? Could you please brief me on the vibe of an average day in your life?
We really like it here in Oakland. We live in a pretty quiet neighborhood and most days I spend working on projects out of the second bedroom in our house, which is my office. I try to stick to a routine with mornings dedicated to email and possibly small revisions to projects. I typically start on my projects after lunch and stop work at some point in the evening.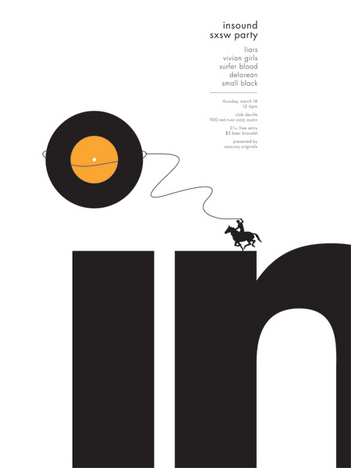 You usually move between music festivals and art exhibitions. Please tell me a bit more about where you have been lately.
Every year I travel to a few Flatstock events. Flatstock is a poster exhibit and sale that is typically tied to various music festivals throughout the year. Flatstock has really become a big part of my yearly travel and I really look forward to seeing everyone and being away from the normal routine for a little while. I'm am just getting ready to leave for Flatstock in Seattle, Washington.
What kind of pieces from your work can you find at the permanent collection in the San Francisco Museum of Modern Art?
The museum has a few of my older posters in their collection. They do have one of my favorites in the collection – The Books poster from 2006.
Have you ever exhibited outside of The U.S.?
I've had an exhibit in New Zealand last year and have one coming up in England this fall.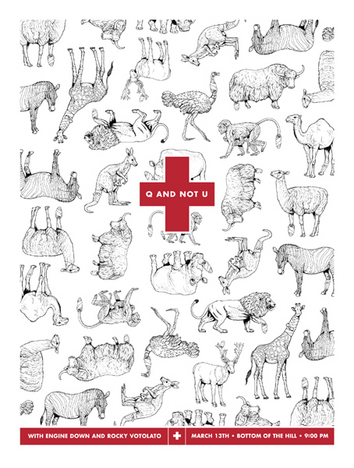 Have you ever exhibited in Japan?
Unfortunately not. I do really hope to visit soon.
Is there any artists or design studio that you particularly like? Why?
I'm always impressed by the work of Jeff Kleinsmith and Aesthetic Apparatus. I consider both of them to be very influential to me and looking at their work was what really got me excited about the possibility of making posters. Another designer I am always impressed with is Dirk Fowler, he is a poster designer from Texas who I have become good friends with over the last few years. We often send projects we are working on to each other to get some feedback on our ideas and recently collaborated on a poster for Tommy Guerrero.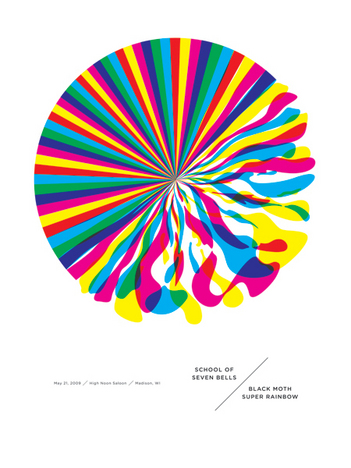 You also have some experience with commissioned work for advertising. Which are the keynotes for you to handle a project like that.
Most of my focus in on the music posters, but do occasionally take on other projects that I have an interest in. I approach all the work very similarly. My ideas, whether for a music poster or another type of commissioned piece are generally driven by the project itself.
Which kind of computer do you currently use for your work?
MacBook Pro.
Do you use any other tools in your creative process?
I try to work out the general ideas on paper and then do the final work in Illustrator.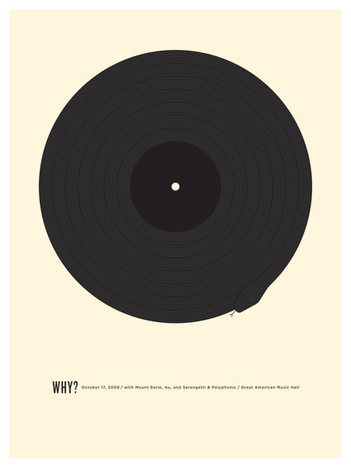 I would like to talk about your new fabulous book ! How did the idea evolve?
I was approached by Chronicle Publishing to make a book of my posters a couple of years ago. I had worked with Chronicle on a couple of projects prior to this and it has always been a good experience, so I was very happy to work with them on the book.
Are you good friend with Nicholas Harmer?
Death Cab for Cutie was one the first band to hire me for multiple projects and it seemed very fitting to have Nicholas write the foreword. I'm really happy with how it turned out.
Could you tell us some story attached to any of these posters? Any of your memories when you look at it.
It was always exciting for me to have a band I've listened to and respect ask me to make a poster. One band I have always been excited to work for has been The Books. Their process of making music is extremely interesting to me and it's always fun to try and depict that in an image.
Do you have any plan to come to Europe after this summer or in 2011?
I will be in Europe this fall for a show at the Richard Goodall Gallery in Manchester,
How do you see yourself and your professional career from this point? Is it any other projects that you could tell us in advance?
This year has been really exciting for me on a personal level. I've really started to understand how I enjoy working and have begun to understand my process a bit more. As a result I'm happy with the work I've produced this year as a whole, I feel the work builds off of some of my favorite posters I've done in the past, which is how I would like to continue with future work. As far as projects coming up – the fall tour season is coming up and that is typically my busiest time of the year. I just finished new posters for The Walkmen, The Books, and Mark Kozelek.
The Small Stakes – Music Posters Book
Specification: 7 x 10 Inches, Paperback, 192 Pages
Details: Over 150 posters included, printed in full color, plus metallics throughout. Published by Chronicle Books.
Foreword by Nicholas Harmer, Death Cab for Cutie and an interview conducted by Jay Ryan.
Price: $24.95
Text: Victor Moreno

[Help wanted]
Inviting volunteer staff / pro bono for contribution and translation. Please
e-mail
to us.