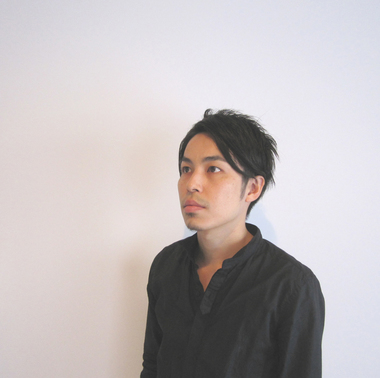 Chikara Ohno is an architect who works on various projects relating to residential and commercial facilities. Since he has established his own office "sinato" in 2004, Ohno is gaining national and international attention by being nominated as one of the top 40 emerging designers by I.D. Magazine (US) in 2009 and receiving various domestic and international awards. His recent store installation work "ROLLS" is now exhibited at the ground floor of DIESEL DENIM GALLERY AOYAMA.
Please introduce yourself.
Chikara Ohno. Born in Osaka, 1976. Established an office called 'sinato' in 2004, I work mainly on designing residential and commercial space.
How did you start launching sinato?
Back then I had participated in a design event with my friends, which might have been the initial motivation to establish the office. After then, I got several commission works by people who had seen me at the event. Later I decided to open up my office. So I was lucky as I had some projects to work on the first day I launched the office. Each friend who initially worked with me started to work individually at the same time. We all are still good friends inspiring each other.
Could you introduce some of your architectural and interior works?
My recent piece for the architectural project is "house O" (2009) which is a residential house built in Ise, Mie. Sharing borders with an outdoor pool and huge parking lot, the site is situated in a unique, large space. So I was thinking of creating an open space that keeps its distance from the surrounding context. I have arranged 3 divided rectangular buildings along each sites border and extended each one of the sides to connect to the other sides of the rectangle to make one shape that contains "3 rectangles / 3 deformed squares / a triangle in the center".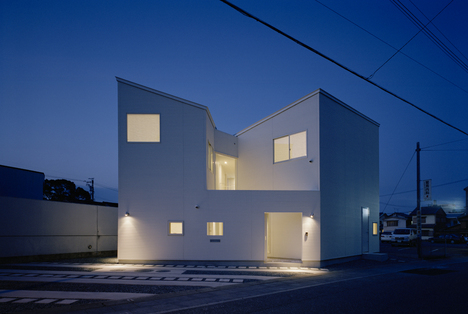 house O (2009)
The 3 rectangles are used as a living space, 3 deformed squares as a small courtyard, and a central triangle as a bright glass hall, and the living space is adjacent to either the courtyard or the hall. You can also see another living space over the courtyard or the hall. For both spaces, 'the courtyard is as small as a room' and 'the hall is as bright as the outdoor space', I actually call it an "outdoor room", because the house is designed to offer an open living in the labyrinthian-like arrangement of inner and outer rooms.
My recent interior project is a fashion boutique for "DURAS Daiba" (2009) located in the large commercial facility. I was inspired by questioning how to take advantage of a space with high ceilings and to bring life into my ideas. So I divided the space horizontally by inserting an expanded metal virtual ceiling at 2.25 meters high, and decided to make a retail space with a different landscape by installing steps that go up above the ceiling.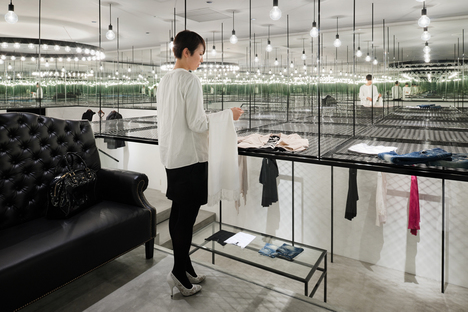 DURAS Daiba (2009)
Each of the 2 staircase-like slabs is arranged at an angle. They act as stages for displaying merchandise spacial, generate reasonable visible and invisible views when walking around the shop space, and also offer 2 choices of how you look around the space, in terms of flow line: roundabout route by walking on the floor and crosscut route by walking up the steps. To give a different sight drastically when going up to the top, I designed to create reflections of the horizontal expanded metals and lighting fixtures by using mirrors for the walls of half above the virtual ceiling while the other half under was finished in paint.

Exhibition view, Chikara Ohno Installation "ROLLS" / Photo: Toshiyuki Yano
Your new installation piece "ROLLS" is displayed in the shop space of DIESEL DENIM GALLERY AOYAMA from July 23.
ROLLS is an installation creating a continuous space connecting the entrance to the deep inside of the shop by using rolls of thin aluminum that is 945 meters long in total. The aluminum I used for this installation was very thin, so you can easily bend it with your hands. It's something too soft to call a plate, and too hard to call a cloth or paper. It has a texture in between.
I was thinking of making a beautiful wavy form for the overall design giving a change of strength, function and expression by making the roll of aluminum hard and strong or by using a piece of rolled out aluminum which is soft and delicate. I want to make it something magical that gently links to architecture, people and displayed clothing.

Exhibition view, Chikara Ohno Installation "ROLLS" / Photo: Toshiyuki Yano
Why did you choose to use rolls of aluminum?
I was thinking of doing something in-between hard and soft. If you put pieces of aluminum in layers, it gets as hard as a store fixture. If you use a piece of it, it is very soft and cannot be used as an architectural element. And I had an image of seamlessly using those 2 conditions. Another important factor is that it has a physical strength that keeps its form over its own weight of a piece of aluminum. I wanted to make a firm form with soft materials. Considering such conditions, I was sure aluminum was the appropriate material to use.
Aluminum functions very differently depending on the thickness by 0.1 millimeters. For this exhibition I made a mockup with the aluminum with 0.2 to 0.5 millimeters. After all I decided to use the 0.4 millimeter thickness aluminum. The thickness is similar to that of an aluminum can. It is a bit thicker than the can though.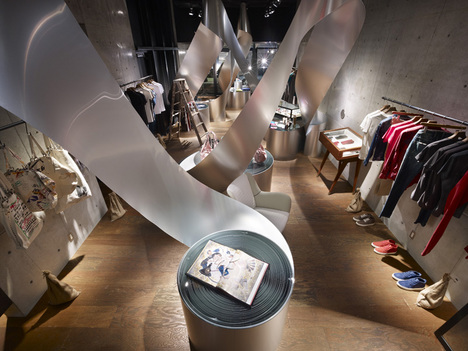 Exhibition view, Chikara Ohno Installation "ROLLS" / Photo: Toshiyuki Yano
What did you focus mainly on designing the store installation? What's the difference between the usual shop design and the store installation work?
Thinking about the exhibit in a shop space instead of a gallery space, I thought it's natural to make an interaction with my work and displayed merchandise, instead of just installing an installation piece as a new layer which avoids the display. So I proposed an idea to remove all the island display fixtures and to display merchandise on my piece itself, which suggested to take into account of the idea which I have in mind when I work on the commercial shop design, taking consider flow line and the volume of merchandise you can display.
The difference is that "there are many existing things." As there are many things which you cannot remove such as flooring, walls, ceiling, entrance, payment counters, fitting rooms and the stock room it is necessary to plan and fit those unremovable things. In this case, you can see there are no other ways to place the aluminum belt.
What is the source of your inspiration?
I often get such question, but I don't have anything special. Every project is in a different condition and environment, and I study it carefully in my own way. I think I have a certain manner in terms of my thinking method, but I am not able to articulate it yet.
What is your favorite place you have visited so far?
Recently I like to hang around a wine bar in Nishi Azabu called "salon des saluts" that I designed last year. It's my most favorite space at the moment as I feel comfortable in its space and service. As for architecture, St. Mary's Cathedral, in Tokyo has been my favorite for a long time. It's been built with an explicit scheme. The interior space is beautiful and outstanding.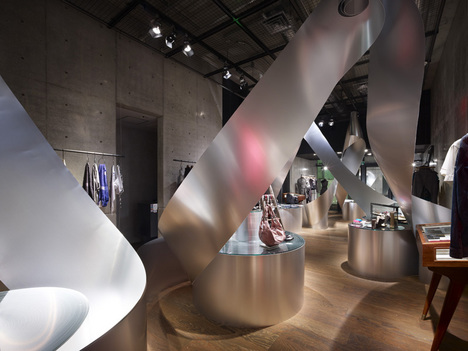 Exhibition view, Chikara Ohno Installation "ROLLS" / Photo: Toshiyuki Yano
What is your most important thing when designing a space? Do you have any common concepts?
I am always aware of not assuming things like "this should be this". It's pretty simple. Of course I know it's not that easy to break through what I have experienced, heard and seen in the past. But I want to think deeply and connect each of the myriad things that appears in front of me, not avoiding or causing me to think more. And within it, I think it's great to create a free, new and open place where you will be free from what you've taken for granted until then.
On the other hand, I feel a difficulty in how I can build a relationship with society to deliver such places. As an architect I have a big challenge of how I can propose the possibility of existing forms, how I can incorporate the other side of idea into it, and what values I can share in the course of the process.
What would you like to explore in the future?
I want to try things that are much bigger and/or smaller, compared to what I have done with residential and commercial design so far. I am very interested in what could be created when I develop my ideas on a completely different scale.
Chikara Ohno Installation "ROLLS"
Date: July 23rd, 2010 –
Open: 13:00-20:00
Holidays: Non-regular Holiday
Place: DIESEL DENIM GALLERY AOYAMA 1F
Address: 6-3-3 Minami Aoyama, Minato-ku, Tokyo
Tel: +81-3-6418-5323
Curator: Masaaki Takahashi (Brizhead)
http://www.diesel.co.jp/denimgallery
Text: Mariko Takei

[Help wanted]
Inviting volunteer staff / pro bono for contribution and translation. Please
e-mail
to us.