SUSPENDING TIME: LIFE―PHOTOGRAPHY―DEATH
"IZU PHOTO MUSEUM" at Clematis no Oka currently welcomes a photo historian, Geoffrey Batchen, as a guest curator for the show entitled "Suspending Time: Life―Photography―Death". The show focuses on the relationship between photograph and time in a continuous series from "Forget Me Not" (2004) which has traveled in Europe and New York.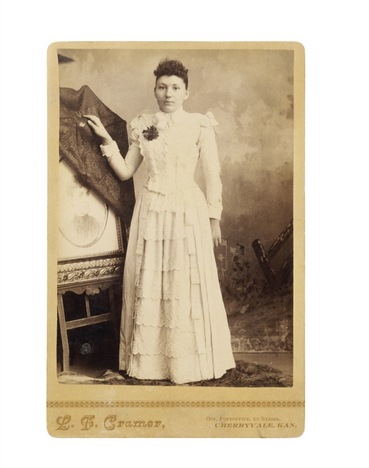 L. F. Cramer (Cherryvale, Kansas) "Woman in white dress unveiling a framed portrait of a woman" c.1890
Almost 300 items have been selected for the show mainly from Mr.Bathcen's photo collection including 19 century's daguerreotype photos, photo jewelries, portraits of a deceased person, pictures with the photographer's shadow, and these are very unique and quite on the private side, on the other hand they have never been mainstream in histories of art and photography. In order to distinguish from art photo, a scholar calls them "vernacular photo" which deeply root in daily lives as they reflect the times and the local community.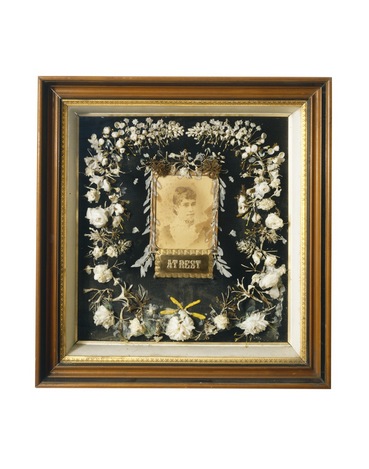 Unknown (United States) "Portrait of a young woman with wax flower wreath" c.1890
"Vernacular photographs" of some quite well-off families are displayed on red wall in imitation of the European style room. One of the photo on exhibit was taken only 2 years after Daguerre had invented photography in France when a photography was still very exclusive. They are called daguerreotype named after Daguerre. He discovered the method to picture an image taking advantage of the chemistry of silver that was discolored by the sun while spraying silver nitrates on silver-gilt copper. Since it can print no copy of the photograph, it will be one and only photo in the world. A daguerrotype photograph in 1841 is the oldest for this exhibit. "It can be the positive and the negative depends on the angle. So it is relatively easy to see when it gets colored. With the frame of those days, you can grasp the deeply attached feeling and the situation by guessing." Museum Staff said.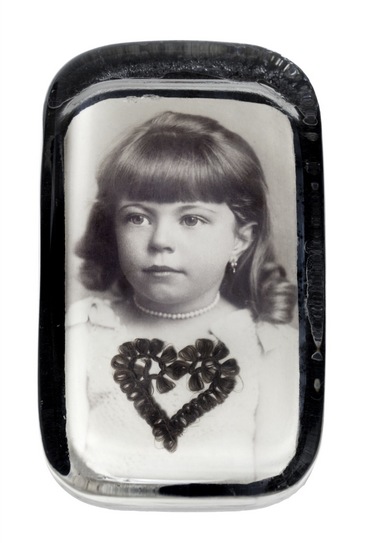 Unknown (United States) "Portrait of a girl in glass paperweight" c.1910s
One of the most invaluable piece among the show is a full-sized daguerreotype photo. It is said to be the largest work in the world. Because it required to make an enough big camera to fit the same size plate in, it was so expensive and has scarcity that Mr.Batchen has hardly seen any. This is the first time ever in Japan to display such a large collection of daguerreotypes. Since the photograph makes use of chemical reaction, besides collectors are usually reluctant to lend out their collections to museum, there is a true story in some foreign museum that a photograph completely lost its image on some condition which cannot be restored. And accordingly, there are said to be probably the first and the last opportunity for this large scale collection to get together on site.
Those works are more of deeply embodying a heart given by people left behind than just a portrait of deceased person. One portrait of a girl who had died young in c.1930 was added with her hair by her parents, other baby portrait was decorated with a flower wreath which symbolizes an eternity, some was ornamented with young lady's hair and a wax flower on its frame as if they were contemporary artworks.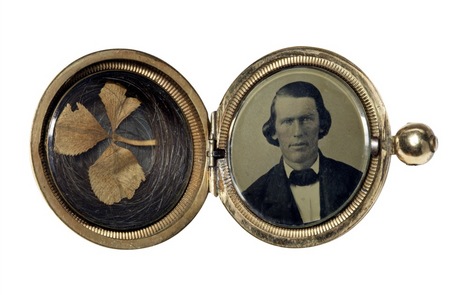 Unknown (United States) "Portrait of a man in silver locket" c. 1860s
In the center of the showroom, there are photographic jewelries which are derived from American culture and rarely seen in Europe. Probably easier to picture something like a locket pendant that usually keeps a lover's photo, such as a bracelet-shaped one with subject's hairs weaved into strap, and a broach decorated with subject's hair on the back. Moreover, there is a paperweight from c.1910s that is ornamented with heart-shaped subject's hairs closed to her heart in the photo for the purpose of feeling close to on the desk at all times. There is also one that contains trimmed mustache with his mustached portrait and other from around 1890-1900 that expresses a couple's wish that last forever with weaved their hairs with their portrait.
In addition to that, there is a portable daguerreotype which are usually cased in US and framed in Europe. The characteristics of this type is that a subject also holds a daguerreotype in the picture. Mr.Batchen describes as the intention for a viewer to share a feeling with the subject who holds the daguerreotype in the same case by seeing it. This exhibit explains that it is more likely than not that velvet or leather are used for case materials to attract viewer's sense of touch.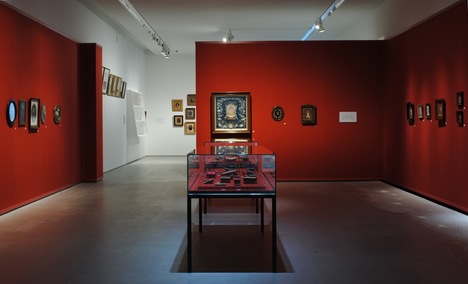 "Suspending Time: Life―Photography―Death" Ground View
Another big highlight from the show comes last. All these photographs has two things in common. They were taken after a photography became popular among the public, and they are non-art photos which shot by ordinary people. Between "snapshots that feature the photographer's shadow" by Daido Moriyama and Lee Friedlander (American), who have heightened it to an art level, there are other many "snapshots that feature the photographer's shadow" by people in general. What distinguishes those so called an art work from other general snapshots? Given significance to the theme of this exhibit, it explores a storytelling shadow about the relation of the photographer to the subject, sex, photographing situations while awaking a viewer to different perspectives and giving him a sense of fulfillment at the same time. "Although this shadow is the photographer's, but now it looks like a viewer's one as well. Since they both look the same image through the same finder, even an event took place in the past (an image beyond the finder was taken in the past), it makes us realized the fact that now we are looking. A photograph is about the past, however, it could be also the present. Past and present. Life and death. Supposing it sways in-between and that is the theme for the show." Museum Staff said.
Various concepts of life and death or time in each culture area. The meaning of portrait. And besides, diversity, capability, and potentiality are impressively presented in this magnificent exhibition with exactly "Suspending Time" and its dignified presence. Those eyes in the photo right in front are also the ones that a viewer can capture transcend time and space. Many visitors will be grateful to Mr.Batchen for sharing his precious collection and for the show that deeply and peacefully tells that as time goes on, and yet a photography that embodies the subject is in "Suspending Time".
Suspending Time: Life―Photography―Death
Guest Curator: Geoffrey Batchen (Photo Historian)
Date: 3rd April – 20th August 2010
Hours: 10:00 – 18:00 (Last Entry untill 17:30)
Closed on Wednesdays (If it is on holiday then will be closed on the following day)
Place: IZU PHOTO MUSEUM
Address: 347-1 Higashino Clematis no Oka, Nagaizumi-cho, Shizuoka, Japan
Admission: Adult 800 yen / Student 400 yen / Under 15 years free
Tel: 055-989-8780
http://www.izuphoto-museum.jp
Text: mina
Translation: Yoshitaka Futakawa

[Help wanted]
Inviting volunteer staff / pro bono for contribution and translation. Please
e-mail
to us.