Sweden is a really good country in the matter to export their national talents abroad. Or in other words, Swedes have a truly abroad-mentality. They think global. Regarding the illustration and visual graphics field, Sweden has a well-known potential, perhaps due to the great schools that you can find within this field. Finsta is one of the leading contemporary urban artists in Europe. His love for popular culture and the urban environment, in combination with a desire to be seen and to produce works available to the broad public, has made him a pioneer in the new wave of pop artists/urban artists.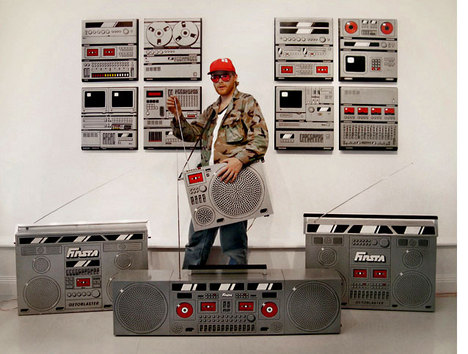 "Finsta electronics, the 2006 summer collection" at gallery Mirai Projects, in Gamlastan, Stockholm, May 2006
Please introduce yourself.
I call myself Finsta. I am an artist, that big companies hire when they want to do something cool.
Did you study in the art school in the south of Sweden or it was in Stockholm?
I grew up in the south, but I moved up and studied at Konstfack in Stockholm 99 – 04.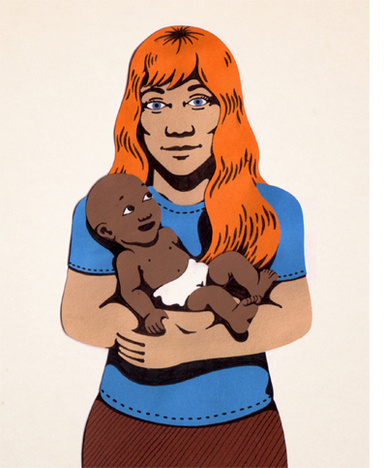 3 drawings from the titlesequence to "All rätt i världen" on U.R. Swedish TV. 2008
In fact, you are also animation teacher once in a while. Where do you usually do that and if you plan to carry on with the lectures.
I have been teaching classes in stop motion animation at Beckmans design school for a few years. I enjoy it. It gives me perspective on my own work, and its nice to be around young creative people. I will keep doing it every now and then when I find time.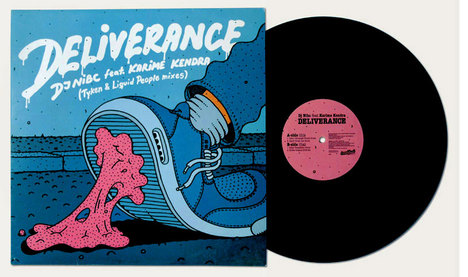 Deliverance 12″ single released on Trunk Funk records.
Some people recognize your style from a graffiti phase in your career.
You could see my background in my work. That is how I like it to be.
Through the different stages of my life I was into different things. Some things faded out and some things live on. I like to do big, expressive fast and spontaneous work. A lot of these things came with graffiti.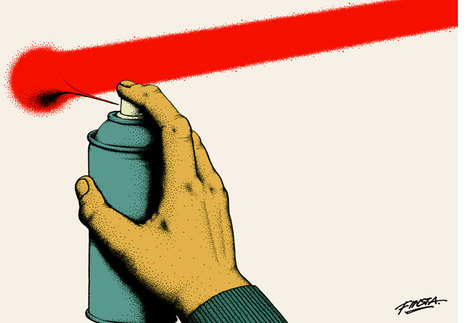 Illustration for danish FAT Magazine 2008
Are you interested in the new street art?
No I'm not very interested. I can't relate to most of it.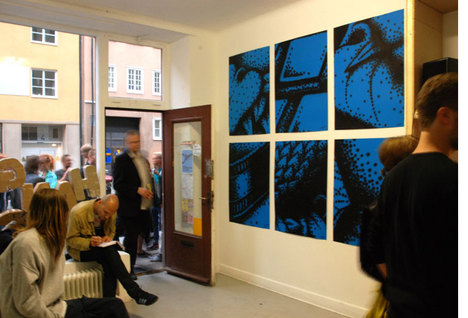 Closeups at gallery Hangups Summer 2008.
Have you done any recent collaboration with any other artists?
I have a few tight friends, but apart from them, I don´t collaborate much. I like to have control.
Music is important for you. How do you think it influences on your work?
Music is one of few things I can enjoy while working.
It is a big part of my life, and I like to show personality and references through my work.
Film and animation is ultimate, where I can combine sound and image.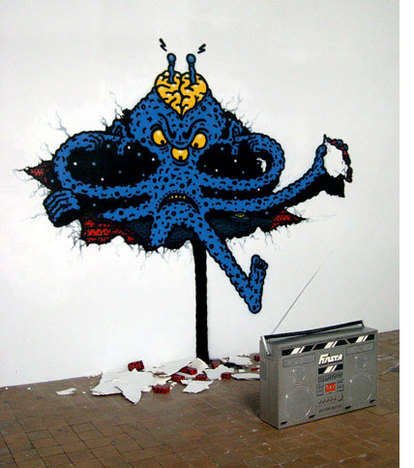 Installation for the show "Everwanting streets" at Röda Sten, Gothenburg 2004
Tell me about your evolution from illustration to animation and film pieces.
I was always drawing. That is what I still do, but sometimes it transforms. I build it, or make it move. I love taking my drawings to a new shape or place, and I love to discover new techniques, and finding personal ways to use them.
How do you usually work, according with the tools and software that you use?
I do most of the work in my brain, but I also use pens, cameras, computers and a lot of secret personal instruments.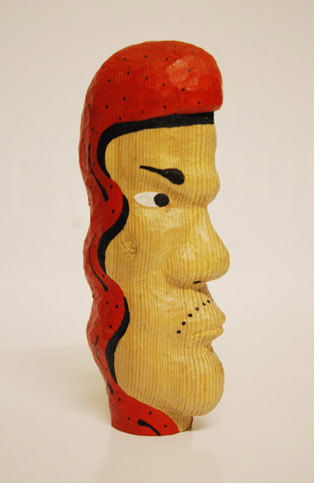 "Mean mug" Sculpture in wood. From the show "Stuff" by Finsta, at Royal Cheese, Paris.
I feel a certain influence in your work from 70´s-80´s American underground illustration.
I grew up loving underground cartoons and skateboard graphics. The coolness and the non proper attitude in them made me want to do the same.
It is something in particular that you collect yourself?
I collect products with my name on them, and I collect pictures of graffiti made by a homeless man in Stockholm called "Satan i Gatan" ("Satan in the street").
Arcade games are also very attached to the graphic designers in "our generation". In fact you can find some references in your piece "flip out".
I hardly had a TV when I grew up, so I never got hooked on video-games.
A lot of times I'm more into the graphic, than the actual thing. Pinball & TV games have a lot of nice graphics. I also like the mechanical aspect of Pinball machines.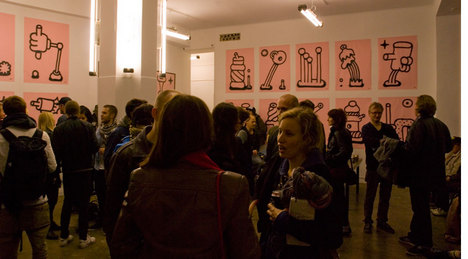 Pink Stuff by Finsta at Gallery Steinsland Berliner Stockholm 2008
You recently have exhibited in Stockholm at Gallery Steinsland Berliner (GSB). It was the 2nd time isn´t it?
Yes, 2 years back, I did the show "Pink Stuff", and this year it was time for the sequel "Glossy Stuff". It is always a pure pleasure to do shows at GSB.
How do you see the art-galleries scenario in Stockholm and why did you select GSB?
I was never interested in the general gallery scene in Stockholm. It seems a bit dull and stuck-up. The people at GBS are different, it is the perfect gallery for me.
Is it any current project that you would like to share with us?
I am drawing a snowboard graphic for Burton today. It will reach the Alps 2012.
Also any project for 2010-2011 you could let us know?
I am currently editing a shortfilm of my own, shot in India. Also writing a script for another one planned to be shot in Stockholm. And I'm doing the poster, titles an art direction for "TPB AFK" a documentary about The Pirate Bay, that will be out next year.
Please namedrop some tips for our readers how to enjoy in Stockholm.
On Götgatan around Folkungagatan on Södermalm, you can find alot of "Satan i Gatan" scribbles. Once you know the style, you can see it everywhere.
Don't miss Gallery Steinsland Berliner when you're in the area, drop in and have a nice chat. Make sure to pick up a copy of my book "Finsta graphics".
Text: Victor Moreno

[Help wanted]
Inviting volunteer staff / pro bono for contribution and translation. Please
e-mail
to us.