Elisabeth Koch is an American designer born in Atlanta to Dutch immigrants. Due to her parents, Elisabeth has lived in many European countries, and her rich life experiences have become sources of inspiration for her in designing wildly creative hats. Since a young age, Elisabeth has always been fond of hats, and presently, her workshop is filled with vintage hats from different corners of the world. After graduating from the famous Wombourne School of Millinery in England, she realized a life-long dream by establishing Elisabeth Koch Millinery.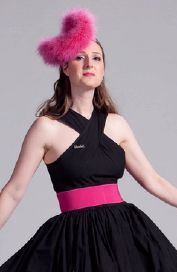 Elisabeth is particularly sensitive to colours, design and fashion trends, and has been creative since she was a child, actively drawing, sculpting and sewing.
She currently lives in China and has set up brand concessions in Beijing, Shanghai and Amsterdam. Her innovative range of hats have earned her wide acclaim and been very well-received. To maintain the originality of her own designs, every hat is a personal work of art, and is not reproduced.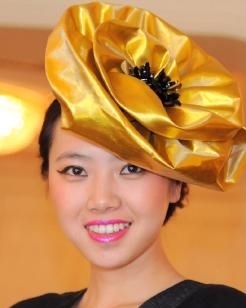 Why did you choose to come to China at first?
Actually, I had never even been to China before I decided to live here. I'd only heard that its fashion scene was booming, which is why I came. Working here is very inspiring for me, because my designs have been featured in famous fashion magazines such as Bazaar and Vogue, and been worn by celebrities like Zhang Ziyi, Zhou Xun and Li Bing Bing. I've learnt a lot of things here, such as the differences in Chinese and foreign consumer behaviour. The Chinese like to buy ready-made products while foreigners prefer buying things that are custom-made.
Who are your main clients?
I have both Chinese and foreign clients, but the Chinese don't take particularly well to these sorts of hats or imported goods, so a large portion of my clients are foreigners who have been living in China for a long period of time. But since the death of the 'Queen of Hats' Isabella Blow in 2007, the nation's high-end fashion magazines are going through a spell where they're crazy about hats, and have borrowed a lot of Isabella's hats for use in many photoshoots. Due to that, several Chinese fashion icons have begun to take an interest in high-quality, custom-made hats. That said, when a Chinese socialite wore an elaborately designed hat to the Chanel Paris-Shanghai Métiers D'Arts collection fashion show in 2009, she attracted a lot of sniggering and criticism. That's why I feel the Chinese still need more time to accept fancy hat designs.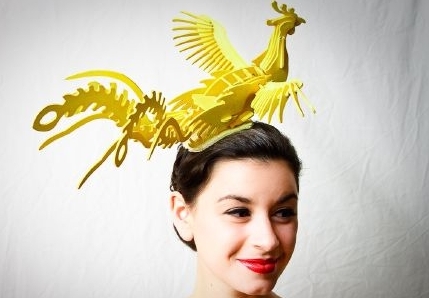 The materials used in your hats are very unique. Are they made in China?
I order a large part of my materials from America and Europe. For example, this hat gauze comes from Scotland. The gauze originally comes from the Philippines, and then it undergoes extra manufacturing work in Scotland before coming to me, where I put final touches on the design.
What do hats mean to you?
Hats are my babies. Every time I move to a different city I have to pack them carefully and meticulously in boxes so that they won't receive even the slightest damage. Some of them may be outdated by current fashion standards, but may return again as popular items in the future. I've always been madly in love with hats since I was a child, as they can be used to complement any type of attire, and can fully transform a person's look.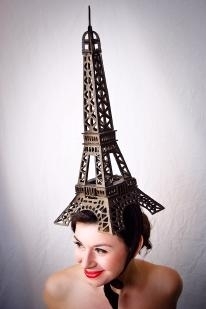 How long do you take to produce a hat?
Every hat I design is a work of art, and I never reproduce it. I custom-design them for myself and for my clients. Normally, it takes about three days to make a hat, and of course, a huge portion of that time is waiting for the hat to dry. Handmade felt hats take longer to dry compared to sinamay straw formal hats. Hats that aren't made from these two materials don't require drying. That said, if it's a hat which requires complicated handiwork, then the time taken to produce that hat is definitely longer as I personally sew every single hat with my own hands. Well-made hats aren't supposed to have any visible stitches on the outside, and you can't use glue or a glue gun to make them. That's the reason I stitch all my hats personally by hand, because it's only something that can be done with hand.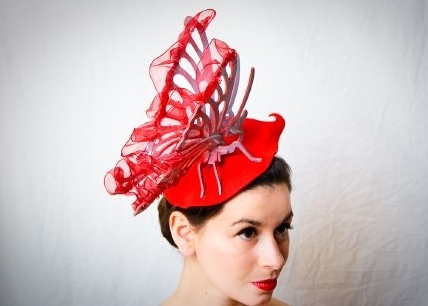 As a milliner, what do you think are the differences between hat design and other forms of fashion design found in China?
I'm possibly the only milliner in China. There are a lot of hat factories here, but there isn't a single person who custom-makes hats by hand. As my hats are very unique, I've been interviewed by many magazines, and I am also watched by individual designers. I personally feel that hats are very different from other accessories, as they are more eye-catching and flashy. When I wear my own designs, such as the Eiffel Tower hat or the Australian lobster hat, there are always people who take pictures of me or want to take pictures with me.
Elisabeth Koch
Shanghai branch: Mary Ching, Room 209, No. 374 Wu Kang Road, Xuhui District, Shanghai
Tel: +86 139 1043 1832
contact@elisabethkoch.net
http://www.elisabethkoch.net
Text: Hailey Meng
Translation: Bonnie Oeni

[Help wanted]
Inviting volunteer staff / pro bono for contribution and translation. Please
e-mail
to us.