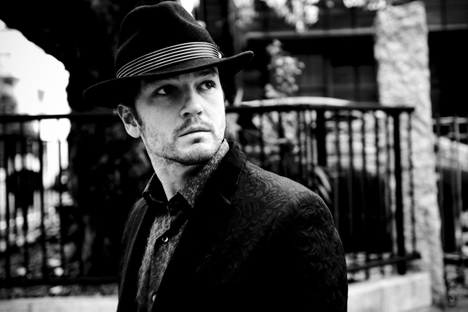 Eric Bossick is a Tokyo-based artist who works in a wide range of fields including acting, dancing, modelling, photography and directing. Truly cosmopolitan, Eric was born in Pennsylvania in the United States, and has lived in Singapore, Canada and Los Angeles. He came to Japan in 1996 and started off as a model for fashion labels such as Yohji Yamamoto, Masaki Matsushima and Gucci before getting involved with the local Butoh scene. He has also had 11 years of experience as a photographer, working for well-known magazines such as ROCKIN' ON JAPAN, ELLE, Rolling Stone and SMART. Currently, Eric has a leading role in iconic cult film director Shinya Tsukamoto's latest film, Tetsuo: The Bullet Man.
What brought you to Japan?
After I graduated from University of Victoria with a BFA (Bachelor of Fine Arts), I moved to Vancouver, Canada, but I wasn't happy with the city, so I decided to go and travel. When I was younger, I had studied martial arts and had a fascination with Japanese culture, so at first I thought I would stay for half a year and then go back. I studied a bit of Japanese language at that point.
When I came to Tokyo, it just felt very natural here for me. And then I got involved in interesting and exciting things, so it made the thought of going back all the more difficult. So I stayed a little longer, and then a little longer, and then it became 8 years I was here.
In fact, I tried moving to L.A. in 2004, but I just felt it was drab and dull – in terms of the city and the way it's constructed, and the culture. There wasn`t one day that I didn`t feel homesick for Tokyo. I just thought, 'I can't do this.' From that point I understood that Tokyo was my home, and I came back for good.
You dance, you act, you make music videos, you're a photographer and model…how do you define yourself, as an artist?
It's funny because I just had to make new business cards and I didn't know what to put on them. In the end I just put 'artist'. You see, if someone has a great deal of talent, I think that you can transpose it into many different industries. If you do multiple things in America, you get looked down on, like, 'What are you doing? You're not serious', etc. But in Japan they look at you more like a Renaissance Man.
Is there anything you don't do?
I just started learning how to play the guitar. I would say I'm definitely at the beginners' level. But I'm limited by time and life. People have said to me, 'Hey, Eric, you were really great at that!' or 'That dance was good! You should do more of it!' Yea all right, but I just don't have time. So right now I'm staying focused on acting and photography.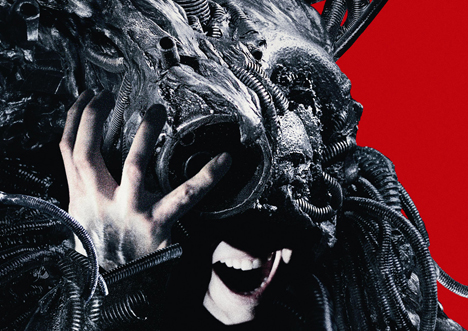 © TETSUO THE BULLET MAN GROUP 2009
By the way, congratulations on getting the lead in Tetsuo: The Bullet Man! What attracted you to this project?
Thank you very much. Well, I've always been a big fan of cult movies horror, fantasy and sci-fi movies – or what they call 'genre films'. Shinya Tsukamoto is one of my favourite genre directors. So when I got a phone call that he was looking for foreign actors for a new film he was making, I really wanted to do it.
I was told very little at first, and to be honest, I was expecting some kind of small walk-on role, because Japanese films are normally made with Japanese actors. I believe preparation is key, so I did about 30-40 hours of preparation for that audition. We had two auditions – the second audition was a camera test, and it was during that audition that I was told I was to become Tetsuo. It was then that the hugeness of the role hit me, because throughout time, Tetsuo is the kind of thing which will always be examined in the history of Japanese cinema.
With the transformation of man to metal-demon, the role also has a semi-fantasy element. As I studied Butoh for 3-4 years, a dance performance involving a physicality which is grotesque, I felt I had a solid background which I could bring to the project.
But doing Tetsuo felt like winning the lottery. The chances are probably like 560 million to one. It's the same odds; I could have never conceived the idea that a world-famous director would be making such an iconic film with a foreign actor, and that I would be lead. I never considered it before, and it`s those impossible odds that give it that against the odds feeling.
The Tetsuo films were previously acted in Japanese and by an all-Japanese cast. How do you feel you brought something different to the films?
As a foreigner, it felt like winning the lottery to be there. But a journalist had also previously said to me, 'No, it was Tsukamoto who won the lottery in finding you.' And I think this is true. Anthony's half-Japanese, half-American, but he's been living in Tokyo all his life. And you know, often many foreigners in Japan, they're not that interested in becoming culturally acclimatized. They get an English-speaking job in an English-speaking environment, and they have a whole community they insulate themselves with.
As for me, I've always been more interested in submerging myself in Japanese culture. I spent a long time investigating Shinto and Buddhism, and I live in a very Japanese way. I love Japanese food. I speak in Japanese to all my Japanese clients. So I think the Japanese culture became infused within me over time, and some people say I am more Japanese than even the Japanese themselves. If I go to America, the gap in culture is immense for me. Perhaps it was because I grew up in Singapore, in Asia, that I learnt how to culturally acclimatize to Japan. In America they have a saying, 'Home is where the heart is.' And my heart is here, Tokyo is my home.
So when I worked with Tsukamoto, he could explain to me his ideas because I can speak Japanese, which he probably could not if he had worked with someone who came over from Hollywood. And there's a whole mentality behind the Japanese language that is unique to its own, because language and thought are the same. A simple example is the word itadakimasu, which has its origins in Shintoism and has no English language equivalent. With my background in Butoh, which demands a certain physicality, that aided me to move from a human to a completely demonic form, as well as how I am familiar with Tsukamoto's work, classic actor`s training, my whole background was suited for this role. So it may have seemed inconceivable at first to find that kind of actor, but perhaps it's like they won the lottery too.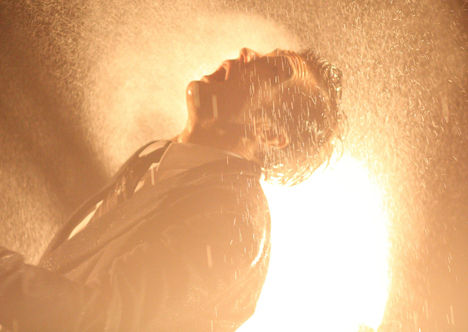 © TETSUO THE BULLET MAN GROUP 2009
What was the hardest scene for you?
Overall the emotional elements of my character in the film. My approach to acting means making it as real as I possibly can. I use the method technique – where basically we look at the character's progression, and then look back at our own personal life, and try to look for similar experiences that could match back. Of course, I haven't had a child. I haven't had a child die [like in Tetsuo: The Bullet Man] so I can't directly link that experience from my personal life.
What I did was to look back on the darkest periods, or the most difficult periods of my life and use that as an emotional basis. I mean, this character – he's had his reality torn apart. First his son dies, then his body changes, and he finds out his family history is a complete deception, and it's a deep crisis he's in. It's a lot easier to deal with physical pain, but the hardest thing was that you can't just go go into this kind of role and then step out of it. You can't come out of that state, it's about being in that emotional state for a much longer period than just one day of shooting. But still, I wanted to go as far as I could with this.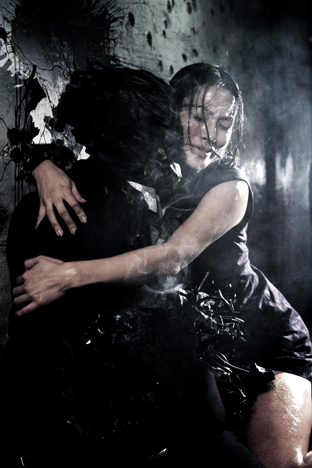 © TETSUO THE BULLET MAN GROUP 2009
What was it like to work with Shinya Tsukamoto?
Well, you know, being such a fan, naturally I thought he's a genius. I wanted to work with him to see his methodology in terms of making cinema, and to learn from him not just in terms of acting, but also the whole filmmaking process, which I can also use in making my own projects.
He really lives his work. In the past, I've worked with people who are geniuses, and generally they obsess with their work from day to night. They literally live their work. With Shinya Tsukamoto it was a little like that. There was no small talk. Every time he had a lunch break, he'd still be working on the storyboard of the next scene. And he'd act it out for himself, then direct us saying, 'You'll be here, you'll do this…' and then work out where the cameras would be. He even sculpted the mask and prosthetic hands I would wear, worked out the lighting, and really oversaw the whole production. It was completely his project.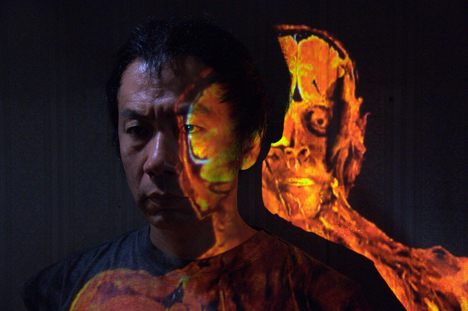 © TETSUO THE BULLET MAN GROUP 2009
The Bullet Man is the latest in the Tetsuo franchise. How do you feel the film has been updated to suit our times?
In the prior Tetsuo films, Tetsuo basically goes through crisis periods and then his body changes when he's overcome with rage. In the first film Tetsuo meets Yatsu (the antogonist) and they bond in some way, with the intent to destroy the world. And in the second film, the whole world's basically been destroyed but he's happy re-united with his wife. I feel in the third film, he's trying to face and overcome that urge.
There's a 20-year difference between the films so there will be changes with any artist's work. If you look at Tsukamoto's more modern films, they are more quiet in tone, more subdued. So when I first talked about the film with Tsukamoto, I wanted to know if it was going to be like the first film, which was a very showy, theatrical piece, or if it would be more subdued in tone. And he told me that it would be an 'otona no tetsuo', or the adult Tetsuo, the matured Tetsuo. It would have a deeper message and philosophy behind it than the earlier films.
So what do you see yourself doing in the future?
Well, right now I want to push my acting as far as I possibly can. I'm thinking of taking on acting roles anywhere in Asia, Australia, Europe and America. We've done promotion in Venice and Tribeca. Basically, I'd like to be based in Tokyo but have projects I`m working on around the world.
Tetsuo: The Bullet Man
Release: May 22nd, 2010 in Japan nationwide
Director: Shinya Tsukamoto
Cast: Eric Bossick, Akiko Monou, and more.
Producer: Shinichi Kawahara, Masayuki Tanishima
Screenplay: Shinya Tsukamoto, Hisakatsu Kuroki
Music: Chu Ishikawa
Production: Kaiju Theater
Distribution: Asmik Ace
© TETSUO THE BULLET MAN GROUP 2009
http://tetsuo-project.jp
Text: Bonnie Oeni

[Help wanted]
Inviting volunteer staff / pro bono for contribution and translation. Please
e-mail
to us.