AIRAN KANG "THE BOOKSHELF ENLIGHTENED"
A glow of wisdom guiding into the appreciation room.
"Airan Kang – The Bookshelf Enlightened" is being held at the Vangi Sculpture Garden Museum in Clematis no Oka (Nagaizumi-cho, Shizuoka) from Feb. 20th until May 9th. Airan Kang, who also recently took part in "Echigo-Tsumari Art Triennial 2009", was born and grew up in Korea while communing with Kant's Western ideas. Since 1999, she has started the "Digital Book Project" groping her way to her identity. She added 200 book titles inspired by her visit the museum for this show.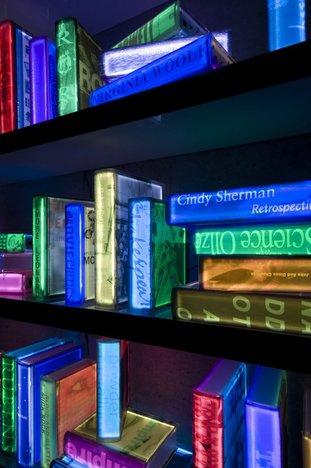 Photo: Sotaro Yamamoto © Airan Kang, Courtesy of Yumiko Chiba Associates
Her motif of "book" can be traced back to 1997 when she had an installation with Korean wrapping cloth called Pojagi. Although it was meant to draw on gender issues regarding suppressed intelligence back then, she doesn't work from a feminist perspective now, she says. She used to be a block print artist, which carries the characteristic of reproductive art quoting from the original form. "In that case, block printing and a book may have something in common", a museum attendant tells.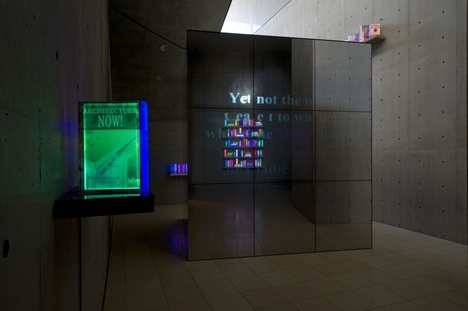 Photo: Sotaro Yamamoto © Airan Kang, Courtesy of Yumiko Chiba Associates
For this exhibit, she models life-size books in transparent resins and uses an LED lamp to radiate from inside. Her first piece is placed nearby the entrance of the Vangi Sculpture Garden Museum. Several books stacked up with colorfully radiating LED lights and an electric display is set on the spine of books. At first sight, it just looks like a pile of books, however, each book is joined by wiring so that you can slightly turn the books. The electric display shows a poem like "Shall I compare thee to a Summer's day?" from Shakespeare's "Sonnet 18". A playwright, Shakespeare's sonnet poetry is actually popular as well as his well-known "Romeo + Juliet".
The title "The Bookshelf Enlightened" is a theme that is based on an idea that a bookshelf symbolizes the cultural identity of each human being's system of wisdom. Upon entering the main gallery, some Japanese titles are on view, including Japanese contemporary art such as Mighty Atom, and also the Murasaki Shikibu Diary along with other collections of Italy's Botticelli, Jeff Wall and so on.There seems to be many books from Impressionist for this show and that is because of her inspiration on her visit to the museum. She says that she partially revised the size and color from the original book designs.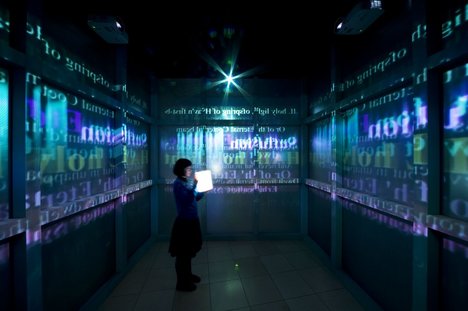 Photo: Sotaro Yamamoto © Airan Kang, Courtesy of Yumiko Chiba Associates
It originally started as a project to exhibit glowing artworks. Eventually she came to present a whole book world not only for letting a captive reader absorb the author's message, but also to allow the audience to experience the interaction through sound and vision in time. She calls it "Heteropian Space". It resulted in a mirror house just like the highlight of the show "Light, The Tempest, One Touch".The exhibit had appeared in Korea and Germany last year, and the presentation of an evolved version finally arrived at Clematis no Oka this year. This work has a dual translucent structure that enable the viewer to experience literature and art from the inside and outside of the mirror house.
Pick up your favorite book among five prepared ones while entering the mirror house. A sensor reacts when you place your hand on a bookcover and approach the wall, and then a content of the book you hold is projected on the wall of the mirror house that also can be seen from the outside through the translucent mirror. This is so called hands-on art work. All 4 walls of the mirror house shows each projected different image of the book accompanied by scenes and letters. "Paradise Lost", an epic by John Milton, was projected at that time. It is said to be selected based on a light and sublimity theme.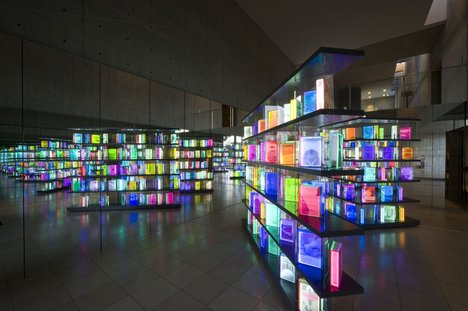 Photo: Sotaro Yamamoto © Airan Kang, Courtesy of Yumiko Chiba Associates
The final piece of work is a three-way mirror which creates an infinite regress of bookshelves. These books keep glowing in everlasting mirrors as if they are a terminal of a brain's neurological system. This room is exactly pluralistic space. More than 120 world wide titles queued up along with Japanese ones such as Howl's Moving Castle, Emperor Hirohito, and Yasunari Kawabata. Airan Kang presents many works like this creating a mixed space with mirror.
A reason why Airan Kang takes up a book as a digital image is to arise a question on the future of a book in the technologically accelerated era. It can be interpreted as reconsideration of culture given by accelerated technology while recognizing the meaning of a book again.
Airan Kang "The Bookshelf Enlightened"
Date: 20th February – 9th May 2010
Place: The Vangi Sculpture Garden Museum
Address: 347-1 Clematis no Oka (Higashino), Nagaizumi-cho, Shizuok
Tel: 055-989-8787
http://www.vangi-museum.jp
Text: mina
Translation: Yoshitaka Futakawa

[Help wanted]
Inviting volunteer staff / pro bono for contribution and translation. Please
e-mail
to us.