Expressing your emotions is what's really important.
Cao Yang is the lead singer of the band 'EXIT A', and currently works and lives in Beijing, China.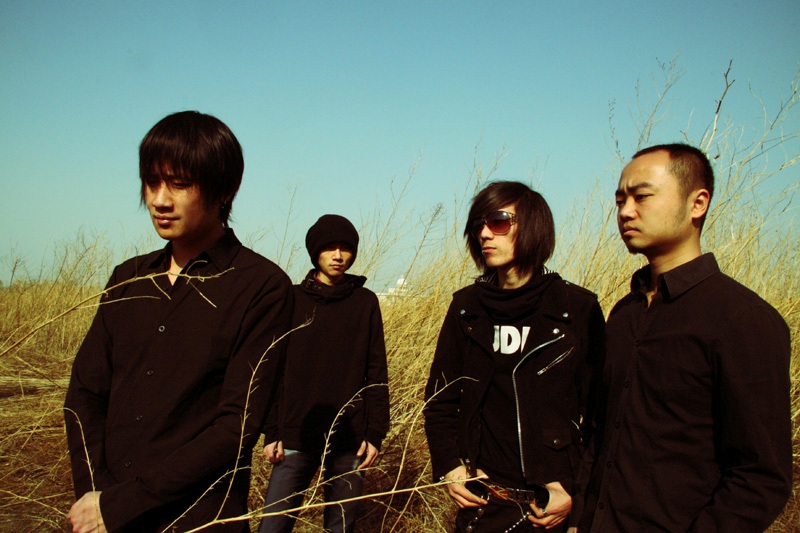 Of the few rockers that exist in China, Cao Yang is one I know intimately. With regards to rock music, I can personally attest to its novelty in the music industry, and how it is a genre of music which cannot necessarily be entirely grafted with the sensitivity and vision found in contemporary art.
..Typically characteristic of EXIT A's music is its electronic components. This genre of music grew alongside rapid developments in technology in the beginning of the last century, and utilises modern technology in creating melodies that are extremely unique and powerful. Differing from classical music in its elegance or the musicality of jazz, electronic music is unprecedented in the way it assaults our senses and brings a rush in its impact. It has become an important outlet of self-expression in our current Western-style society, which developed following the post-war business and financial boom. This sort of music also shares a close connection with the nightclub and rave culture.
It was through becoming closer with talented friends who work with rock and electronic music such as Cao Yang that I gained a deeper knowledge, feel and appreciation for this genre of music, and this industry. Cao Yang's band was formed in 2007, but its member line-up was only confirmed and finalised in 2010, after various upheavals and changes in members. They have since participated in performances all over the nation, ranging from the small to the big scale. These performances include the Beijing Mogu Contemporary Music Festival, Xi'an Qujiang Youth Music Festival and the Hangzhou Xihu Music Festival. In addition, they were two-time champions at the Red Bull Original Music Competition.
The latest EP has already made an impression on our auditory senses, and the poignant mix of Cao Yang's unique voice with the songs' rich lyrics – sometimes allegorical, sometimes arrogant, sometimes sincere – conjures up sentimental feelings of yearning, wistfulness and the trappings of fate. It's almost as though he's weaving a story of our ordinary lives, and sings of the powerful deluge we seem to get caught under, when confronted with the warring concepts of sense and sensibility.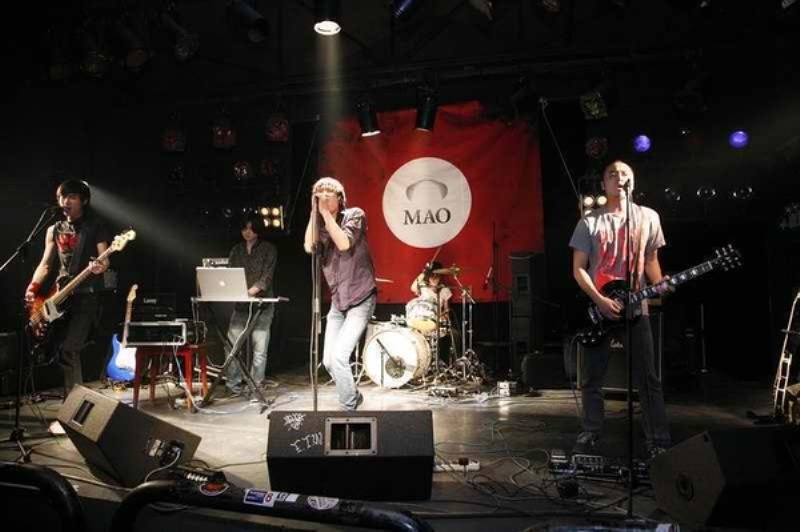 First off, let's talk about your most recent activities, such as singles released, the performances you've been in, etc.
With an infusion of fresh blood into the group, right now we're still intensely focused on rehearsals. Our newest members are guitarist Wang Yuqi and bassist Chen Jing. Fans who follow the Chinese rock scene quite closely should know of them – they've been around since forever (laughs). Also, we've started preparing for pre-recording sessions. This will be the band's first release. We aim to make it an EP album containing 5-6 songs. The pre-recording will be done by Zhang Yang, while the post-recording mixdown will be done by Wu Jinggang. We have held a lot of meetings and discussed different project ideas. We also checked out a lot of places, and decided on a recording studio which best fits our sound. I believe the record will be quite extraordinary when produced.
Other than the CD, we'll be distributing a video of the band rehearsing live together with the single. Since the video will be recorded live and unedited, it will be somewhat different from the album version.
Actually, a lot of technique and skill is going into the production of the single. I'll be using the artist Liu Wei's 'Feng Jing'(Landscape) for the cover, while the design and layout will be done by You Guangyu. I don't have to stress how well-known they are. Can you begin to imagine how interesting the finished product will be?
With regards to performance, we'll be joining the Midi Festival in May, and following that, the Beijing Haidian Park Music Festival. Of course, in the meantime, we'll be doing small-scale performances at Beijing's different livehouses. We look forward to going on at least one national tour in the latter half of the year.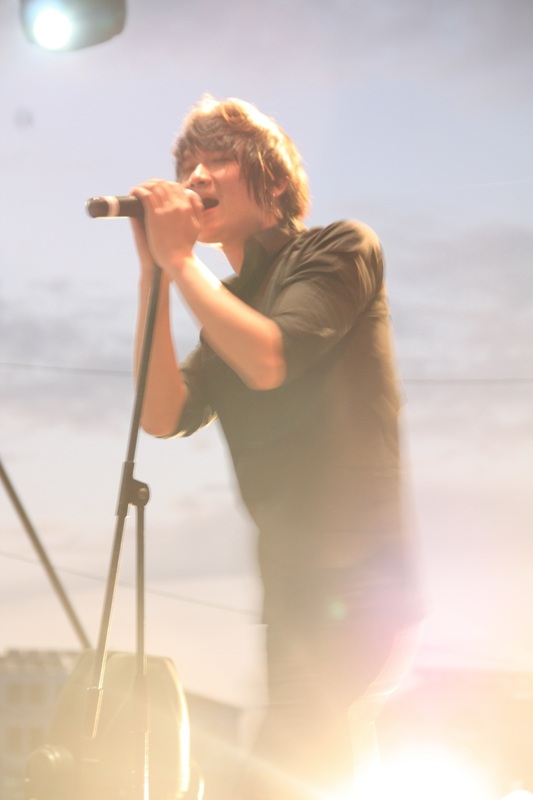 I've done my homework with regards to electronic music, and the impression I get is: In generating these energetic tunes with technology, each person will follow the erratic movements of the tune, associate these with moments of consciousness and emotion, and develop the music to its most intense culminating point. So as a music composer, how do you express your emotions through these tunes and melodies?
Strictly speaking, when you use electronic equipment to make music, the sounds you get are electronic in nature. Even the machines you become familiar with, like effects machines and bass guitar amplifiers, produce electronic sounds. What we should be discussing should be what we term "electronic music". But in actuality, there are many different variations of electronic music, which requires the assistance of a lot of equipment. It can be the hard sort, or the soft sort, and you can even make "electronic music" using the crunching noises created by tapes being put into broken tape recorders. At first, we didn't make use of a lot of electronic elements in our music, because we were still keeping within the conventional limits. I find myself in a dilemma as to when to make use of the equipment, for example. I can use the computer to insert a lot of electronic sounds in our music, but when it comes to live performance, I don't really want to rely excessively on computers and hardware. Besides, I'm such a fan of the rock genre and its different forms that I'm willing to compromise and leave more space for our own musicians to perform. Also, all the preparation beforehand might tire us out to the point where we're unable to complete our shows, even in small-scale event halls. But I know how to make it feel more enjoyable. When the time is right, we'll release a remix album of all our songs, and the tracks contained will be strictly made out of electronic music.
Regarding melodies, I personally prefer creating meaningful tunes which are pleasing to the ear. By that, I don't mean melodies that sound unbearably vulgar. In other words, I don't want to create melodies where listening to the first line immediately gives away what the next line will sound like, or even how the entire song continues. Nowadays, there are way too many songs like these – one might even say that almost every song makes use of this sort of melody. It's become really easy to write a song, you could just pick anyone off the streets who's been listening to popular music a few years now and give them a piece of paper, and they'd be able to come up with a tune randomly. Many of these so-called 'songwriters', are actually tricksters in this way. From my point of view, this isn't song-writing, it's what we'd call in the Beijing dialect, 'chi tu' (regurgitation). Besides, the melody's just one aspect of the music, and is not necessarily the most important part. In terms of making music, rhythm, tone and how the performer expresses himself and emotes are all also very important.
Music can be considered a form of art as it utilises an artistic vocabulary to describe the composer's experiences and memories, or to express the composer's emotions and concepts, which is fundamentally similar to the visual arts. As a composer, how do your own experiences and feelings impact or influence your musical creation?
I'm not a self-centred person, so I don't really like putting my personal experiences and feelings into my music and broadcasting it to the public. The songs I have written up till this point have never been related to my personal life or emotions. Even given a considerable period of time to do it, I wouldn't consider it. Of course, it's a given that some personal experiences and emotions will trigger off other ideas, but what I write and choose to show are not the experience in and of itself, nor is it reflective of who I really am as a person. People who are into juicy gossip may find themselves disappointed. People who are into overreading into my songs for gossip may find themselves disappointed.
Well, let's talk about the dynamics of your band and its work relations. As an indie band, how do you reconcile your band's preferences with the demands of the music industry? How does your band deal with the influences that the contemporary music market and popular tastes have on your work?
We've signed a contract with a company who manages our performances, so they look into performance bookings for us, and any work related to that. We work on independently recording our own music, but the company does help us with that too.
As for our relationship with the music industry, there's no way I can answer that. Basically, there isn't a market that can appreciate rock music yet. If a record sells just 10,000 copies it goes gold, and while you can earn a little money from performances, what you earn is entirely disproportionate to what you fork out. To appeal to the mass market, you have to align your music with their preferences. And if I had to do that, why would I be making music? There are so many other ways to make money. Therefore, I don't really care about the music market, or what the masses like listening to, just do whatever you like. I'll try my best at what I feel I should be doing, stick to my role and perform as best as I can while I'm in it.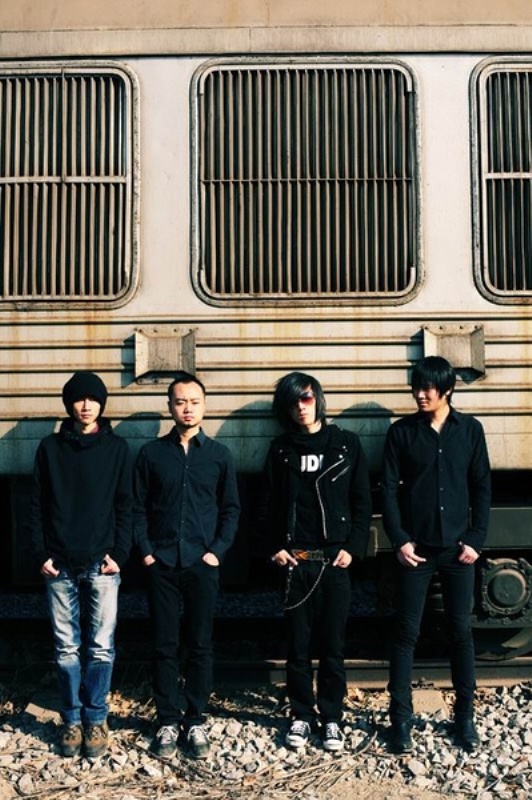 EXIT A (The band)
Vocals/Arranger: Cao Yang
Bassist: Chen Jing
Guitarist: Yang Dan
Guitarist: Wang Yuqi
Drums: Da Zi
The band was formed in 2007, and was at first called 'Caoyang and Exit A', before this was shortened to 'Exit A'. In September 2008, Da Zi joined the band as a drummer, and after frequent membership changes, the band's lineup was finalised in January 2010, consisting of the bassist Chen Jing and guitarist Wang Yuqi.
The band is greatly influenced by 80s synth pop and 90s industrial music. Their band has an alternative rock sound that combines electronic elements with synthesizer sounds. Exit A's music cannot be classified within a single genre. Exit A's music is unique in how it is rich in a variety of musical forms.
Text: Ralph Yuu
Translation: Bonnie Oeni

[Help wanted]
Inviting volunteer staff / pro bono for contribution and translation. Please
e-mail
to us.