"I rather have a body of work that speak for itself than a specific style".
The cover design for February was created by PMKFA, who is originally from Sweden and is now based in Tokyo, creating diverse works for various fields. Nothing can stop PMKFA who explores something unexperienced, but new challenges! PMKFA revealed wide variety of his challenges of the past, present and future.
Please introduce yourself.
I'm PMKFA, graphic designer based in Tokyo working in as many different fields and mediums I can as long as I can supply quality stuff. Enjoy mainly when client give me proper challenges in fields I haven't tried previously, that's when at the top.
Grew up in Sweden and spent first half of the 00's in Copenhagen and London before ending up here.
How and when did you start PMKFA?
After working as a AD assistant at Vår in Stockholm back in 1999-2000 I knew that I had to be working independently, that I had to go my own way entirely, employment was not an option. It was not like my experience there was bad or anything, the opposite, but I felt that I needed to work like them rather than working with someone like them. So during my studies from 1999-2005 I started freelancing a lot as I thought that school didn't move fast enough and I wanted to do stuff that was seen outside the classrooms. Since 2005 it's my full time job and what I'm up to since then can be seen at my newly relaunched PMKFA.
Could you introduce some of your recent and past works and activities?
Recent:
Just delivered a abstract movie, I would call it a abstract nature program, for the Scion 2010 Art Tour that will be touring USA starting 23rd of January in LA. It's a piece that focus on my will to create imagery that's far away from what we see in our daily life. In my opinion every creator of images should ask themselves what the justification of their images is. I cannot see the reason to publish images that contain views that we see all the time. I think we need to give more, if we have a personal relationship to creativity that personality has to be transferred to the image and the viewer, unless we're not more than a sensor just describing our surroundings without interference.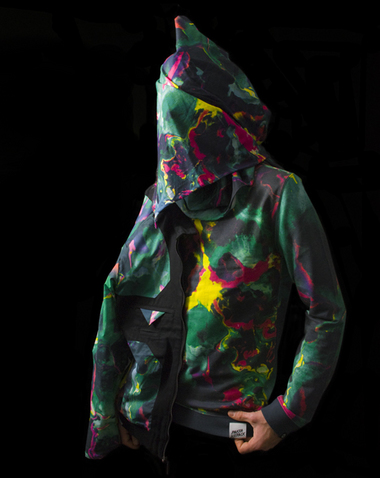 Sixpack "Marblearble" series © PMKFA
I have a deep ongoing collaboration with street wear brand Sixpack France that I do clothing and prints for every season and recently I've created a pair of shirts from scratch, and also designed a backpack for the autumn winter 2010 collection. I love working with Sixpack because they constantly keep giving me new challenges. Many of the stuff I've done for them in the past can be seen on my website, amongst many you can find the "Marblearble" series. It's based on a print that was achieved using marbling inks and chemicals.
Past:
I used to art-direct the great Stockholm-based record label La Vida Locash. We started working together just as they were to step up their business and that collaboration lasted for about three years. It was a great thing to work and grow together and I never stop being fascinated by the CEO Tobias endless energy and constant search for new ventures.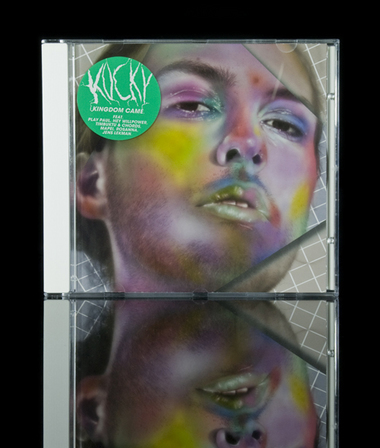 Kocky – "Kingdom Came" CD © PMKFA
Over the years I worked on art-direction and design of the La Vida Locash artists Kocky and Lo-Fi-FNK, but since 2007 we've parted but still remain friends.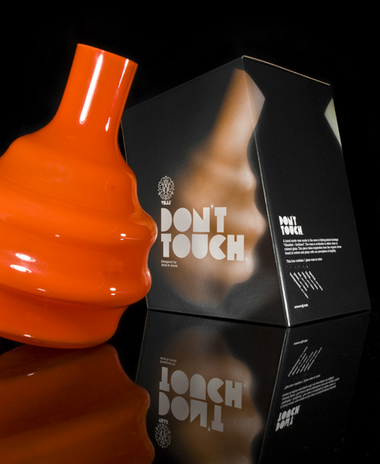 Vujj™ "Don't Touch" Packaging © PMKFA
Between 2006 and until it's closing in 2008 I art-directed the Swedish furniture label Vujj™. I made their identity, catalogues, some of their photographing and we worked together on creating two shows during the London Design Week and the Milano Salone.
It was a great time and our work together will continue through the reincarnation of Vujj™ as a new company named RVW that I recently made the logo for.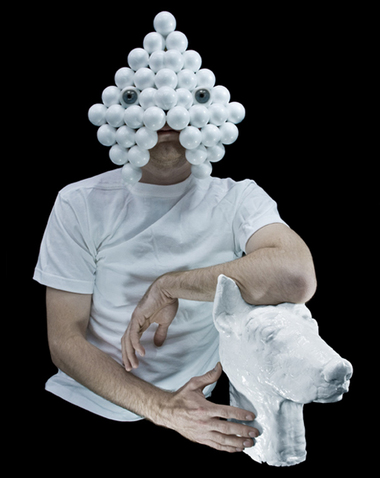 "It's Our Thing" Identity Magikul © PMKFA
Also, could you introduce your collaborative work "It's Our Thing" and your collaborative exhibition with assistant, "Probarious"?
It's Our Thing is a graphic t-shirt label that was started by me and Osaka-based printer Sweatshop Union in 2006. We annually release a line of t-shirts that we sell to shops throughout the world. It's our little baby where we really do what we feel like and I would say that my focus when it comes to It's Our Thing is to be spontaneous in combination with craftsmanship as all parts of it are handmade, from the printing, to the 3D hangtags to the woodcut graphics of last years line. We never cut any corners.
Probarious was a solo show at Diesel Denim Gallery Aoyama were I worked with Assistant who contributed with what we called a visual commentary and they made the whole thing possible.
It was a 100sqm 3D installation consisting of roughly 250 objects.
I created a mythology both through scriptures that could be read on large posters and this connected to the universe uncovered in the installation. I felt that the large space had to be be invaded and mutated rather than me just adding a few things to the space, scale and massiveness was important for me and we really achieved it, people really felt like they stepped into another world and I'm really proud about what we did there.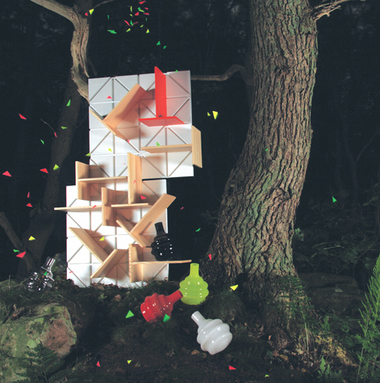 Vujj™ Kullaberg – Alog Don't Touch © PMKFA
You work on a wide variety of different things including graphic design, fashion design, art direction for a furniture brand Vujj™, exhibition and etc. What is your common idea/philosophy for your creation?
I don't apply any common idea really. I believe that when working with different mediums you cannot apply a single formula to these and it will work, a new one need to be calculated for each one of them. I have no urge of pushing through a trademark style and that's why you rarely see me repeat myself too much. When something have been done once or twice I wanna step on. I rather have a body of work that speak for itself than a specific style that make it easy for people to identify PMKFA just from one piece.
But of course there are basic stuff that frequent my work, stuff like how I work wit composition etc, that I guess is hard to not repeat as it's often a very intuitive process.
What is your inspiration source?
It's very fragmented. I would say I rather try to focus on getting my mind to find new ways to come up with ideas. There are moments when I've been at office, not getting any off time to just relax, for weeks when I come up wit stuff that even for me is unexpected. I would like to be able to explore that more, how to tap into those channels and control it more, but not entirely.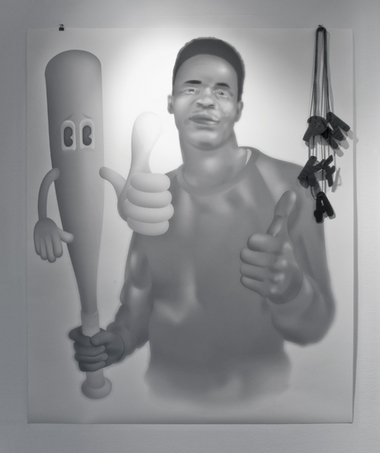 ABAGOFGREASE Exhibition © PMKFA
Who or what is your favorites?
The Economist, Meet The Press, Konflikt in Swedish Radio P1 and Tiger Woods father in law Thomas Nordegren. And I would say Robert Fisk and maybe Roberto Saviano too. Tim Russert RIP. Salem, DJ Screw, UGK.
You have been based in several cities around the world and now based in Tokyo. How did you find yourself interest in living and working in Tokyo?
I think it's easy to have a good life here in Tokyo and the tempo is very high which is good for the quantity of work getting made. I came here for my girlfriend and adjusted to the way things work, but could easily be blamed for living in a kind of bubble. I think that's hard to get away from when working internationally with clients abroad no matter where you're based.
I've lived away from my native Sweden for a decade now, a third of my life and what that does with you is to steadily grind down your national identity and the set of logics and references your born with wherever that is. I see it professionally as a resource, it allow more choice, but personally it's more complex but of course also resourceful too, especially when it comes to empathy.
Sweden or Stockholm seems to be one of the developing places for the recent creative industry. What do you think about this recent big hit of "Swedish things"?
I'm quite disconnected to the Swedish creative scene so you probably know more than me. Sweden is very impressive in it's output compared to it's size. But Sweden for me is more about eating dinners out in the forest late evenings rather than work these days so I cannot comment too much on this.
Where do you like to live and work next? Do you have anything you'd like to explore?
Just got back from a few days in LA and it was good times. US could be nice and I'll go there a few times the coming months but I'll stay in Japan for a while for sure. One place that recently impressed me deeply was Athens, fantastic place where more people should go, really wouldn't mind working fro there for a while.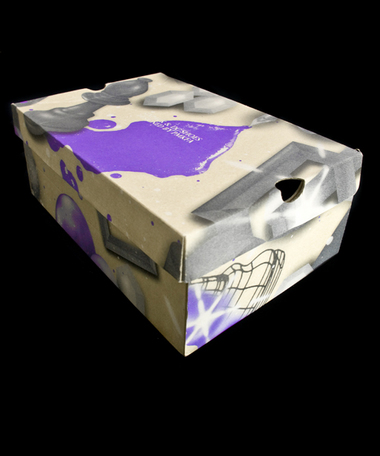 Sixpack DC Shoes Shoebox © PMKFA
What is your upcoming project?
I participated in Scion Art Tour 6 that opened three days ago in LA and will tour the US for the coming six months. New stuff from my collaboration with Sixpack is constantly coming out. Last year they published a book with my works.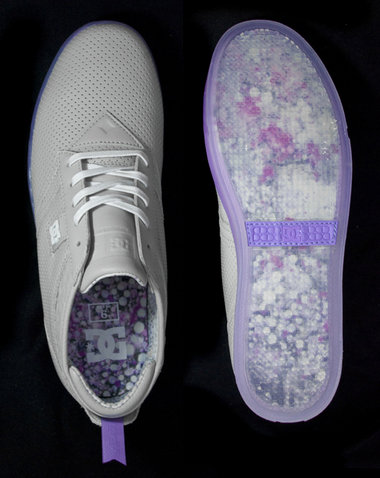 Sixpack DC Shoes Sector © PMKFA
Another group exhibition in LA that opens Feb 20th at the Scion Gallery and is curated by Sixpack under the name of "It Was on Earth That I Knew Joy".
Finally in the end of February my work for DC Shoes will be launched at a event in London at shoestore Size? on Carnaby Street.
Right now the "It's a Tasty World – Food Science Now!" exhibition is on at Miraikan in Tokyo and I made all the promotional graphics for it.
Really looking forward to all of the stuff above and can't wait to see what else 2010 have to offer.
PMKFA
http://www.pmkfa.com
http://www.itsourthing.net (free shipping withing Japan)
Text: Mariko Takei

[Help wanted]
Inviting volunteer staff / pro bono for contribution and translation. Please
e-mail
to us.