Philip Lau and Grace Kwok is a typical young couple in Hong Kong. They share the same life attitude: be simple. They have also formed a creative unit "cowrice" in 2003 to occasionally produce different forms of art. Nothing too crazy, just go with the flow…ever since her daughter Mui Me was born, she has become their greatest inspiration in life. The simplicity in their creations brings freshness to this hectic city. This year, cowrice and friends have opened studio "Fungus Workshop" to share their passion on handmade leather products. Feel free to join their handmade leather class and say hello to this sweet family at Fungus Workshop!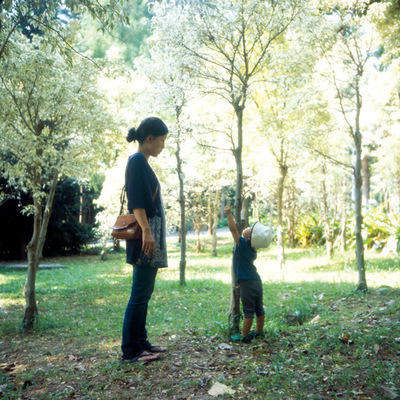 Would you like to introduce cowrice to us? Why did you come up with the name of "cowrice"?
cowrice was founded in 2003 by Philip Lau and Grace Kwok. We are a creative unit to produce some frivolous things from our daily life. We mainly use photographs, text, video, illustrations and handmade products as our creative media. We are deeply inspired by our simple life with a feeling of calm and pure, but also with a bit of social dissatisfaction and contradiction. We may look amiable and approachable from the outside, but our actual selves hate to compromise with the world. We like to have occasional co-operation with our like-minded friends, such as Porporchannel, Harbour Records, My Little Airport, Bbluesky magazine, Lomography, Hoiming, Shimokitazawa Generations, etc.
Ever since we began to live together in 2003, we wanted to find a platform to express ourselves, so we picked a Chinese name "cow rice". This name has no profound reason.
How would you describe yourself individually with 5 words?
Grace is sentimental, simple, contradictive, patient and a mother.
Philip is self-centered, complex, contradictive, distractive and a father.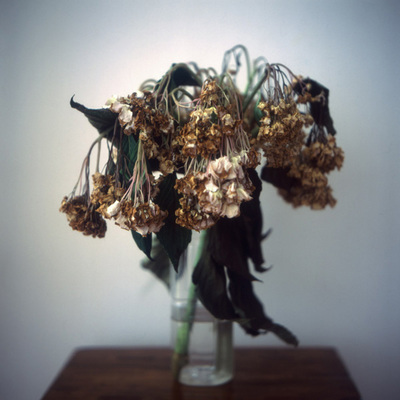 Philip, you have created some nice 8mm films, so which is your favourite one that you have ever made and why?
My favorite 8mm film so far is the one that I made in 2007. It's called "The Time When We Were In Sha Tin Tau Village". This video captured the fragmentary pieces from when Grace got pregnant until she gave birth to our daughter. Those were the quiet days that we miss the most. It was a year of isolation in Sha Tin Tau Village. The music in the video is very simple, it goes with the image perfectly without any modification. It brings out the feeling of our ordinary life. This video is dedicated to my wife as a gift and letting her know that I also love the life in Sha Tin.
As a member of a local indie band, False Alarm, what do you think of the indie music scene in Hong Kong now?
The Hong Kong indie music is now very diverse, many musicians are making efforts to focus on their own music. Only the media label them as an alternative or niche music, but most people identify with these labels rather trying to accommodate their music. Minority will always be minority under this atmosphere. Even though a number of possibilities have been denied, the lovely characteristics have been retained within the minority.
You have taken some very tasteful photos from your daily life. How and when did you get interested in photography?
Ever since Grace and I bought a Lomography camera in 2003, we started to love photography. We continuously take pictures to capture our lives with the full-of-color snapshots. Those images are interesting and fresh. The images are the precise expression of our youth. Since then, I have a curiosity in photography. I tried to read the articles and photographs to enrich my knowledge in photography. At the same time as we grow and life changes, marriage, pregnancy, childbirth, different experiences, our view of things has changed, and now we see things with a sense of calm and simplicity. We want to record our lives and analogue cameras are our eyes. For us, photos speak louder than words, because the images leave more room for thinking. The feeling is more direct, but also a little vague.
Grace, you have published a book "Capture The Fleeting Moments of Life", what is it about? What inspired you to write this book?
I published "Capture The Fleeting Moments of Life" in 2009 to reveal my personal life. The publication records my daily life over the last four years with prose, photography and illustrations. I would like to share my attitude towards life; it's peaceful and yet conflicting. Also, sharing my feelings on work, family, marital relationships and the parent-child relationship, and some of my feelings. Just like everyone else, life is simple. However, I try to enjoy life as much as I can. I care about every single detail of life. I think only words and images can help me to freeze the moments. Throughout these years, from my husband to my daughter, life is seesawing, but it brings me the unexpected calm.
In fact, publishing a book wasn't part of my plan in the last four years. I have been carelessly recording my life with a bunch of drawings and photos without any intention. I don't have perfect writing skills, but I do use my instincts to create. My inspirations are from the people and the happenings around me. My husband and my daughter are my greatest subjects.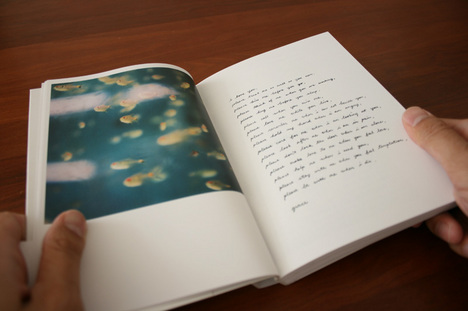 The cute face of your daughter Mui Me has appeared everywhere on your publication, video and photos. How does she give you so much inspirations on your pieces?
Actually, the birth of our daughter, Mui Me limited our time to create, but she has also stimulated us a lot and brought us creative inspiration. In our book, we also mentioned that the birth of our daughter brought us the unprecedented simple world. Her changes in the past two years lead us to realize that life is trivial and full of surprises. We want to record the fragment in our lives everyday. This is not only on the parent-and-daughter relationship, as well as on human nature, our society and the view of life. That's why our creative subjects started to shift to Mui Me or on our common life, bit by bit, because she has become the most precious person in our lives.
I have never thought we would have this transformation before, but now, we started writing for magazines and children's publications to share the experience to live with our daughter, and some tips as well. I love it and this is fun!
Which is the most interesting and exciting project that you two have ever done together and why?
The most interesting project that we have ever done is having Mui Me. Haha! We didn't completely plan it before hand. We always feel that God sent her to us in a very particular time. It was such a natural flow from the day Grace got pregnant until the day she was born. No need to think too much and no need to polish: this is really the life attitude of cowrice. She is an amazing "piece of art" that was created by us. Some parts of her look like me and some parts look like Grace. She is changing everyday and she is interacting with us, the surrounding environment and even herself. Rising more possibilities to cowrice and maintaining the life of cowrice.
Your new studio "Fungus Workshop" has just opened. Congratulations! So why did you have this idea to open a leather goods studio?
Grace always likes handmade products. Throughout the years, Grace has been on and off making some rough leather products. In fact, we both like the texture and the smell of leather, especially the color and the gloss on surface, which you can find the traces of years. So we dug into leather production last year and started to produce a handmade leather collection. This time I collaborated with my good friends, Hoiming and Baldwin, who are leather bag designers to open Fungus Workshop. This is actually a private studio, which also provides handmade leather workshops. We would like to know make more friends through this workshop and share our experience on handmade leather, as well as our attitude towards life.
What is your future vision for Fungus Workshop?
We hope that Fungus Workshop can be diversified. We would like to provide different kinds of workshops, such as 8mm film, sewing, stuffed toy or even selling furniture and lifestyle products. The possibilities are endless…Fungus Workshop not only focuses on handmade leather products, it is also a life attitude, an artistic design and a taste. cowrice and hoiming both carry different characteristics, but share the similar sense of life. We hope to stimulate each other and bring something different to the table.
Fungus Workshop
Address: G/F, 17 Wa In Fong East, Central, Hong Kong
Tel: +852 2779 9003
info@fungusworkshop.net
http://www.fungusworkshop.net
Text: Justin Tsui
Translation: Justin Tsui

[Help wanted]
Inviting volunteer staff / pro bono for contribution and translation. Please
e-mail
to us.