"Apparatu is very young, is one studio, one workshop, one company; is something that is being defined through every project. My motivation since I started to believe in crafts was to create a design studio which would allow me to enjoy work and do what I like. Apparatu is bad-spoken German (Apparat) and bad-written Catalan (Aparatu). Both words meaning a device, a gadget, an appliance, a machine, … I don't have a specific Decalogue about my work, I follow my instincts and do what I feel. Later I decide weather I like it or not. When I think in ceramics, I see jars everywhere. Ceramics are fragile and if they fall they break; something very important in my work. I don't create indestructible things. " – Extracted and translated from FUXYZ Sep/09 interview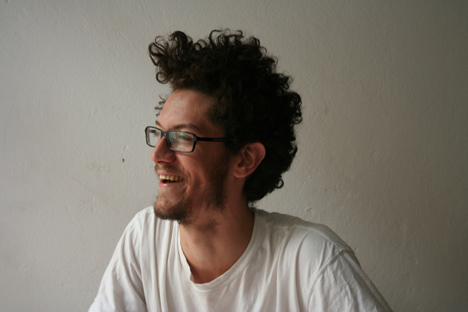 Xavier Mañosa is a young product designer from Barcelona who founded Apparatu while living in Berlin. A son of ceramists, constantly surrounded by ceramics, he had to move thousands of kilometres away from his ceramic roots to discover what he wanted to become when he would be a grown up.
With work being exhibited in London, Stockholm, Milan, Barcelona and Tokyo, and having collaborated with different people, he recently launched a project together with recognized designer Alex Trochut.
Hi Xavier, how do you define yourself? As an artisan? An artist? A designer?
When someone asks me this question, I introduce myself as a ceramist. Normally people reply with a -ceramist? We are a few people in the ceramic trade. Everybody loves our job. Obviously, the film "Ghost" helped a lot.
Which is your first memory of ceramics?
Having grown up in a family of ceramists, you get used to it without asking yourself too many questions. I imagined all families would be more or less the same and it took me quite long to realise about its value.
In my parents house there was a vase from my father. It was there since I was born and it was clear to me that it was an ugly vase. But, suddenly, one day, I thought the same vase was fantastic! That was the point where I started to get interested in ceramics.
Not long ago, I stole the vase from my father and now I keep it like a hunting trophy.
Read more ...
[Help wanted]
Inviting volunteer staff / pro bono for contribution and translation. Please
e-mail
to us.