Apparatu
"Apparatu is very young, is one studio, one workshop, one company; is something that is being defined through every project. My motivation since I started to believe in crafts was to create a design studio which would allow me to enjoy work and do what I like. Apparatu is bad-spoken German (Apparat) and bad-written Catalan (Aparatu). Both words meaning a device, a gadget, an appliance, a machine, ... I don't have a specific Decalogue about my work, I follow my instincts and do what I feel. Later I decide weather I like it or not. When I think in ceramics, I see jars everywhere. Ceramics are fragile and if they fall they break; something very important in my work. I don't create indestructible things. " – Extracted and translated from FUXYZ Sep/09 interview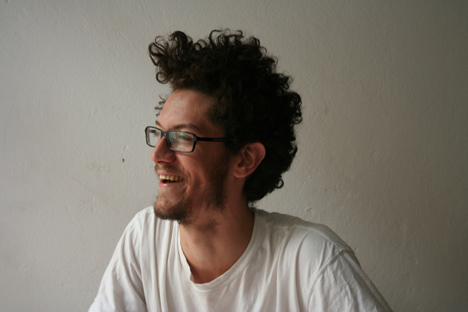 Xavier Mañosa is a young product designer from Barcelona who founded Apparatu while living in Berlin. A son of ceramists, constantly surrounded by ceramics, he had to move thousands of kilometres away from his ceramic roots to discover what he wanted to become when he would be a grown up.
With work being exhibited in London, Stockholm, Milan, Barcelona and Tokyo, and having collaborated with different people, he recently launched a project together with recognized designer Alex Trochut.

Hi Xavier, how do you define yourself? As an artisan? An artist? A designer?
When someone asks me this question, I introduce myself as a ceramist. Normally people reply with a -ceramist? We are a few people in the ceramic trade. Everybody loves our job. Obviously, the film "Ghost" helped a lot.

Which is your first memory of ceramics?
Having grown up in a family of ceramists, you get used to it without asking yourself too many questions. I imagined all families would be more or less the same and it took me quite long to realise about its value.
In my parents house there was a vase from my father. It was there since I was born and it was clear to me that it was an ugly vase. But, suddenly, one day, I thought the same vase was fantastic! That was the point where I started to get interested in ceramics.
Not long ago, I stole the vase from my father and now I keep it like a hunting trophy.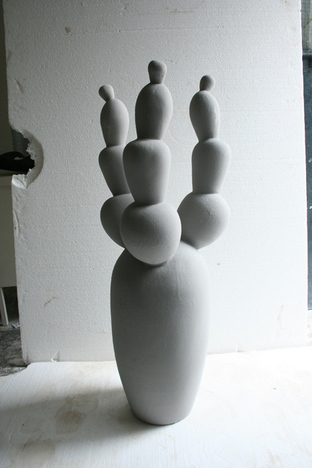 Did you spend time in your parents workshop when you was a child?
Many afternoons after the school, during the weekends and during all my holidays I used to spend my time in the workshop! More hours than I would have liked to.
The workshop is in a very special place. It used to be an industrial ceramics factory which closed to later host sculptors, painters and ceramists including my parents. The atmosphere was rather closer to artisans than to artists.
I don't know why, but later people started to leave and just a few, like my parents, stayed. Later the antiquarians arrived and the ceramics factory became an old-furniture market.
Nowadays, the ceramics workshop is an island within a desert of woods with knobs. But is it now when I actually enjoy the workshop the most. Much more than when I was a child.

Apparatu was born in Berlin. Why Berlin?
I had a girlfriend who suggested to go to Berlin and I accepted. I didn't speak any English, nor German and I was still impressed with the fact that Berlin wasn't in Holland.
Being in Berlin was a great experience. The city has a very hard and cold curtain which impressed me when I arrived, it was scary. But it doesn't take long to realise that everything in Berlin is relaxed, the city has no clock, the underground isn't overcrowded and the bars have no closing time.
The bakery down in my house, used to sell milk which they bought in the supermarket right next to it. Isn't that hilarious?

But a few years later you decide to leave Berlin and go back to Barcelona...
I was 5 years in Berlin, they went really fast. In Berlin I did a bit of everything, from selling hammocks in winter to selling souvenirs in a flea market on Sundays.
After so many years being at my parents workshop, I decided to create my own. I was often thinking on big pieces but in my scarce workshop I had just an oven where only a sloping cup would fit. I started to travel in-between Barcelona and Berlin. Living in the two cities was great but less effective, so I decided to return to Barcelona where I have been for about a year. I have noticed the change considerably. Now I have time to work on the pieces and in Sant Cugat, the village where I live, there are fewer bars where to stop by.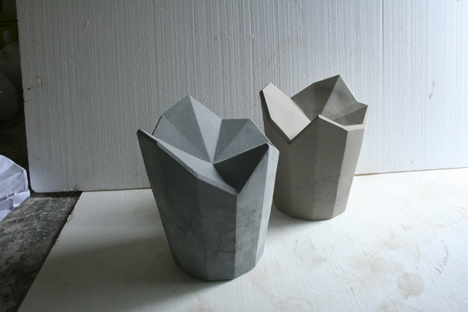 Do you exclusively use ceramics in your work, or do you use other materials frequently?
Coming back to the workshop in Barcelona and suddenly having so much space, tools and materials; pushed me to experiment with more. I have started to mess around with plastics and cement, and my parents start to regret that I am back.

Do you enjoy the most doing functional objects such as lamps or vases rather than others which are merely decorative?
I have studied industrial design and in these times I was in love with it. After finishing my studies I broke up with it and when I went to Berlin I disconnected completely. Later I rediscovered ceramics and decoration. Nowadays, I am slowly approaching to design; is not the same doing what you think that thinking on what you have to do. With decoration anything is allowed and you set the rules. It is a funny experience.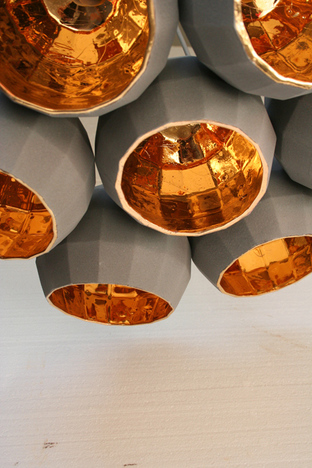 You have been collaborating with several people. Do you feel collaborations being harder than your solo work?
I like a lot doing my own things and maybe that's the reason why I love collaborating with other people. I steal them! You learn a lot while working with others. A collaborative project forces you to change your working method, to see through someone else's eyes and lately to be self-explanatory. You have to achieve that the person(s) you are collaborating with can understand you. Anyway, at the end the results are important.

You have recently collaborated with Alex Trochut. Why? How did such a project happen?
Right after coming back from Berlin a friend of mine showed me Alex website. I was very impressed and I could imagine all his work on ceramics right away. Without thinking, I wrote him an E-mail with my particular love declaration and a formal work proposal. We understood each other very good. Maybe, just like me, he could also imagine the fusion of our work being a good idea, so we started to work.

The exhibition was entitled "TROCHUT + APPARATU Vol. 1". Are you both planning to come up with other collaborative work?
When we started to work together we had lots of ideas. We had too many so we had to choose. We started with an homage to world's ugliest jacket and later with the bar's swimming-pool rubber rings. This is what we have been exhibiting in Barcelona, but we keep working together and now, that we know better each other, we are working on something that keeps us very enthusiastic.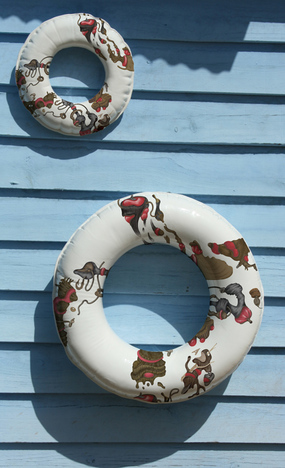 Your work was exhibited in London, Stockholm, Barcelona, Tokyo and Milan. Recently, you have been in Colombia teaching a workshop at the university of Architecture. How all these things happen?

I am not really sure yet, but probably for being such a pain in the neck. Two years ago, I wouldn't have imagined myself explaining my work in Tokyo or teaching classes in Bogotá. One thing leads to the other. I started with the designboom platform, having a table of merely one meter long and now the space keeps growing...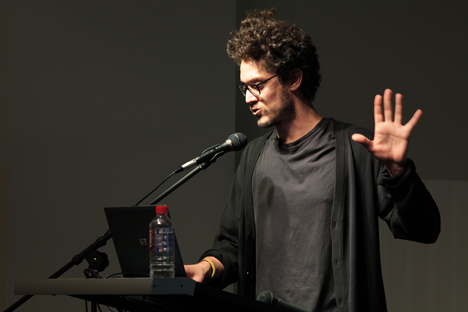 Most of Apparatu's work is basically objects. It is possible to buy them? How? Do you have limited series?
In Apparatu we produce the pieces according to traditional techniques. We distribute in Spain and other countries, but in low scale. Anyone can contact us via Email and order a piece... or five hundred. Soon, we'll have an on-line shop too.
Many thanks for your time. It was a pleasure interviewing you. Thank you for the interview!

Text: Eduard Prats Molner
Photo: Apparatu