Mathias Exhibition "ALL ABOUT DEMOCRACY"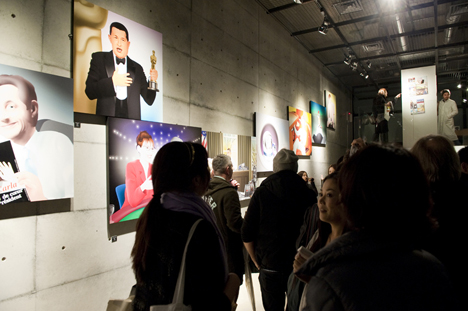 Reception Party, Mathias Exhibition "ALL ABOUT DEMOCRACY"
Mathias is a Dutch artist, who draws political issues in his illustrations. His first solo exhibition is held from November 20th of 2009 to January 31st of 2010 at DIESEL DENIM GALLERY AOYAMA.
He picks up well-known politicians, celebrities and today's world affairs as a theme for his humorous, ironic, and satiric illustrations. American politics is a main theme that he often takes up and politicians like the US President Obama, Secretary of State Hillary Clinton and former President George W. Bush were materials for jokes depicted on his illustrations.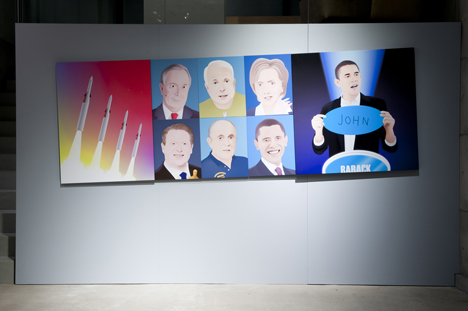 Mathias Exhibition "ALL ABOUT DEMOCRACY"
"Famous politicians who appear on TV seem to be like actors and actresses and that all they do is like a part of their perfomances. They assert that their society is a democratic society. But this is becoming just a joke now" says Mathias. He expresses a warning toward democracy through the exhibition "ALL ABOUT DEMOCRACY."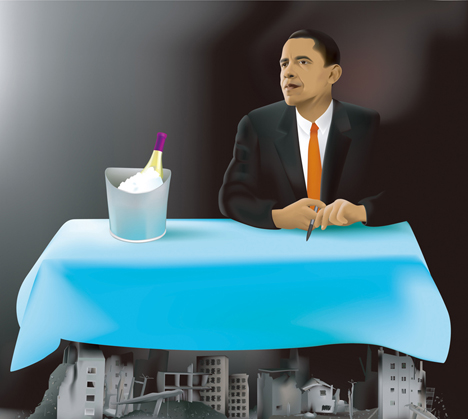 Mathias "Countdown café" (2009)
"I've been interested in politics since my childhood. I often wondered like why unfortunate people are still living in a severe condition. I was shocked by poverty when I visited Venezuela with my friends in 2005 because it was much worse than I thought... On the other hand, problems made by developed countries like European countries and the United States and activities that are done by politicians started to look like performances to me. Feeling this situation to be severe, I created artworks for this exhibition."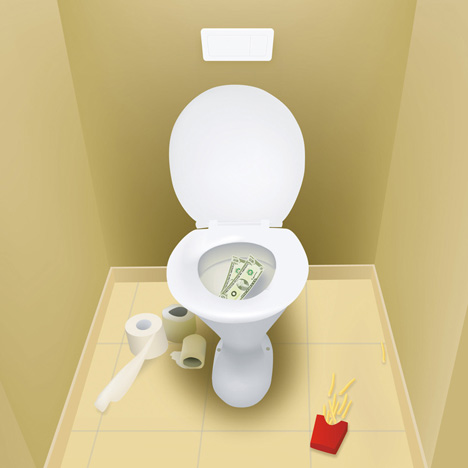 Mathias "Bye bye dollar" (2007)
His works often contain radical expressions. We can see George W Bush flying an aircraft that buzzes an building, Hitler in Jewish clothes and a toilet flushing things that symbolizes the United States (US Dollor bills and fast food).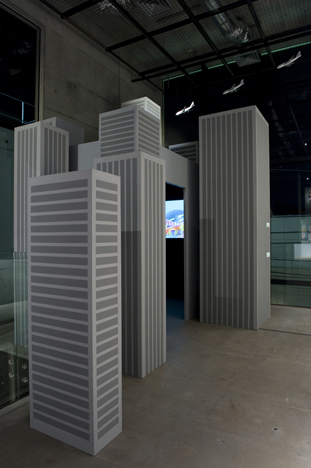 Video Art Installation, Mathias Exhibition "ALL ABOUT DEMOCRACY"
Mathias is also exhibiting a video art piece this time. Among sculptures illustrating an airplane flying to a building that remineds us of 9.11, we can watch three animations named "Theme Park". They were originally created for broadcasting in Netherlands. The humorous and cynical animations featuring cute characters make fun of the fact that big companies control society and politicians are being controlled by someone.
Mathias says "My works can't be radical enough." Because "Reality is much more shocking." His direct talking works give us time to stop to consider the shocking issues taking place around us.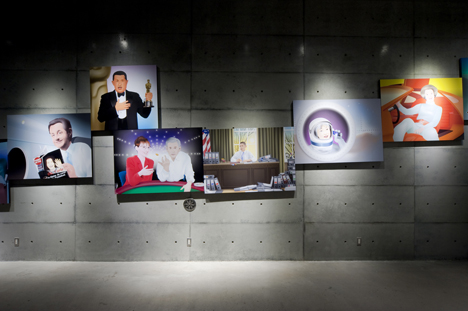 Mathias Exhibition "ALL ABOUT DEMOCRACY"
"There are many problems in our society, but we can change it by ourselves. I hope that we cooperate to make a better society. I believe if we do bad things, they come back to us."
Artworks of Mathias and original art T-shirts (6,090 yen) can be purchased at the gallery. 
Original wallpapers for PC&Mobile are available at the official web site.
Mathias Exhibition "ALL ABOUT DEMOCRACY"
Date: November 20th, 2009 - January 31st, 2010
Open:13:00-20:00

Holidays: Non-regular holiday


Place: DIESEL DENIM GALLERY AOYAMA
Address: 2F
Address: 6-3-3 Minami Aoyama, Minato-ku, Tokyo

Tel: +81-3-6418-5323

Curator: Kimiko Mitani Woo / MW Company
Cooperation: ARTFREAK / COEDOBREWERY
http://www.diesel.co.jp/denimgallery
Text: Wakana Kawahito
Photo: Ken Kato
Translation: Ayano Yamada