A collective art book of paper-made sculptural works.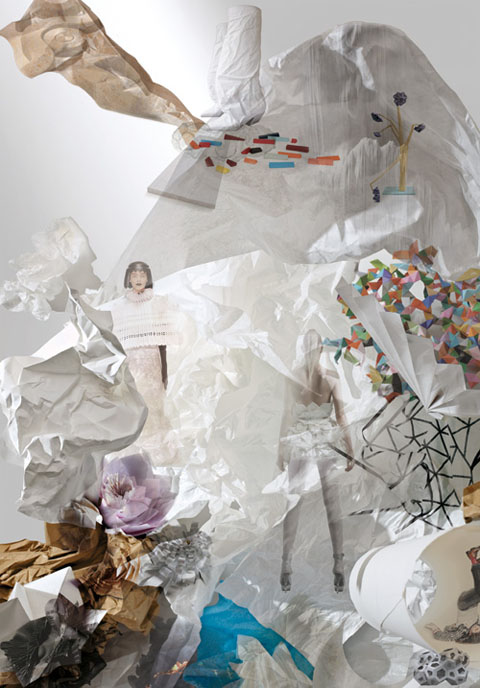 Featuring sculptural pieces using different kinds of paper, the collective book UNFOLDED was released by Swiss publisher Birkhauser in September 2009.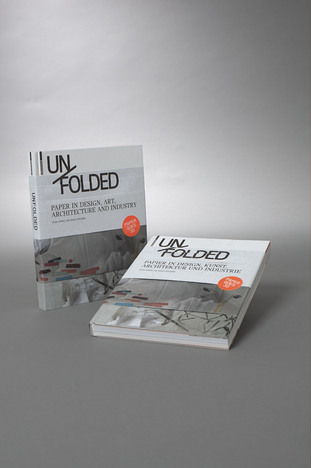 Paper can be found everywhere in our daily lives. Nowadays, more things are seen on an LCD screen rather than paper as many things are digitized. Yet, we still need paper for our lives in such things as books, documents, wrapping papers, and Kleenex, etc. Among the works featured in this book, you can find various incredible ways to use paper. The unbelievable array of works includes objects made of paper less than 1 millimeter thick, and features many sensitive and attractive paper pieces including furniture, clothing designs and fine art. At first glance, you can feel the high quality of this book, including a fold-out poster in the book cover.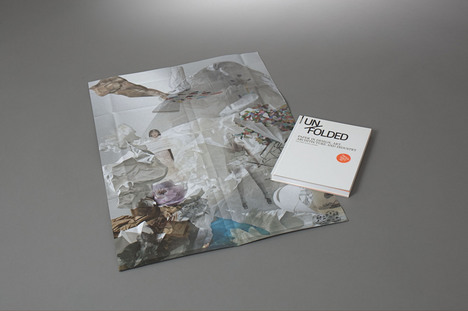 Designed by Pixelgarten
The content of the book consists of 2 categories: PROJECT and MATERIALS AND TECHNOLOGIES. We introduce some works selected from the book.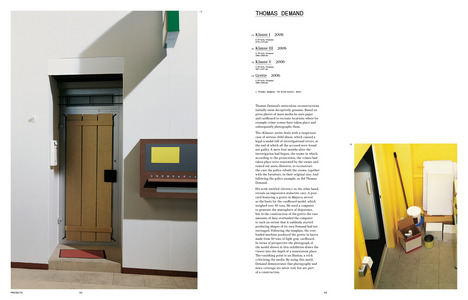 THOMAS DEMAND
Based on press photos appeared on mass media, Demand re-creates crime site using paper and cardboard and then photographs the re-created site. At a glance, you will think it's just one usual scene. But, at the same time, you can experience a sort of odd feeling The inorganic-ness of paper reminds us of a social message and distinctive atmosphere. It's a mixture of beauty and emptiness.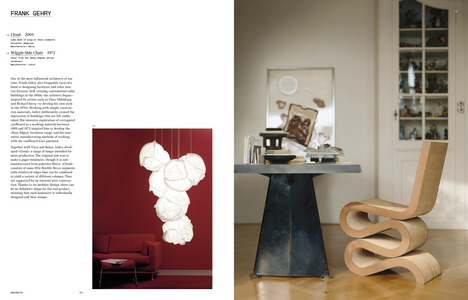 FRANK GEHRY
Works by a master architect who also designs furniture are also included in the book. Like his architectural pieces, his cardboard chair and sofa are also famous. His design features a fantastic surface made of sections of cardboard. The playful yet functional chair designs have been loved for a long time.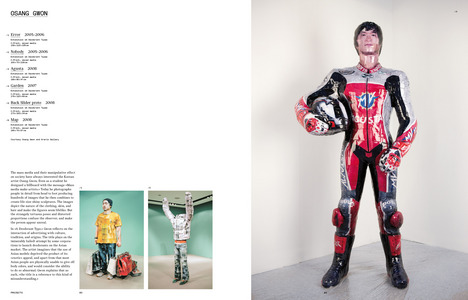 OSANG GWON
Osang Gwon is a Korean artist who explores sculptural pieces using photographs. He takes detailed pictures of a person, from the head to toes, and glues a great number of photos together to make a life size sculpture. The final work seems realistic, but it gives various impressions that the work might seem true to life and yet different from the real thing, showing a great depth to human facial expression. From his work, you will experience a strong will that is totally different from simple photographs or statues.
TOKUJIN YOSHIOKA
Yoshioka works on a wide range of designs including shops, furniture and package designs. Many of his works are in the permanent collection of world's major museums such as MoMA. One of his well-known works, Honey-Pop Chair is just a piece of honey-comb board if folded closed. You can open it up and sit down on it as you like. As you sit down, the chair will conform to your, making it a very unique structure.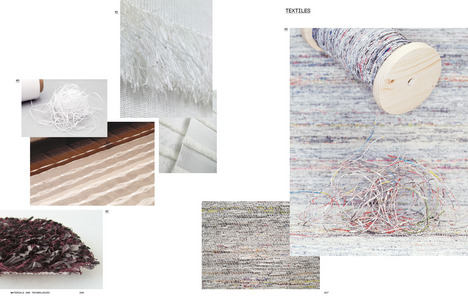 GREETJE VAN TIEM
The Recycling Daily News is her graduation project from Eindhoven Design Academy in the Netherlands, using old newspapers to make yarn. One page of newspaper will turn into a 20-meter long yarn. Who can tell if it's made of paper? Her magical hands turn news of yesterday and today into yarns with memories, which will be then converted into woven stuff abd sculpture.
Besides these works, the book introduces many more in the field of fashion, architecture, interior design and installation. A range of papers are used, including luminescent papers and strong papers. The book covers paper works going back to the 50's. The high quality of the early works continues to impress today, it is hard to notice that the works were made decades before until you see the work credit. Reading this book, you will be surprised by your own narrow outlook on the familiar material of paper. And, at the same time, you will be deeply inspired and motivated by the wide possibilities of the material.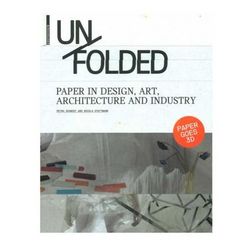 UNFOLDED
Paper in Design, Art, Architecture and Industry
Author: Petra Schmidt, Nicola Stattmann
Specification: 255 pages, color, hard cover
Release: September 2009
ISBN: 3034600321
Publisher: Birkhäuser book
Price: $74.95
Text: Asami Miyamura
Translation: Mariko Takei

[Help wanted]
Inviting volunteer staff / pro bono for contribution and translation. Please
e-mail
to us.