Sweden is such a small market, talented creators have their minds set on international success.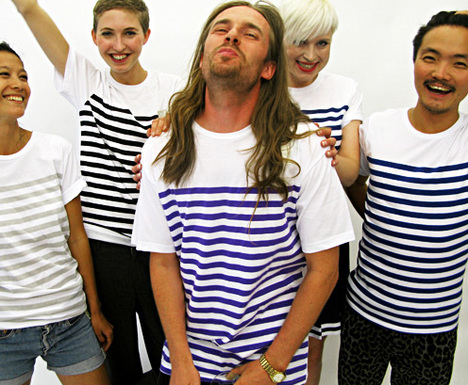 He is an entrepreneur, a visionary in the street fashion culture. Living in London for few years he came back to his hometown Stockholm and begun an input into the fashion business. His first project in the late 90´s, was premium street fashion label Yucon. In the y2k Blammo it´s the fashion accessories company that embraces all the labels. His first breakthrough came in 2005 when he decided to sell shoes into pizza boxes. Success came quickly and within 2 seasons Cheapo Footwear was the fastest selling Scandinavian label for vulcanized shoes.
The keynote is to create original and affordable shoes by mixing influences from street and fashion. Perhaps it´s a formula quite well known into the "swedishness" and the good approach to the mainstream with average prices but still super fresh and top quality products. Their international expansion took off like a wild fire. Shops around Europe reported selling out their entire Cheapo delivery in just 3 days!
But Johan and his team have a non-conformist and antagonistic approach to marketing, design and product development. It´s a different perspective, due to the fact that their roots in contemporary street culture are very solid. Yet at the same time, their knowledge and experience in the world of progressive fashion is really strong.
Therefore after an overview to the t-shirt design landscape the team decided to run new project: T-ShirtStore
It's now 3 years since the first Tshirt Store opened and it's one year ago that they decided to franchise the Tshirt Store concept. At this stage there are 10 stores and 7 more are signed to be opened this year. They have signed master franchise agreements for Denmark, Norway and Hong Kong and as the ambition is to expand internationally and become a global opinion leader in printed T-shirts they have a lot of trials and tribulations to look forward to. Johan and his team are amazingly great people and well, we were willing to get an approach to him and quarter such exceptional talent.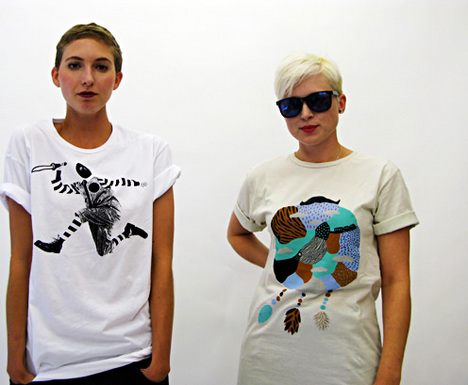 How did you start into the fashion business?
Well, it was really a coincidence. I was in my early 20's and had just moved to London to complete my business studies and I was looking for a business to run on the side. I started to come up with different streetwear accessories and also imported various accessories to Europe and this business quickly stole most of my studying time. The business, which I named "Blammo Random Accessories" expanded and I started to supply chainstores, employ staff and sales rep's etc. In addition a premium street fashion label Yucon (on the picture Liam Gallagher agrees with Mr. Graffner´s fashionstatement) that I ran with designer Tomek Sowacki in 1998-2001. We had some success and also sold to Beams in Tokyo.
From 2006 Cheapo has been your main project, has'nt it?
That's correct, at that time I sensed that vulcanized sneakers was on the rise and I started Cheapo firstly as a footwear brand. Me and our design manager Jennie Rosén came up with the biggest selling shoe design of 2007- The Ninja boot – a vulcanized canvas sneaker-bootwith press buttons on the outside. Hundreds of Europes top fashion stores where placing orders at this time and we grew a lot. At this time we added watches and sunglasses to the Cheapo range at at this stage the accessories are doing really well, especially our colourful talking watches.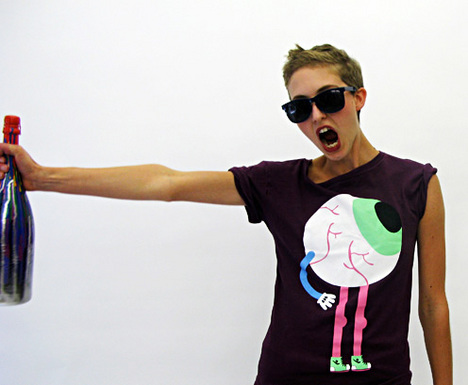 Recently T-Shirt Store became a reality. What can you tell me about this new challenge?
In 2007 I founded a retail company called Tshirt Store together with the concepts founder Eric Hammel. The concept is super solid; small stores that offer ecological T-shirts designed by talented artists and are sold in limited editions. – So I keep quite busy with these 2 companies!
How many stores/cities currently join the army?
We now have 18 stores in the chain and a franchise store opens in Hong Kong in November. We're currently establishing franchise partners in various countries and have an ambitious plan to expand globally in order to make it a truly great company that has a positive impact.
If someone is interested in open a franchise what they should do?
We look for enthusiastic people with great social skills who have a passion for graphical design, streetwear and fashion. The franchisee needs a certain start-up capital and has to find a suitable retail space of 20-35m2 in an AA-location in a city with more than 250.000 inhabitants. We supply the whole package; interiors, signs, POS system, stock and training. I'll accept requests at Johan@tshirtstore.se
How is you creative/design team then and now?
The team has gone through different phases. At this stage for Blammo/Cheapo, the team is just me and our Design Manager Jennie Rosén, Jennie is super skilled in many fields but excells in design. For Tshirt Store the design team needs to be a little bigger than that. Tshirt Store's designs are made in colaboration with a wide spectra of graphical designers, fashion/streetwear designers and artists. Our team is headed by Jonas Wiehager, Joakim Knapp and our talented Japanese recruit and great friend Ken Fujimoto.We deliver about 5 new Tshirt designs every week so the heat is always on to come up with the freshest batch of designs possible.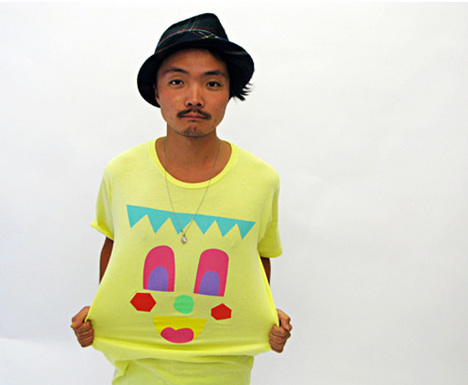 Do you like to get involved into the creative process or you rather be focused in other demands?
I'm always involved in the designs – they determine our success and it's the fun part of the business for me. Still, 90% of my time I have to devote to our distributors, suppliers, store developments, logistics etc. It's always so tricky to prioritise on which area to focus and I tend to do long hours.
I do understand it´s not easy task to achieve what you have done already.
Which aspects are under your opinion the most significant or differential between the markets in Scandinavia, Europe, Asia or U.S?
There are differences in scale and in fashion preferences. Scandinavia is quite fashion forward but the retail scene lacks diversity as a result of the strong chain stores we have. They, together with the online retailers are really squeezing the multiple brand retailers out of the picture, which is really sad as it's traditionally the multi-brand stores who provides a breeding ground for new brands and helps build their brand value. This is a global tendency that is quite developed in Scandinavia, with Denmark being the exception. At the same time more and more brands open their own mono-brand stores to enhance the value of their brand and decrease their dependency on the chain stores. The new trend in Sweden is that even small brands open their own stores, I see this as a high risk model. Fashion vice Scandinavia leans a little more towards a smart well dressed look compared to Europe and The USA who are leaning slightly more towards "streetfashion" and denim. The retail sceene differ a lot between the countries in Europe and is generally not very exciting in cities with less than 500.000 people. I'm genuinely impressed with the retail sceene in Japan and Hong Kong – it's super competitive and on the forefront so we have a lot to learn over here.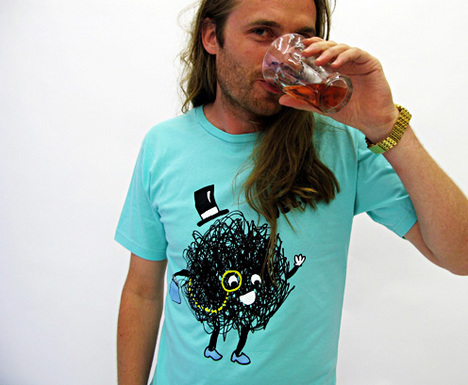 Seems like after this summer fashion fairs brands/exhibitors has reported a boost in sales and things are coming along with a much more bright perspective than this last year passed. Which fairs/cities are currently the most interesting for you?
For Cheapo we mostly focus on Bread and Butter in Berlin and Terminal 2 in Copenhagen. When Bread and Butter was in Barcelona, we had significantly better sales. The general impression from exhibitors is that in 2008 the downfall came quickly and took people by surprise, but now in 2009 everyone expects sales to be low from the start. Both my companies emphasises low/medium prices and high value for money so we're actually well positioned in leaner times, but the premium brands are really suffering.
Internet nowadays comes much more powerful. New generations actually invest more time than we did on TV. How is in your opinion this turn and more over focused on purchases online?
This shift in the market started on a small scale around 10 years ago and now it's at a point where all retailers can really feel it and are forced to decide on a strategy for how they position themselves in this reality. The e-commerce will increase it's market share for the rest of our lifes. Teenagers don't even buy magazines any more, their need for input are fully satisfied on the web.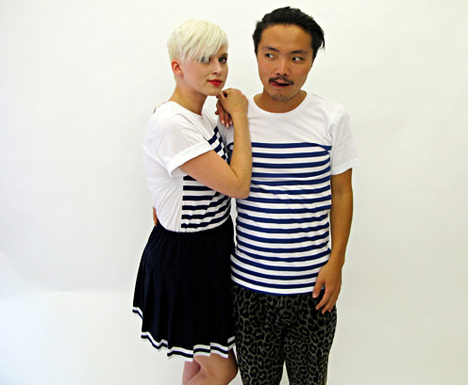 The "swedishness" brings a formula which makes succeeded certain Swedish products/proposals within different segments. How does it work under your opinion?
Sweden has gained in self esteem as a result of the success of Ikea and HM, but these companies are not really credible in terms of design as like all big low cost chains, it's part of their strategy to copy existing hit items. Sweden's tremendous success as a music exporter has given Swedish creators in other fields the self esteem to dare to think big. Sweden is such a small market and as a result, talented creators and entrepreneurs have their minds set on international success from the beginning. Still, the fashion business is so tough that only 5% of all brands survive more than 3 years. That is probably as long as normal people are prepared to work for free in order to fulfill their dream.
Do you think the fact of be Scandinavian/Swedish company helps somehow?
The "Swedish brand" is very strong in fashion and music and my brands Cheapo and Tshirt Store continuously benefits from this. If you're a successful brand in Sweden, foreign buyers already give you a "mark of approval" based on this. They expect you to come up with trendy products, value for money and to conduct yourself according to fair business principles. There is much gained from this good reputation. I have noticed how different countries have different business cultures and as soon as you get the negative reputation of a certain county's business culture confirmed by your own experience you become very reluctant to ever do business with that particular country again.
What do you like about living in Stockholm?
I like the closeness of the nature and the archipellago. It quite a dynamic and creative city and I value the influence I get from living here. Socially it goes from great in the lighter summer months, to very dull during the winter time – now the dark months are approaching and they really drain people of energy. I've lived in a few of the worlds major cities and each have their pro's and con's, you tend to adapt.
What kind of things do you enjoy most when it´s time to relax or hang out?
I love chilling in my friend Jacob's summer house or to go skateboarding in some of Stockholms parks. We usually check out some new tunes or share some brews on the balcony. We hit the bars and clubs once in a while depending on the occasion or who's playing, but I get bored of doing the same routine so sometimes I only party if there is a nice private party. If I'm by myself at home I may play some guitar or read a book, nothing too exciting I guess.
Drop me just a few names: gigs/ bands, festivals, etc that where good this summer.
That's funny, because I'm a little bummed about having missed a lot of great stuff this summer. There was this mini festival where 2 of my all time favorite acts played; Neil Young and The Pixies – but I'd just come home from a production trip to the Middle East the same day and my stomach turned it self inside out from some sort of food poisoning so there was just no way. We sometimes go to the Roskilde Festival which is great, but this summer I had to be in Berlin the same time. I'm going to see the Swedish mad hatters Bob Hund in 2 weeks and they've never left me disapointed before. I also look forward to seeing the Danish fenomena "Balstyrko".
Text: Victor Moreno

[Help wanted]
Inviting volunteer staff / pro bono for contribution and translation. Please
e-mail
to us.