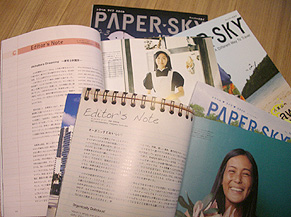 Can you tell us about some of your current projects?
Sure. Currently I'm still working on Paper Sky, actually, we just got back from Bali, Indonesia. I'm also still doing Mammoth as a magazine which in addition to the printing, produces a kids clothing brand with retailer Ships called SHIPS MAMMOTH. Mammoth also produces a yearly camp & music festival for parents and kids called the MAMMOTH POW-WOW. Some kind of recent projects include my position as editor-in-chief of Metro Min. the first magazine that made free magazines or "free paper" a movement in Japan. It was a magazine created for riders of the Tokyo Metro subway system. I also edited a magazine called Planted with Ito Seiko which is all about Plants and about how we live with plants in our daily lives. Unfortunately, we had to stop publishing this magazine after three years. But recently we've re-named the project PLANTS+ and moved it to the web in the form of an online TV station devoted to plants.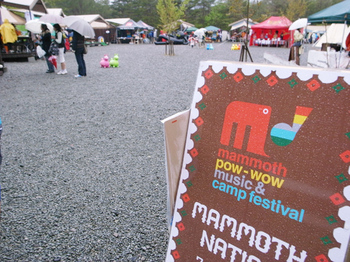 There's a long list of collaborations, would you care to share some of your most memorable with us?
Yeah, there's too many (laughs)! pretty much with Tokion we kind of began the whole trend of double branding in Japan, and that has since carried over to the world. We've teamed up with Undercover, Bape (Bathing Ape), Fujiwara Hiroshi, Porter (Yoshida Kaban), Stussy, Reebok, Crocs, Ships, Casio, Timex, Lee and many, many more brands to create all sorts of goods.
Wow, so what keeps you going? What is your motivation or inspiration or goal?
I would say that I am a curious guy and always want to know about other people and cultures. Making a travel magazine like Paper Sky is perfect because it keeps me open minded and it let's me bring some very valuable traditions, thoughts, ideas and people to Japanese readers as well as to the world. One of our motto's at Knee High Media is, "Made in Japan for the world" and a word I adapted way back in 1996 was WIDESCREEN, originally SONY used it on it's TV's referring to their shape, but I changed the meaning to take on a nuance as a way of thinking openly about ideas and media and that's what really motivates me- its being inspired by living and all the very unique experiences that life offers.
Thanks very much for your time Lucas.
Text: Vicente Gutierrez


1
2
[Help wanted]
Inviting volunteer staff / pro bono for contribution and translation. Please
e-mail
to us.