ALTER/MODE
A world in Between. Fashion beyond clothes.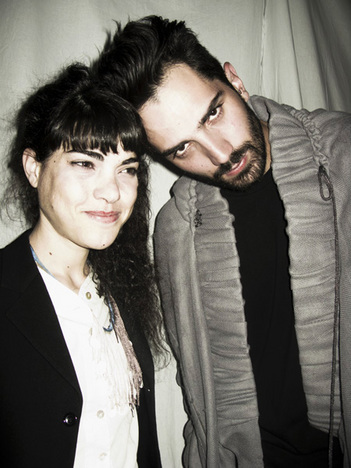 Andrea Ayala Closa and Bogomir Doringer
"A world in Between. Fashion beyond clothes" is the first exhibition project of Curator Tomas Rajnai, graduated by Stockholm University International Curating Management Education (ICME). He is is a well known professional into fashion and art. Since a few years he is being responsible within the team for fashion fair Stockholm-based +46 - Progressive Scandinavian Fashion among a period in the U.K with contribution-projects for Nick Knight´s Showstudio.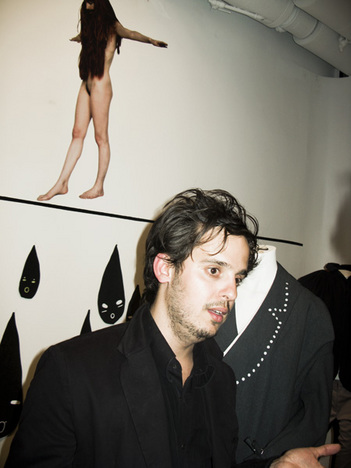 Curator Tomas Rainaj
The exhibition confines Barcelona artist Andrea Ayala Closa, that exhibits at the Kleerup Gallery and Amsterdam-based Bogomir Doringer that shows his work at Weld. Both galleries are barely 5 minutes walk from each other in the center of Stockholm.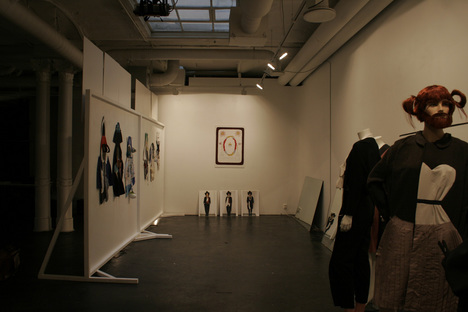 Photo: Mathias Sterner
We were there to attend the exhibition. First stop at Kleerup Galleri. We were among the first ones to arrive but soon there was a crowd of people there. The work of Ayala Closa is a series of illustrations against an interpretation of few garments without fashionable soul.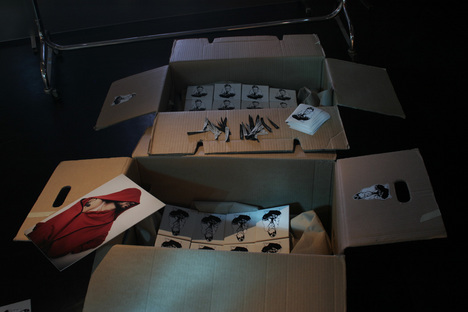 Photo: Mathias Sterner
Live stream video walls allowed the audience to observe both galleries simultaneously. Ayala Closa was around but she decided move on towards his partner-exhibitor at Weld Gallery. People were come and going and after a while the party moved to Weld. There we first met Bogomir Doringer, a very nice laid-back guy. First of all he showed us his good mood about the good time he had in Stockholm and also the very well management from responsible Rajnai. Then Andrea Ayala Closa finally popped up. Although it was our first encounter, after a first quick chat we both realized about our many friends-colleagues in common. Atmosphere it was very relaxed and Doringer decided to do an extra tour with over his art focused in the Natascha Kampusch case. Including a replica all covered in silver by the secret cellar where she lived. Natascha escaped by her kidnapper Wolfgang Priklopil. She was held for more than eight years. She was a victim that suffered the Stockholm syndrome.
Until May 31st it will be possible to pass and see the exhibition in Jonas Kleerup Gallery, Weld Gallery and also The Architecture Museum, (Arkitekturmuseet) will also host a series of lectures and discussions during the period of the exhibition. ALTER/MODE features two artists who have chosen to work with fashion as a tool for artistic expression.
A symposium will be held with the curator and invited artists/fashion makers at Arkitekturmuseet Stockholm, Saturday 30th, 10.00 - 17.00
ALTER/MODE
Date: May 21st - 31st, 2009
Kleerup Gallery (Tegnergatan 18, 11358 Stockholm): Wed-Sun 12:00-17:00
Weld (Norrtullsgatan 7, 11329 Stockholm): Thu17:00-21:00 / Fri-Sun 12:00-17:00
http://altermode.blogspot.com
Text and photos: Victor Moreno