The work of Australian artist Anita Fontaine is an electro-craft genre unto itself. Bringing together elements of Victoriana, magic, and cutting-edge gizmology, her work is defined by its twisted, retro-futuristic cyber visuals that place her firmly at the forefront of the new media art world. Modifying commercial technologies to unexpected new ends, Fontaine creates interactive pieces that invite viewers to actively explore themes of obsession, cult worship and consumerism. Now based in Amsterdam, she runs creative studio Champagne Valentine with her collaborator Geoff Lillemon, and moonlights at the Modernista! lab when the mood takes her. We caught up with her for a little chat about amongst other things, her CuteXdoom game-mod installation which is about to drop at Maxalot Gallery in Amsterdam.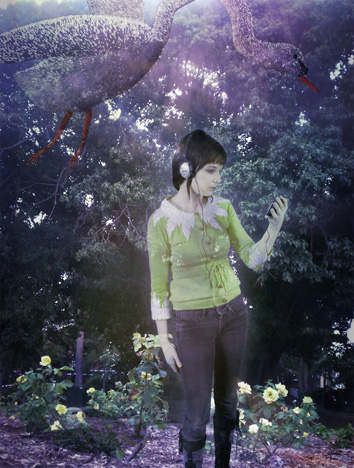 © Anita Fontaine
Please tell us about yourself and your recent activity.
I am an artist and designer who uses contemporary technologies and media interventions to create fantastical new experiences. I use raw materials such as videogame engines, second life space or GPS enabled phone technologies, embedding them with new mythologies and unexpected elements like classic fairytales. My work bridges the divide between authenticity and artifice, virtual and material territories, dreams and actuality.
I was born in Australia but some very diverse projects have allowed me to travel and work internationally. I'm currently living and working in Amsterdam where I am juggling a number of projects, which is quite common for me. I just finished pitching a music video for the synth pop band M83, and at the same time I am preparing for exhibitions opening in Amsterdam and New York City. On top of that I just set up a new design studio with creative partner Geoff Lillemon called Champagne Valentine. We have a very unique approach to developing new projects like videogames, music videos and internet experiences for some very special clients.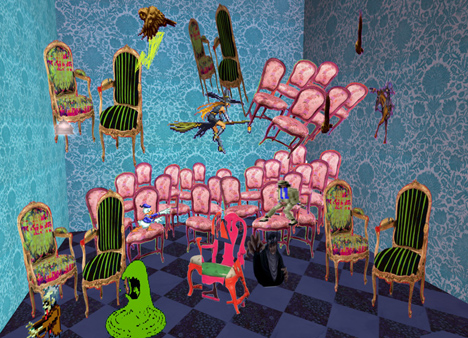 © Anita Fontaine
Can you describe your genre?
I have never actually thought about it, it's nicer when other people worry about those kind of observations. If I had to say anything it would be fantastical new media with hijacked technologies and future ghosts that hover over glitching oceans made of crystals and pixels. Actually I think it's much more fitting and valuable for me to not fit within any specific genre; the idea of being a genre misfit is very attractive to me.
Sum up in a nutshell how you got to where you are today.
I think it would be easier to draw a diagram or something. There are certain people that I have met and these incredible auspicious moments but I think mostly it's the insane hours I have dedicated to my artform.
And always believing life can be a fairytale.

© Anita Fontaine
What has been the highlight of your career so far?
There's a couple, but one would be presenting my locative cinema project "Ghostgarden" at the Sydney Botanical gardens. Thousands of people were wandering around the gardens with purple parasols using these GPS sensitive pocket pc's to locate chapters of this animated lovestory hidden throughout the gardens.
The other would be opening a studio for Champagne Valentine in Amsterdam.
Can you describe your dream project?
First catching some unicorns in an ancient cartoony Japanese forest then riding them to a dinner party in a plexiglass mansion with a champagne moat filled with beautiful people doing knife throwing tricks dressed in stars and velvet with monkeys jumping up and down.
Then making a videogame based on the whole experience.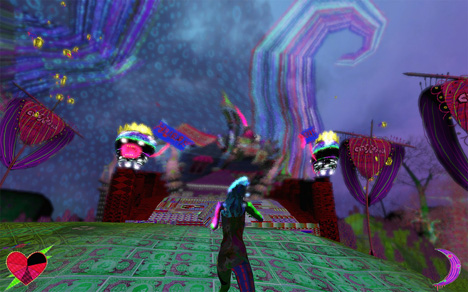 © Anita Fontaine
Tell us about your exhibition at Maxalot Gallery. What is CuteXdoom II?
The exhibition at Maxalot gallery is designed as an immersive installation and gaming environment, incorporating a broad array of media and materials.
The central piece, videogame "CuteXdoom II", manipulates the platform of Unreal Tournament, a traditionally violent videogame, to address the themes of obsession and fanatical adherence to ideologies, with particular reference to Japanese "Otaku" culture.
With help from collaborator Mike Pelletier I have created items based on the conceptual framework of CuteXdoom II which will be presented throughout the gallery space. Limited edition prints, customized wallpaper, joysticks, and even a crystal castle sculpture result in a bit of a sensory overload. Which I think is a good thing!
What are you most excited about for the coming year?
Creating a new series of works based around an infinite animated gif sequence involving medieval knights jousting, the possibility to make a holographic version of Ghostgarden with futuristic sunglasses, short film project in the Belgium countryside with for some fashionable new clients. The rise and fall of the sun and the moon.
CuteXdoom II Exhibition
Date: February 13th – March 8th 2009
Private view: Friday February 13th, 6-10pm
Place: Maxalot Gallery Amsterdam
Address: Boudisque, Haringpakkersteeg 10-18, Amsterdam
Tel: +31(0)6-2450-4540
http://www.maxalot.com
Anita Fontaine
Tel: +31 (0) 68 115 3707
anita@champagnevalentine.com
www.champagnevalentine.com
www.anitafontaine.com
Text: Lotje Sodderland, Maxalot Gallery
[Help wanted]
Inviting volunteer staff / pro bono for contribution and translation. Please
e-mail
to us.