A voice sculptor Mikhail Karikis.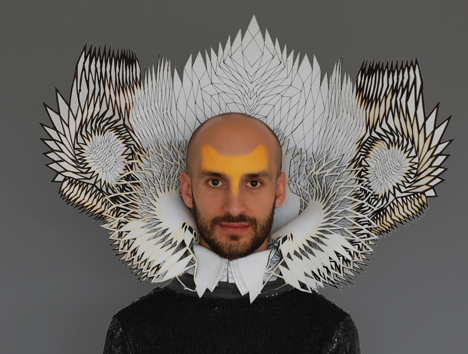 You might have listened to his strong and mysterious, classical and expeimental voice once when listening to Bjork's Army of Me or when visiting to see the upcoming season's clothing lines shown on the catwalk at collections or when accidentally to view his music clips at YouTube. As feeling Mikhail Karikis's voice, many of you must have been taken into a deep place where you have never been to. His latest collaborative album, MORPHICA, is about to be released, SHIFT interviewed Mikhail Karikis who has been actively exploring his world in music and art and who will transport you somewhere into an unknown world.
Please introduce yourself including your background.
I'm a Greek-born artist and have been London-based since the early '90s. I grew up in the noisy port-town of Thessaloniki, buzzing with immigrants from all around the Balkans, our neighboring Middle East, other fellow Eastern European countries and Africa, street music, costumes, and of course ship-horns! That was just about the most exciting thing then in an otherwise conservative country. Coming from a working class, uneducated family, I was always fascinated by the 'other side': books, poetry, experimental and classical music, avant-garde design, ancient Greek tragedy… only the journey to discovering all this was quite long and not that straight forward. I studied classical music, then architecture with experimental group Archigram; then followed my art studies at the Slade School in London. Funnily enough, it was at art-school that I discovered my voice; literally, I began making voice sculptures.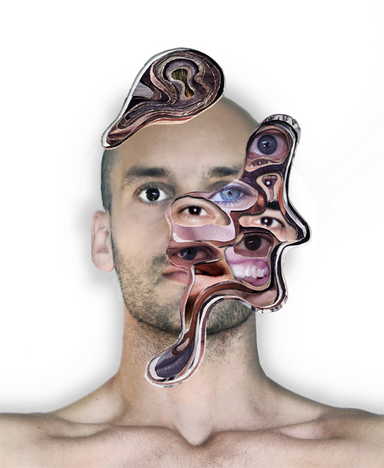 Including your latest album, MORPHICA, could you tell us your recent projects and activities?
I would describe MORPHICA as a project with a political undercurrent that is about discovering a unifying vision and a common cause in uncommon ground. It is a triple music album which I created with over 30 musicians from just about every continent, who took the material of my previous album – Orphica – and transformed it with me. They also made it their own and relevant to their background and work. In this album you'll find electronica, techno, ambient, avant-garde, jazz and choral music all co-existing peacefully. MORPHICA is about friendship and was created among friends. For MORPHICA, I decided to go the whole way and expand the idea of the remix and collaboration to the visuals and the text – something I'd never seen before. So, I invited many artists, designers, filmmakers, poets and writers to respond to the music and the visuals, or remix the lyrics of Orphica. It didn't stop there however; we designed the package in such a way that the person holding MORPHICA can remix all the different elements for themselves: they can create an installation, change the colour of the cd package, read the texts in many different ways etc. We kept challenging ourselves at every step of the project and the result was something none of us had seen around before – that's true joy!
Other recent projects include a soundtrack for Uriel Orlow's installation In These Great Times, a new choral work for Juice Vocal Ensemble and my voice commissioned by London's new concert hall Kings Place, a soundtrack for Zineb Sedira's short film Middle Sea, touring with Alamire Choir and doing many other performances all over the place.
Having gained acclaim for collaborating for the compilation albums with various musicians, including Bjork's "Army of Me", your music works/performances are explored in diverse fields like fashion, art, choral music, etc. Could you introduce a couple of your works and performances in various fields you've done before?
A really fun project I worked on was with Oreet Ashery in summer 2008 for Whitstable Biennale in the UK. Oreet is one of the most daring performance artists I know and working with her is really exciting. For this festival she dressed up as a prophet and lived like that in a fisherman's hut by the sea for two weeks. For my performance I came to visit her/him as a normal office worker who was taken by the idea that he could hear God's voice, with the holy spirit descending on him in the shape of the holy dove giving him the gift of speaking in tongues. This was also my response to a frequent comment I heard people make after seeing me perform live; they say that I sound possessed!
Working with artist Sonia Boyce and Alamire Choir on a performance and video installation called For you, only you was another very exciting project. I took a piece of Early Choral Music and deconstructed it, adding new elements from punk and avant-garde music. I imagined a dialogue between a contemporary voice (myself) and the voice of an old master who left a great legacy of music behind him. Whenever I listen to something old, I always ask myself: 'How is this relevant now? What does it say to us?' In responding to these questions the old is transformed and filtered through the contemporary.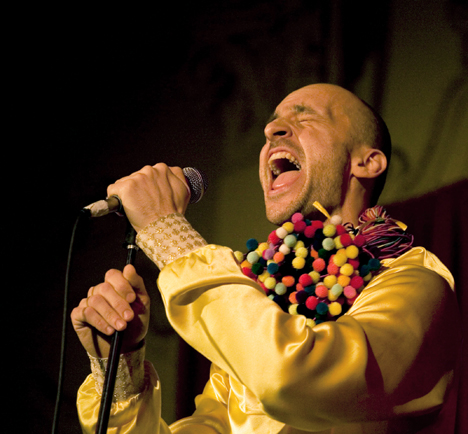 When you make music for different areas, are there any differences between your music in each field? Or similarities? In your biography, you mention you are an artist with background in music, architecture and visual art. How these different disciplines are you think mixed in your work? Please tell us if any example works.
I am a great believer that sound and image are in fact married. Sometimes they get on and sometimes they don't; but forgetting about their relationship is not right. Some performers tend to forget that concert-goers have eyes as well as ears. I don't go to a concert just to hear, I also go to see. Even before a musician makes a single note, I already have a first impression about what I might be hearing and who they are when they are on stage because of the stage lighting, their costume, their hair, the way they walk to the mic etc. Then I hear the sound and think for example: well, I saw someone in blue-jeans and a white T-shirt (a typical American, Coca-cola kinda look) come on stage and he now sings about being a rebellious punk – how much sense does that make now? I think there is architecture in sound because of the way sound can be structured, the way it moves and resonates in space, and because of the imaginary spaces it evokes. Architecture is space with image with sound with movement.
How do you like to explore your music in the fashion scene? Could you tell us about the music you made for the Rozalb de Mura's collections?
It's very interesting. Just to clarify, I don't tend to make music for fashion, I make music which I then I adapt or develop for a fashion show. I think of a cat walk as a kind of ballet – you've got the theme, the costumes, the dancers and the lights. Working for the Rozalb de Mura show was great because their theme and designs were fascinating. They gave me a few words like 'volcanic, bacterial, monochromatic' etc, and they also sent me photos of their collection which was primarily black with lots of details and alien styling. The piece I developed was ambient with a lot of minute details and insect sounds; ever so often the drone burst into a song, like zooming into some bacterial growth to discover an entire different world within it.
How does your Greek background have affected in your works? Please tell us your inspiration sources for your works.
The starkness of Greek landscape is very much part of me and my emotional make-up. That might be a reason why I am interested in dramatic contrasts. Also, in Greece everyone is politicized from a very young age and has an opinion on political matters. In contrast, young people in England are not educated or encouraged to be politically aware. England is the kind of place you'll see people talking hate about America and globalization then walk into a MacDonald's! Political kind of thinking comes into my work, but is not only one part of it, not the whole.
What kind of music you usually listen to?
I usually become obsessed with a particular recording of a specific piece and listen to it for weeks non-end until I'm sick of it or my mp3 player gives up on me. I love electronica and it's quite unlike me to listen to classical opera, as I find the style of vocal production conservative, but I've been listening to a stunning recording of .JF. Rameau's Hippolyte et Aricie directed by Marc Minkowski. This work was the first Baroque opera and caused absolute chaos in the music scene at the time. I think passages of this work by Rameau possess the raw energy of punk and the darkness of the best goth.
Which places do you like the most in London? Any recommends?
(If you are familiar with Greece, please tell us places in Greece, too.)
A couple of friends (Marjan Pejoski and Sasha Bezovski) have an amazing boutique called Kokon To Zai – it's full of fresh design ideas with loads of student work and interesting music. Also, London's new concert hall, Kings Place, is entirely made of one ancient gigantic tree they brought to England all the way from a German forest; this hall has the best acoustics I've ever heard.
If you fancy extraterrestrial-looking landscapes, go to the south-east side of the isle of Lesbos in Greece. It's volcanic with the hottest natural springs in Europe – the plants growing there look seriously outlandish! There is also a petrified forest and it's the land of the first ancient female poet who rebelled against patriarchy – long live the first feminist, Sappho!
How do you like to spend your free time?
I cook big meals for friends and host long, loud dinners.
Could you tell us your future plans/activities?
I'm about to start recording material for my next solo album. I also have a couple of commissions for Tate gallery in London for performances in June and December '09.
Do you have anything/anybody that you like to work together in the future?
A few weeks ago I was approached by a director from 1stavemachine for a promo video – his work looks excellent and we might be trying something together. Also I was chuffed to discover recently that the Nederlands Dans Theater based a whole contemporary ballet on my solo album Orphica – it'd be fun to collaborate with them and their choreographer Maurice Causey.
Text: Mariko Takei
[Help wanted]
Inviting volunteer staff / pro bono for contribution and translation. Please
e-mail
to us.