An artist communicating with nature through sculpture.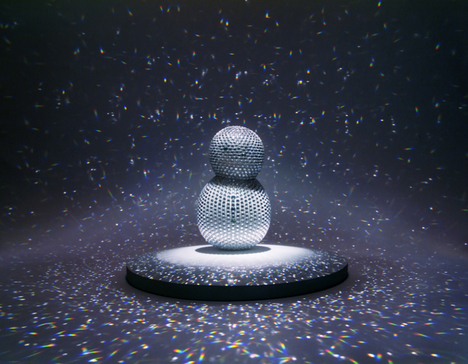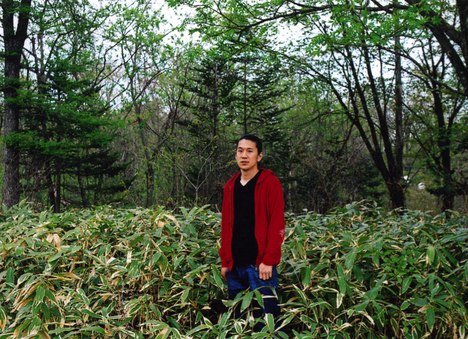 Photo: Yuko Takeyama
Kineta Kunimatsu works in the atelier in Shiraoi located about 90 kilometers south of Sapporo and on the middle coastline between Tomakomai and Noboribetsu. His works vary in taste from soft and gentle to strong and rough-cut. He, though young, participates in lots of group exhibitions and does live painting in collaboration with some musicians, expanding the range of activities into plane works and installations as well as wooden pieces.
 
First of all, could you introduce yourself?
I'm Kineta Kunimatsu, born in Sapporo in 1977. Now I'm based in Tobiu Art Community in Tobiu.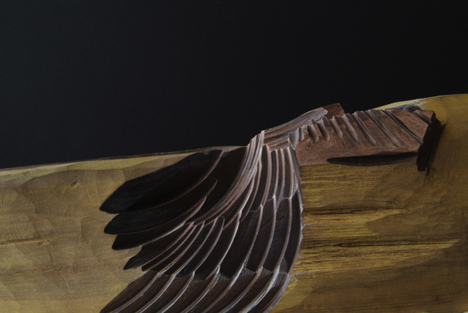 MEGA (detail) / 2003 / 42×28×10cm / Cinnamon Wood, Photo: Kai Takihara
You are going to participate in a group exhibition soon.
Yes, that's New Point vol.6, where 30 artists from different fields assemble on the theme of "New Encounter, New Development." I've participated since the opening in 2004 and feel so much because that was my first exhibition in Hokkaido.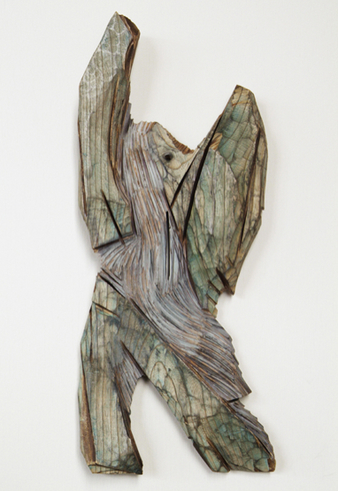 SHIZUKU NO ODORI (Dancing of Dews) / 2003 / 44×18×6cm / Cinnamon Wood, Photo: Kai Takihara
You work on your sculptures with woods. Why did you choose sculpture as a way of expression?
My father is a sculptor and my grandfather a painter. I naturally go into art in such atmosphere, but I've been interested in three dimensions like architecture or ceramic art. There were another years when I would like to move up to a job in car design as inspired by Luigi Colani. "SHIZUKU NO ODORI (Dancing of Dews)" made through the process of engraving and whittling by grinder a piece of wood led me to change my attitude against sculpture and use wood as a main material. That's why I use wood.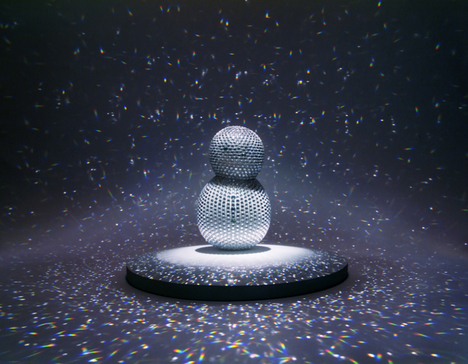 SNOWMAN / 2006 / 15×25×25cm / Cinnamon Wood, Swarovski, Photo: Kai Takihara
In your works, Cinnamon Wood (Japanese Katsura) is used as a main material, and crystals by Swarovski are also sometimes in your works. Do you have any hang-up to choice of materials?
I think Katsura is suitable for my pieces in solidness and easiness of coloring. Another important point is that katsura is grown up in the same place of Hokkaido as I did. I usually take in what catches on me while walking or driving on the street, without regard to other materials such as Swarovski and brass. I use these materials just as the same feeling when, after wearing clothing, we pick up accessories and finish everything.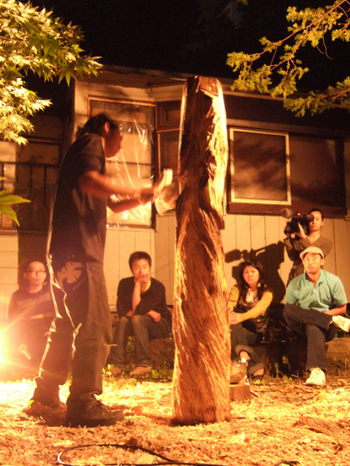 MUSIC & SCULPTURE / 2006 / Sapporo
You will host a self-produce event in the atelier in Shiraoi, and the past live performance with Shuren The Fire, a musician based in Sapporo provide us with close relationship between music and your works. How is music connected to your creation?
I first saw Shuren when they were playing a gig at the club I used to visit in my high school age. After several years, I often listened to their album "My Words Laugh Behind The Mask" while holding my first exhibition. An article about the exhibition led him to come there, talk to me, and collaborate with me after some years.
In that an exhibition consists of some works, it has a lot in common with an album of musician. In such way, when the chips are down, I often compare what I should do with what they should do in the world of music. So I'm often saved by music. In self-produce events in the atelier, it may be too much to say they repay a favor for music, but generally I do aim the integration of music and art.
What kind of music do you listen to? Please tell us about your favorite music and books.
I choose among various playlists what suits my mood best at that time. I seldom read a book, but "The Flies" by Riichi Yokomitsu was quite impressive.
Are you often inspired by music in the process of creation?
Music is a source of inspiration for me, and it could be the source of creation while I'm trying to concentrate. I think I can get all the inspiration from everyday life, but these days I'm interested in a line which is passing from view like horizon.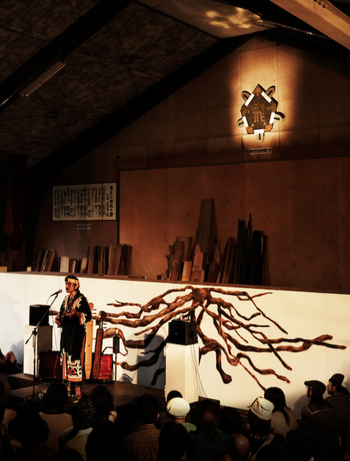 TOBIU meets OKI / 2007 / Tobiu Art Community (Siraoi), Photo: Yoshihito Tomii
Could you tell us about Shiraoi and the reason why you are based there?
I have lived there since 6 years ago. It's famous for spas, Shiraoi Cattle, and Ainu Museum. The reason for the base is that there is an atelier of closed school named Tobiu Elementary School and I really like that surrounding.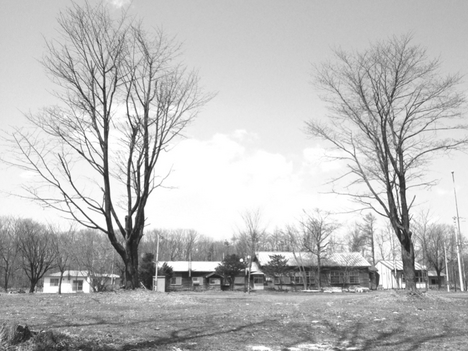 Tobiu Art Community (Siraoi)
You hold an solo exhibition in Hong Kong last year. What kind of response are you getting? And What did you think of Hong Kong's art scene?
I got to like Hong Kong because different cultures and peoples are mixed like as New York in Asia and it was easy to communicate. As for the art scene, there are many young artists. JCCAC for example is an very favorable surrounding for artists. In an exhibition called "RAINY DAYS" in Gallery Benten 17, it was luckily picked up by local magazine, paper, TV, and Net Radio, and in such sence, I felt that the link between media and art scene is closer than that of Japan. What I feel after the exhibition is that no matter what kind of characteristics a place or people have, what they feel through pieces were never be different very much. In Hong Kong, I was introduced not as an Japanese artist but as an Hokkaidoan artist. In that way I feel great possibility to the relationship between Hong Kong and Hokkaido.
Could you tell us your future plans/activities?
I have a lot to give it a go. One is to curb wood into large bathtub. I think it is great to connect with others through the process of creation, so not only as an individual but as Tobiu Art Community it could be interesting to start building an network of communities that links Hokkaido with foreign countries. In that way SHIFT is great!
Please tell us about your future schedule.
In this year, I have some plans: threesome exhibition in CAI02 (Sapporo) in March, participation in Magical Camp 2009 as a plan of Tobiu Art Community in late August, the solo exhibition in Gallery SOU (Sapporo) in September, and the planning of Tobiu Art Festival in the atelier in Shiraoi in December. Please check the details on my website.
Kineta Kunimatsu
Tobiu Art Community
Address: Azatakeura, Shiraoi cho, Shiraoi, Hokkaido
info@kinetakunimatsu.com
http://www.kinetakunimatsu.com
Text: Mariko Takei
Translation: Tatsuhiko Akutsu
[Help wanted]
Inviting volunteer staff / pro bono for contribution and translation. Please
e-mail
to us.