DOTMOV FESTIVAL 2008 has been started worldwide from November, 2008. One of the selections is "Bryum & Kapok: A Memory" that was produced by Overture, a creative team by Jason and Aya who are based currently in the US. Overture's works expand from animations to illustrations including music videos, TV ads, magazines, artworks for CD/vinyl, mural paintings and etc. The selected work for DOTMOV 2008 is the first part of the triptych collaborated with a German musician Hauschka. Created a cover design for the first part of the November issue, Overture has explored their continuous creative journey seeking their new place.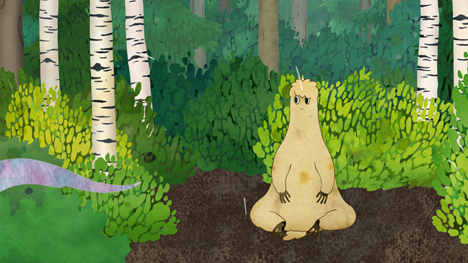 Bryum & Kapok: A Memory / © Overture
Could you introduce yourself including your background?
Even though we both have not gone to art schools particularly, we have always been making something.
Jason: As a child, I would put on my own puppet shows at home and as through my elementary education through highschool I wrote and directed short plays and did also did some acting. While I was in university in Tokyo, I made experimental pop music primarily using a MicroMoog Synthesizer and mixing illustration with it making musical scores, leading to creating a short picture book and an interest in animaiton.
Aya: When I was young, I used to search out my own teachers and throw myself into new experiences. I lived in an artist village in the mountain for a while, and also assisted with mural work in a small town in northern Iceland. I started to create animation around 2001 and screened some of them in group exhibitions.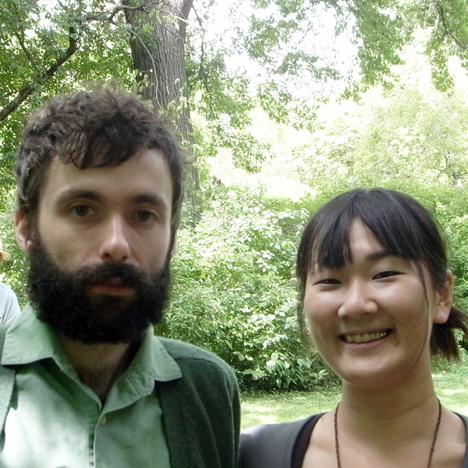 Overture / © Overture
Do each of you have your own role when you create?
As for 2D works such as illustrations and murals, we don't share roles particularly. Like the Shift cover work we did, we sometimes prepare a few keywords along with a theme, but basically we improvise when we draw. We both imagine and work on pieces equally.
As for video work, for now, we both work on the basic view towards the story and characters. And we both work on drawing the frames of our own characters. After that, Jason usually scans them into the computer and edits timing of each scene, and Aya works on color and background. But this depends on the project. We are always looking for new ways to work and better methods.
Overture was formed after creating an opera house. Could you explore more about it?
You must be referring to the part "Aya and Jason created an opera house…" mentioned in our profile on our blog.
When two of us first start to creating together, we needed a place to unite our two totally different worlds. So we thought of a big opera house. In this place, the characters of our separate worlds, as well as those developed by both of us can play, work and live together, and each separate world intermingles focusing around the opera house. As a result there are many characters and new performances created.
It is also the origin for our name "Overture". It is a challenge for just the two of us to express the world started from the creation of our opera house, as well as our separate worlds, out into the real world all at once. It depends, namely, on our abilities, but also time, economic strength and numbers of other factors. In this way what we can express of these worlds is limited and not dissimilar from the overture of an opera or any extended performance, offering a taste of what is to come and a brief summary of what the full work offers. We strive to create works that show as much of what we see as possible but regardless of how grand or expressive a story or animation or illustration we come up with there will always some sense of distance from the piece itself and what goes on in our mind. With this name we are always given a sense of anticipation and thus strive to bring the worlds of our creation and what we present to the outside world closer together.
Could you introduce some of your pieces and activities?

Rhubarbidoo / © Overture
Direction, design and animation for a music video "Rhubarbidoo" by Icelandic band, Múm.

KiraKira cover / © Overture
Artwork and design for an album "Our Map To The Monster Olympics" and a mini album "minimonster ep" by Icelandic artist KiraKira.
Direction, design and animation for "Animals" episode, "Animal Sounds" showed on the kids-TV program called "Yo Gabba Gabba!" for NICKELODEON.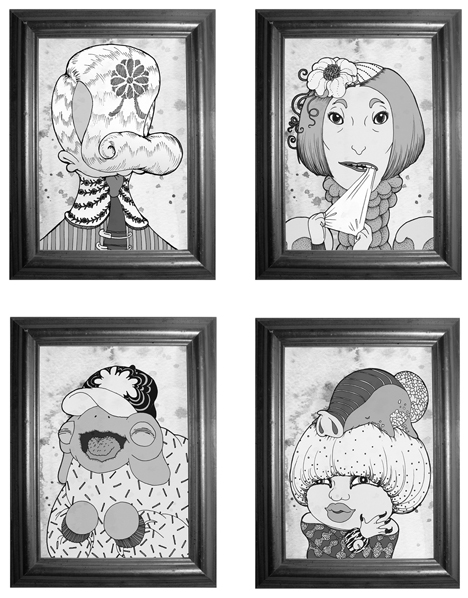 KASINO A4 / © Overture
Illustrations for Helsinki, Finland's magazine "KASINO A4" and "VELI magazine". Some illustrated type featured on them were included in "Playful Type" out of Die Gestalten Verg.
T-shirt and print designs for POKETO in Los Angels. More T-shirt designs including Graniph, BeamsT, UK's Fatcat records.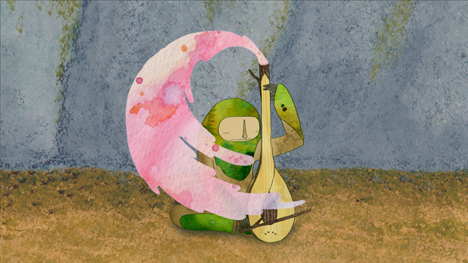 Bryum & Kapok: A Memory / © Overture
Please tell us about the DOTMOV Festival screening work, "Bryum & Kapok: A Memory".
Two forest creatures, removed from any dated time, dwelling across a mountain range of familiar leaf and branch. Kapok, of light and fluffy form, drifting in thought on quiet afternoons while keeping to the glades of the lower mountain forests. And Bryum, mossy and tough-skinned, traveling from distant elevated plains to live and grow deeper into the moss and lichen and rock among the higher mountain firs. Lost in their own personal worlds they shape and protect the ancient woods they live in.
This is the story of their first encounter and the beginning of their friendship. Told in three parts, the first, "A Memory", describes the nature of the two creatures as well as Kapok's discovery of Bryum's presence in the forest. The light-heartedness of Kapok and the more solemn introspection of Bryum rise up from their subtle actions in this first introductory piece.
How did you start collaborating with a German musician, Hauschka? And could you tell us about any ongoing project?
When we went to see a Múm show when they toured the US tour fall '07, we met Hauschka backstage afterwards as he was then opening for them. We had created little Overture packages of stickers and postcards and gave one of these to him. Later, Hauschka took a look at some of our work and contacted us about working on something together. After exchanging emails a few times, we got an idea for a triptych mixing music video and short animations, and came up with a story featuring the two forest creatures, Bryum and Kapok.
On your blog, it is very nice to see not only your creative works but also your daily notes with pictures. The landscape photo shown on the blog reminds me of scenes in your animation. Are you influenced by everyday environments or nature? What are you inspired by?
We think we are influenced by everyday environment, especially things we see happening in nature and the way nature exists. This also depends on our own personal conditions and situations. We recently feel food and exercise have a great affect on our creativity.
Other sources of inspiration are myths, legends, folklore that are told and transmuted over different times and spaces. All kinds of music also influence our work as well as the music we make together and with friends.
There are many cute creatures and characters that appear in your various works. Do they have any particular names? Please introduce some of them.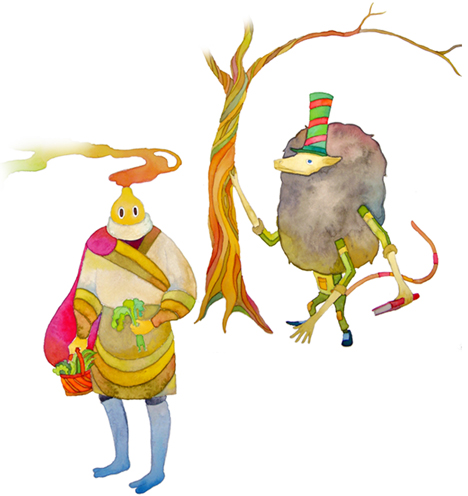 Chim & Harold / © Overture
Chim & Harold
Having an outer skin with the toughness of terra-cotta, Chim lives in a desert city and runs a bar called Sesami, picking medical herbs out among the dunes to use in his business. A furry mess with many arms, Harold is a performer traveling around the world making a living telling unique stories as collects and mixes from the lands he visits while also mixing in tricks and juggling. One day a lost Harold tumbles across the desert where Chim finds him exhausted and dehydrated and nurse him back to health. The story revolves around Sesami as Harold and Chim begin living and working together. In 2006 we made a short animation of the introduction part of their story, which was screened at our exhibition "SWEAT LODGE" held in Oita Japan.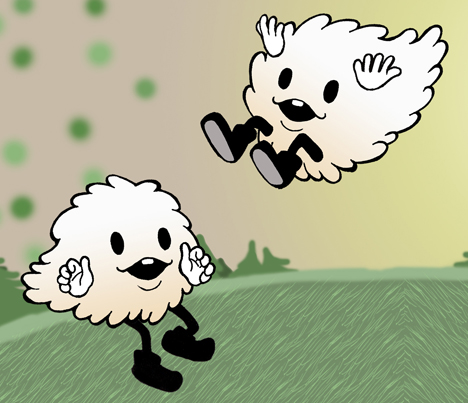 Ding Dong Yeahs / © Overture
Ding Dong Yeahs
Yeahs are a furry white mountain mushroom people and Ding Dongs are the dried seed shells they collect in the fall. They make appearances in much of our work.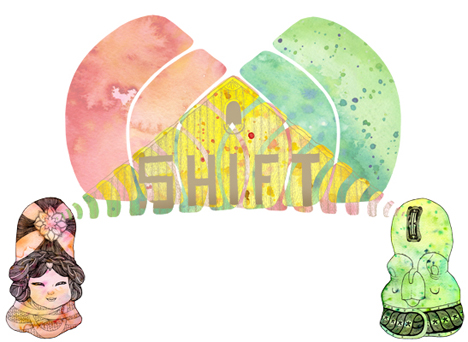 Shift cover / © Overture
Could you tell us the concept for this month's SHIFT cover?
The concept is "SHIFT". When people's consciousness and values shift widely, we create an image of a "mysterious hut" that appears in the mind. The "mysterious hut" is a starting point when you take a different route looking for a new road. It is the point where you take off your clothing you've been wearing, leave a book, eat food that is served, check the route in the map, get dressed and pack your bags, and walk out from the different door from the one you come in. It is a place where each of you marks the arrival of a new age and sees the quiet yet clear change (shift) coming slowly. It is a turning point.
Please tell us upcoming plans.
The second part of the collaborating animation"Bryum & Kapok: An Idea" will premiere at the site "Pitchfork" soon. The last part will be completed in the early part of 2009.
We are also always looking to participate in many different projects of both animations and 2D works. We are currently solidifying story details and plans for making a feature length animation of Chim & Harold's story and are on the lookout for funding means.
Please leave a massage to SHIFT readers.
Have you seen "Bryum & Kapok: A Memory"? We are currently working on the remaining two parts of the story. Please send us a message as we always look forward to hearing people's impressions and thoughts!
And anyone with projects that may work with our outlook or style please drop us a line!
Overture
Jason and Aya
overture.image@gmail.com
http://www.opertura.org
Text: Yurie Hatano
Translation: Mariko Takei
[Help wanted]
Inviting volunteer staff / pro bono for contribution and translation. Please
e-mail
to us.