Featured their street photo on Shift Girls Snap, KVLT Magazine is a Singapore-born web magazine created by 3 core members – Iliyas Ong, Rohaizatul Azhar, Nazdrah Sof – about 6 month ago.
Even it's a fresh and new e-zine focusing on art, design, fashion and music, it covers high quality contents selected from all around Asia. As SHIFT and KVLT will start our collaboration for street snaps, SHIFT interviewed one of the member, Nazdrah Sof, who will reveal all about KVLT.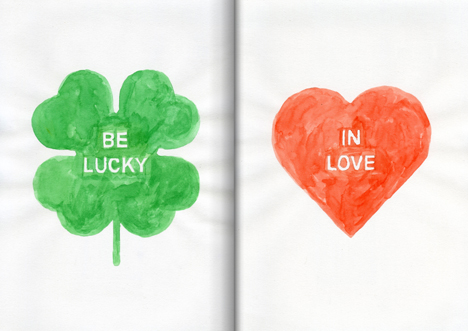 Could you explain about KVLT? When and how did it start?
The idea to set up an online magazine came to fruition six months ago, when three of us, Iliyas Ong, Rohaizatul Azhar and myself, Nazdrah Sof were sitting around, completely bored of the state of magazines in Singapore. We wanted to create a magazine that boasts contemporary, exciting creative goods made by Asian talent.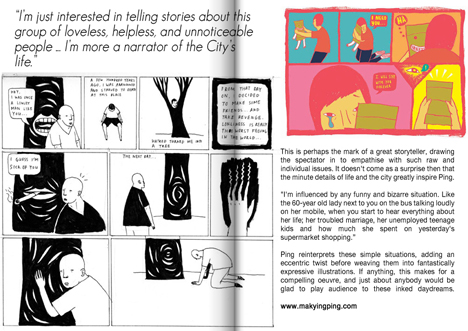 Please introduce the main staffs working for KVLT? How many of you are involving?
The core team now consists of three people – Iliyas Ong, Jinesh Lalwani and Nazdrah Sof. I'm the only one doing this full time as I graduated from university last August and the rest are still pursuing their degree courses. We all have different specialties and we naturally gravitated towards that, hence Iliyas does the music, Jinesh fashion and myself art and design. It's been great because our aesthetic vision has been very similar and we love what one another comes up with.
Currently, we also have two editorial assistants who work for us on a part time basis. They're still in art school, but they make great candidates as their creative input is important. And we have countless contributors – photographers, illustrators, writers, stylists and so on.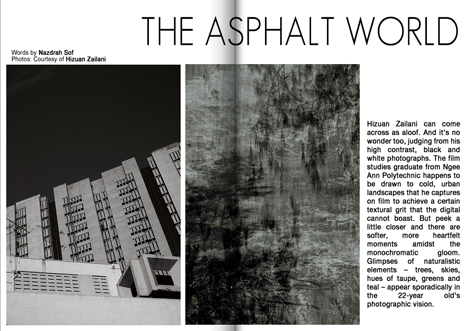 What occupations and ages are you targeting at?
We aim to reach to those involved in the creative industry or those aspiring to.
Our readers are from the ages of 18 to 35. All in all, anyone could get something out KVLT as just about anybody has an interest in any of the following fields of art, design, music or fashion. Anyone wanting to see how Asia has a blooming and booming creative scene, would love KVLT.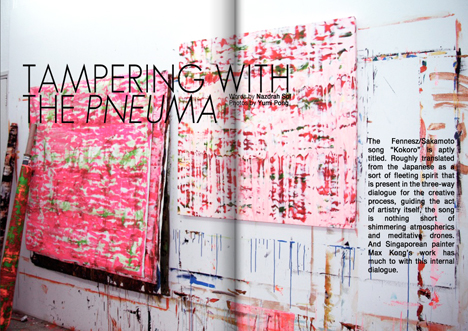 How have you been getting response from the readers?
We regularly get generous praise and support via email, and we also have a speak box on the website for people to tell us their thoughts and comments. Also, we have myspace and facebook pages to keep in touch with our readers. And our mailing list too.
Why did you take it in the form of a web magazine? It seems the magazine has quite rich contents. Please tell us what part of a web magazine is attractive to you?
The most obvious reason is because its low-cost but most importantly, its independent, free and accessible to the whole world (at least, the parts of the world wired to the web). Having independent media is important, especially in Singapore, as there is a dire need to get fresh new perspective, totally unassociated with other political or marketing motives. We wanted to make it look like a real magazine, and have the experience of 'real' flipping, that's why it's in the format it's in now.
I don't think print is dead and print is definitely still the medium that has the most impact, but the internet allows you to do things that print can't – videos as pages, accessible links, etc.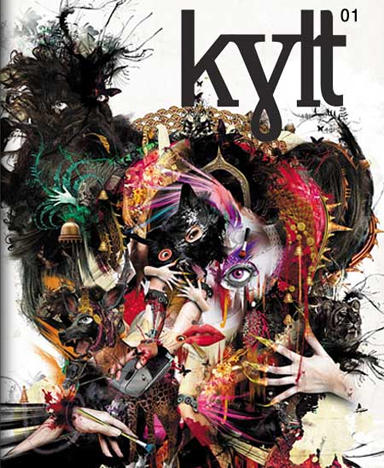 How do you create an issue? Please tell us about the working process.
We have seven weeks to prepare one issue. The first week is spent brainstorming and researching. The second, third and fourth are spent garnering interviews and coordinating contributors. The fifth and sixth are when the crunch comes, as anything that can go wrong will go wrong during these weeks – time lags in editing of articles, periods of writing blocks and well, just about anything really. This is when we shoot as well, editorials, artistes, product shoots. The last week is a mad rush to lay everything out. This is when I go crazy bugging the contributors who make up the art team, and also when I can go real mad when articles are coming in late. Haha.
An issue *traditionally* comes out 27th of the month before the issue is intended for. So for our August issue, it was out July 27th.
As for the street snaps, do you take shoots mainly in Singapore?
Yes, but now we're working with you guys so we can get stuff there, yay!
Haha. Well we're working on making it global. Our kind readers from around the world have offered to shoot KVLTure, and so soon we'll get a whole string of crazy, fashionable, mad folks in there.
Please tell us the reason why you ask people some questions regarding the theme of the month?
Well we didn't want to make KVLTure another 'what are you wearing, where did you buy those awesome shoes from' sort of street photography project.
We were really interested in approaching people and surprising them with what seems like totally random questions. In a way, they are.
Please introduce us attractive fashion brands in Singapore as well as interesting artists?
In terms of brands: I really like Baylene, I think their stuff is amazing, well tailored and I'm always up for interesting silhouettes. Also, Antebellum, Pettifogr and Womb are also very good. I like the works of performance artist Angie Seah and conceptual artist Heman Chong. Musicians: MUON, Moods, Ikuma.
How do you decide the subject (artists, designers, etc.) for the article?
Well three of us do copious amounts of research and then we sit and discuss the subjects we chose and the concepts we'll be working around.
Usually, since our tastes are rather similar, we don't have too much argument about who we want to feature! We're familiar with each others tastes, and there aren't any serious credibility issues as far as three of us are concerned. But there are some guidelines: The subject must produce amazing work (naturally) and cannot be too over-the-radar. We like people who have taken the lengths and pains to establish themselves, but have little or no avenue of publicity.
How do you like to develop KVLT?
I would love to explore video interviews, events (exhibitions, parties), even merchandize. This is all in the future, but for now we're continuing to work on making the Magazine and Portal one of the most refreshing and exciting things around on the net.
What does KVLT mean to you?
KVLT is intelligent without being academic, obscure without being elite, light hearted but not flighty. Being KVLT, as we once joked about, is being the kid at the gig that everyone knows of, but not being too over-the-radar. He's the kid that has encylopedieac knowledge of music, artists and brands, but doesn't believe in droppin' knowledge.
KVLT Magazine
kvlt@kvltmagazine.net
www.kvltmagazine.net
Text: Kazumi Oiwa
[Help wanted]
Inviting volunteer staff / pro bono for contribution and translation. Please
e-mail
to us.