Work and Fun are ruling her world!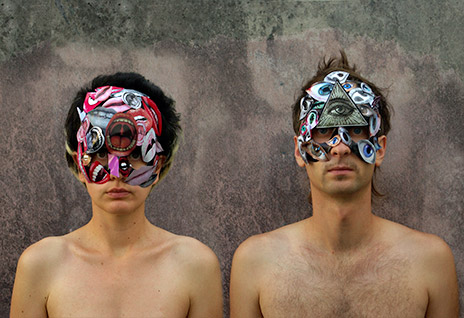 Following to Salotezmo, this month's another cover collaboration with Shift Calendar artists is a German media artist living in New Zealand, Karin Hofko aka KIR ROYAL. Enjoy her cover work and the following interesting projects coming from her life with free-spirited nature.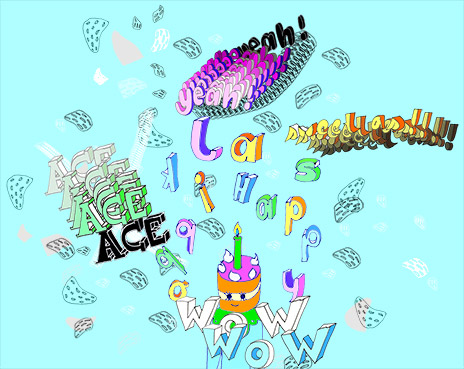 Congratulation on winning Shift Calendar Competition! What made you to enter this competition?
Thanks to my husband who told me about the competition.
Here is an explosion of 1000 Hurrays, Yeahs and WOWs !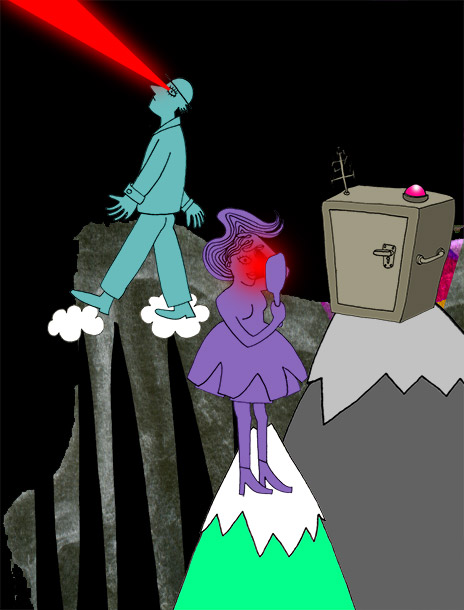 Now we know what you like from your profile of selected artists, which was really cute. What's your dislike?
I dislike the fact that still nobody has invented a functioning teleportation machine, like the one in STAR TREK. With one of those I would be able to beam away Miss Vanity and Sir Arroganty.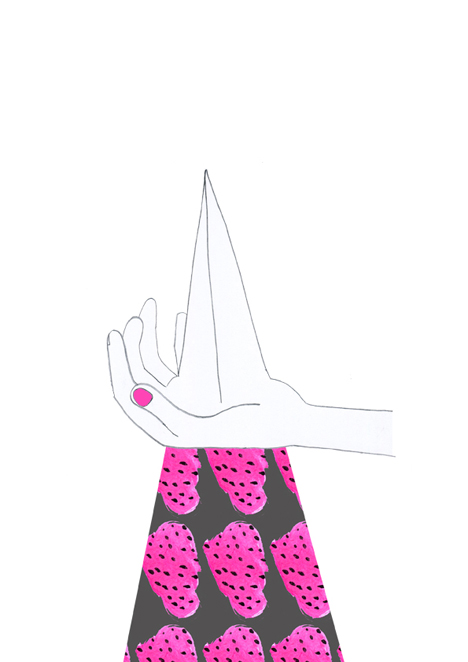 You explained us that your selected work was from interesting spontaneous collaboration. Do you have any other similar collaborations from daily life to share with us?
Yes I do have a very recent collaboration of this kind going on at the moment: NONA HITS!
The idea is very simple: "Record, mail and mix stuff!" Just one week ago me and my friend Sil Egger from Germany started to email a variety of recorded media one another to experiment with it. Sil is an artist that i got to know in Saigon/Vietnam and currently she likes to play the strings and also she is exploring her voice which ends up as being quite genuine footage – great! In any case have a look at "NONA HITS" on Youtube to get an idea!
We are also looking for potential experimental members to join our sound and video exploration. It could be you! Just email me!
I also do like to contribute to collaborative art projects like Pie Paper an online and analogue magazine from NZ or the recent INTO INFINITY project of an independent online radio based in L.A. called Dublab.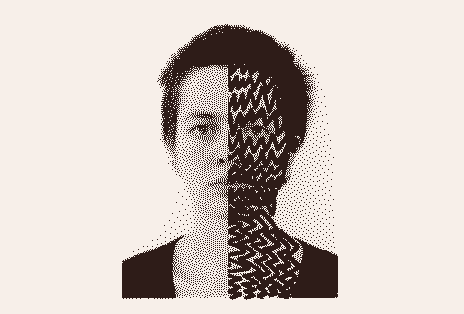 Could you tell us your background and story from your childhood?
My name is Karin Hofko aka KIR ROYAL. I am currently living and working in Auckland, New Zealand. My mum is from El Salvador/ Central America and my dad is from Bavaria – the southern part of Germany. According to my family background I am supposed to be half organized, bourgeois and law-abiding and half disorganized, laid-back and corrupt – that's fun! I was born in Germany – this is were I grew up and went to school. As my mother loves her home country, we would go there every year for holidays. Patricia Marisol is my older sister and Josef my younger brother – both are very interesting characters that influenced my life throughout.
Animation, video art, music, graphics and illustration. How would you describe your works through all those genres.
1) Dominated by rules – even if the rule is: "Don't use a rule!"
2) Reflecting what is going on in my life.
3) Combining things.
4) Go back and read Nr. 1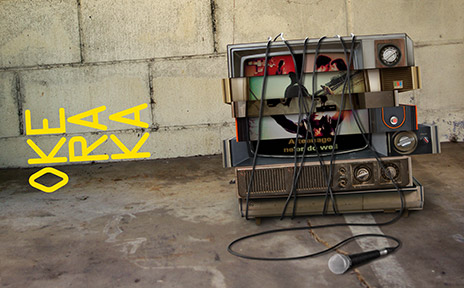 Could you tell us about your recent projects/exhibitions?
OKERAKA is one of my recent projects:
"OKE-RA-KA" is a karaoke CutUp where various songs get chopped into tiny pieces – accordingly JUST to the harmonies of the sounds NOT to the lyrics. After the rearrangement the new songs have meshed up lyrics which let each contributor/singer generate a very unprepossessed and unique interpretation of the sing along song. E.g 10 Philippine karaoke tracks get boiled down to one new mesh up version.
Have a look and sing to this sandwich entertainment! "Nr. 03-OKERAKA". There are 3 mesh ups so far: English/ Philippine/ Russian.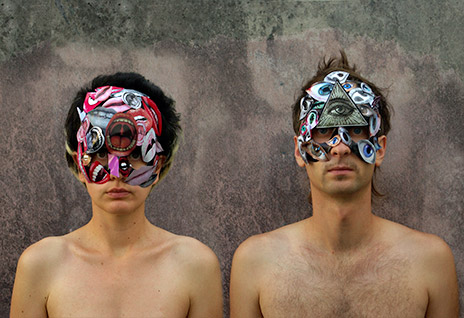 What is the idea for independent side projects including OKYO?
Interesting question… but how to answer it? Maybe by defining the term "side project" first:
Wikipedia says:
"In popular music, a side project is a project undertaken by one or more persons already known for their involvement in another band. It can also be an artist or a band temporarily switching to a different style. Usually these projects emphasize a different aspect of that person's or that band's musical interests that they feel they cannot explore within the boundaries established by their main project. Side projects can later become full-time endeavours, but shouldn't be confused with quitting a band for a solo career or another band."
Sounds common sense to me! I love side projects! They are important to keep my mind rolling.
OKYO is a sound collaboration with my husband – the rainbowmonkey! We both met in 2004 and discovered soon that we have a very strong need to express feelings by creating music. It took us around one year to finish our first album….and another year to find somebody to distribute it. Right at the moment we are puzzling on our second album. Get our first album as a MP3 download at our NZ online label Sellmates! Or watch myspace 🙂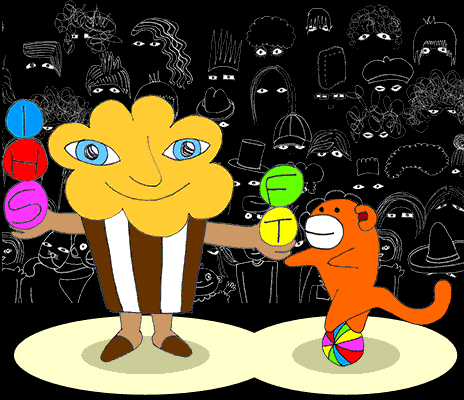 Could you tell us the concept of SHIFT cover?
I wanted to create something entertaining, personal and related to the action of "shifting".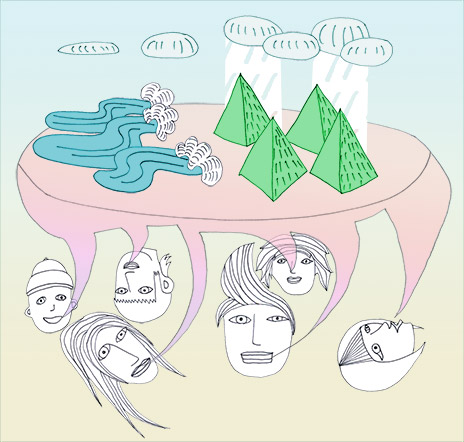 Could you tell us about New Zealand art scene?
Here are some statements I collected from a couple of friends who know New Zealand better than me:
"INSULAR & SELF REFLECTIVE"
"YOUNG & CONTEMPORARY"
"UNKNOWN BUT GOOD"
"NOT NECESSARY COMPETITIVE"
"INDIGENOUS ARTISTS"
"A DIFFERENT KETTLE OF FISH"
"NZ ARTISTS ARE DOING FINE"
"COMMERCIAL ARTISTS / SUPPORTIVE / NO BITCHING"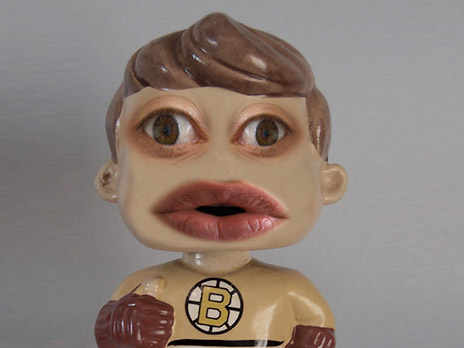 What would you like to try next?
I have this vision of inventing a revolutionary form of communication between human mankind and extraterrestrials, animals and other objects by creating a new language based on tones and rhythm only.
If you click on THIS LINK you can watch a small prototype of how the sentence below could sound like after translating it: "Hello, how are you doing? The weather is fine today, ey?"
Please leave a message to Shift readers.
Thanks to the shift team for providing such a great platform!
Also big hug to my family and to my long time friend Inak.
Text: Yurie Hatano
[Help wanted]
Inviting volunteer staff / pro bono for contribution and translation. Please
e-mail
to us.