Thinking eye, picturizing image.
Kiyoshi Awazu's one-man exhibition "Thinking eye, picturizing image" is held at Sapporo Miyanomori Art Museum from Sep 5th to Nov 3rd. In general, Awazu Kiyoshi is known as a graphic designer. But, his diverse portfolio is consisting of painting, 3D, photography, film, stage, architecture, and environment as well. At Sapporo Miyanomori Art Museum, Awazu's works are displayed in the style that viewers can easily get a picture of his perspective and thoughts over different times. Unfortunately, the artist could not make a visit, instead his son, Ken Awazu visited the exhibition and we had an opportunity to interview him about his father and works of Kiyoshi Awazu.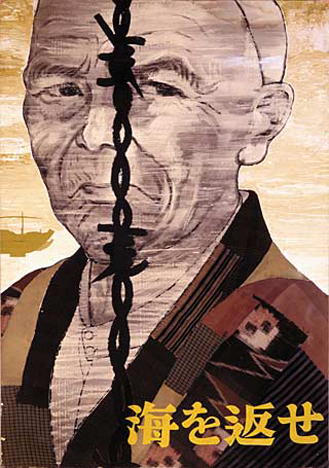 Give Our Sea Back / 1955 / Public Poster / Offset B1 / © Kiyoshi AWAZU
First, an old poster with "Return our sea" caught our eyes. Indeed, this was made when Kiyoshi Awazu was trying to be a painter while working for film flyers. With this poster, Kiyoshi Awazu won the grand prize at Nissenbi Exhibition in 1955 and made his way to "designer".
Around 1955, modern design was prevailing in Japanese design. It was the time when people prefered straight lines and constructionism. But, Kiyoshi Awazu's work made an impact on other Japanese designers with its lyrical message, "Return our sea". This poster is Kiyoshi Awazu's one of most important works.
"This is indeed a replica from original poster", Ken Awazu was talking about the poster. "The original poster is a collage using edges of cloth for kimono part that the fisherman wears. Kiyoshi made the poster after he found that the fishermen in Kujukuri Beach lost their sea because of US military exercise that polluted the beach. I heard that the fact that this poster won the grand prize at Nissenbi Exhibiton and his technique that put a direct message using collage left a big influence after years. From this year, artists started aiming for Nissenbi Exhibiton."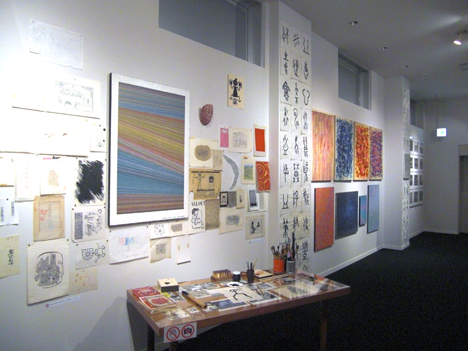 In the exhibition, Kiyoshi Awazu's curiousity fills the wall with his black and white photographs, hieroglyphs on Japanese writing paper, works made with only lines, and paintings with figures look like aliens.
"He studied painting by himself. He lost his parents when he was a child. I am not sure but I think his art school was an old town in Meguro where he grew up. He preferred folksy lives, and he was attracted to different things and made works based on his imagination." As Ken Awazu speaks about his father, there are photographs of Meguro's old town and artifacts that Kiyoshi Awazu was fascinated. In addition, a table and brushes were on the display.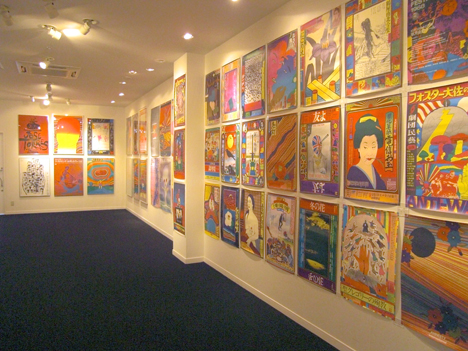 From mono-color world, a big collection of posters with psychedelic colors flooded into our sight. These posters were made in 1970s and 1980s for films, stages, and public posters. For stage posters, it is noticeable that he worked a lot with underground works but his passion was envisioned on each poster.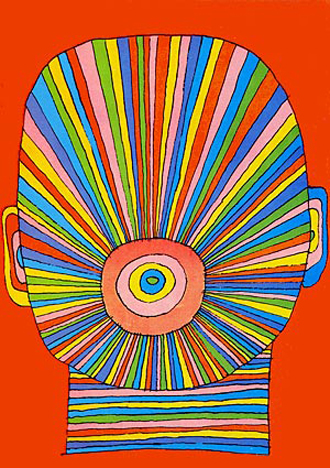 ANTI WAR -A / 1971 / Public Poster / Public Poster / Silk-screen B1 / © Kiyoshi AWAZU
"He paints to the finish for things he was attracted to. He was once attracted to Hokusai's Ukiyo-e, and when he was attracted to lines he only drew lines. I do not know why he was attracted to these particular things but he paints to the finish by studying it and continue to paint it." There are engravings, silkscreens of lines, eyes, hands, turtles, tree peony, and Sada Abe that he was attracted to in the past.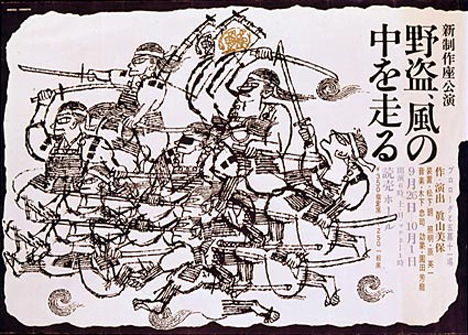 Bundits Running Through the Wind / 1957 / Theater Poster / Silk-screen B1 / © Kiyoshi AWAZU
In the middle of colorful works, there was an artwork with a different style. "He usually copied the work that he got influence to take into his style then make his original style. That is why his style dramatically changes over time. In 1950s, he favored Ben Shahn and he continuously made its imitative paintings. The reason why he favored Ben Shahn was that Ben Shahn also made social artworks with messages on the artwork. And, when Ben Shahn visited Japan he went to see Ben Shahn in Kyoto with Makoto Wada to show his artworks. In addition, his works in 1970s and 1980s shows different influences that Kiyoshi Awazu had in over time, and copies he put on each artwork reflected his intuitive thoughts.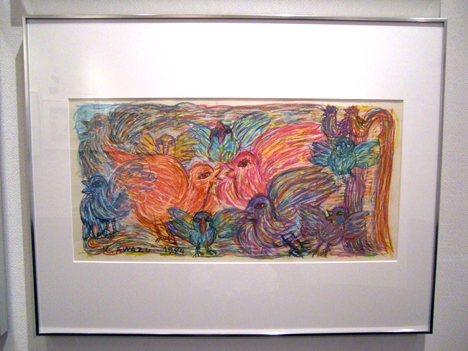 As time moves to 1980s and 1990s, his style shows change. Motifs include birds, cows, people with happy expressions and angels started to appear. Colors used around this time are more diluted and benevolent. This is different to his previous style with harsh and vivid colors. For this exhibition, Kiyoshi Awazu's acquaintance was invited to join the talk show and he recalled Kiyoshi Awazu saying, "When he was interested in birds, he became a bird. He was so fascinated with it." In fact, there was a video recording of Kiyoshi Awazu imitating a bird.
"Kiyoshi Awazu was interested in architecture and video. World Design Conference in 1960 then to Osaka Expo in 1970, he was a member of architecture group "Metabolism". In addition, from 1960s he started making title design for Hiroshi Teshigahara's story films. In 1970s, he made an experimental film. In 1980s, he went back to painting and made artworks one after another.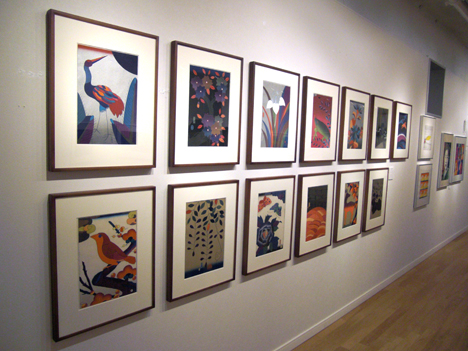 From this exhibition, I saw Kiyoshi Awazu's curiosity, passion, and energy that drove him and enabled him to continue make artworks. His son Ken Awazu says, "He is very lively and innocent. He is interested in many things and he copies them and made them to his own works. He has a clear definition towards what he likes. Therefore, he continuously extended his field of artworks. This is mainly because of his character and approach to art, and I think he made a lot of influences to many present artists. " As Ken Awazu says the exhibition is filled with works that shows Kiyoshi Awazu as an individual.
Kiyoshi Awazu, Thinking eye, picturizing image
Date: September 5th – November 3rd, 2008
Place: Sapporo Miyanomori Art Museum
Open hours: 11:00-19:00 (Entrance by 18:30) / Closed on Monday (Next day in the case of national holiday)
Ticket: Adults 500 yen, High school and university students 300 yen, Under junior high students Free
Hosted by: Sapporo Miyanomori Art Museum
Supported by: City of Sapporo, City of Sapporo Education Board
Text: Kazumi Oiwa
Translation: Masanori Sugiura
Photos: Kazumi Oiwa, Satomi Gentsu
[Help wanted]
Inviting volunteer staff / pro bono for contribution and translation. Please
e-mail
to us.