Sunshine Studio Cafe, opened in July 2008 at Meiji St. Harajuku. "QUZILA Exhibition" was held from the 6th of June through the 21st of July, to commemorate its 1st anniversary, in which Geoff McFetridge, Yu Nagaba, and Anamachy Painting showed their uniquely collaborative works.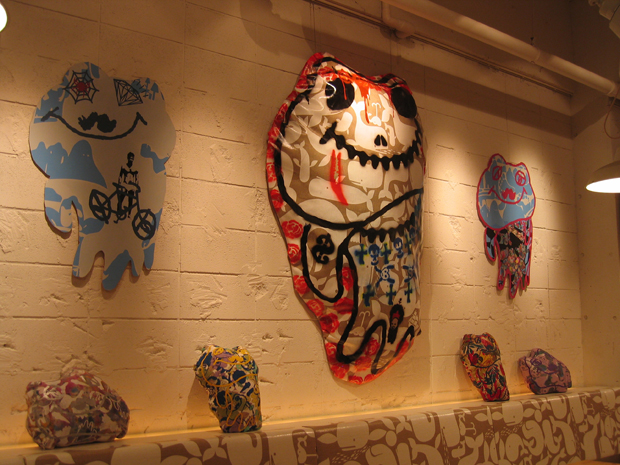 One indispensable activity of young artists is building networks, including social networks and relationships with other artists and fans. But in the existing circumstances in Japan, this can hardly deepen the meaning of their existence. Sunshine Studio Café, under the slogan "an antenna café where artists gather", has been providing them with a platform where they can exchange information, and then through it create other networks, through exhibitions, live performances and events.
Identified with such concepts at Sunshine Studio Café, Geoff McFetridge has been in charge of its art direction since its opening. This has included branding, logos, interiors. Born in 1971 in Canada, he is a spirited designer living in L.A., well recognized for his client works with big names, such as Mike Mills, Sophia Coppola, STUSSY, and Marc Jacobs.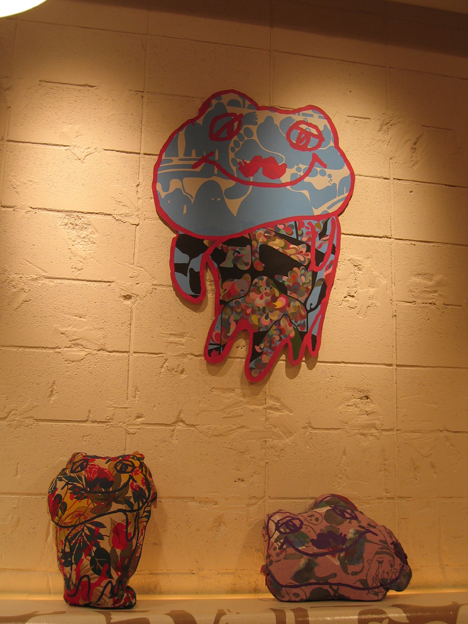 It was on a cover of "relax" (a Japanese magazine) that I first saw his work, in which a yeti-like man's shadow was painted against the backdrop of varied logos adumbrating American wall paintings of the time. His style is appealing touching on feelings or ironic humor. He has established his own standard in defiance of the fashion of street art culture as typified in graffiti. A kind of beat-generational D.I.Y. spirit of his own and people surrounding him who have been presenting themselves against the current of the times, was sympathized with Sunshine Studio Café's concept: "to build artists' networks" and he took an opportunity to take charge of the whole art direction.
Japanese artists are Yu Nagaba and Anamachy Painting. Yu Nagaba is an illustrator born in 1974. After working for Graniph as a designer, he started to working as a freelancer in 2006 and now extends the coverage of his activity to design and illustration. Anamachy Painting, a design team pair with its motto "making a market where large numbers of the general public consume art", has sold its works in some cafés, galleries, and interior shops, bringing about a revolution in the strategy of art business.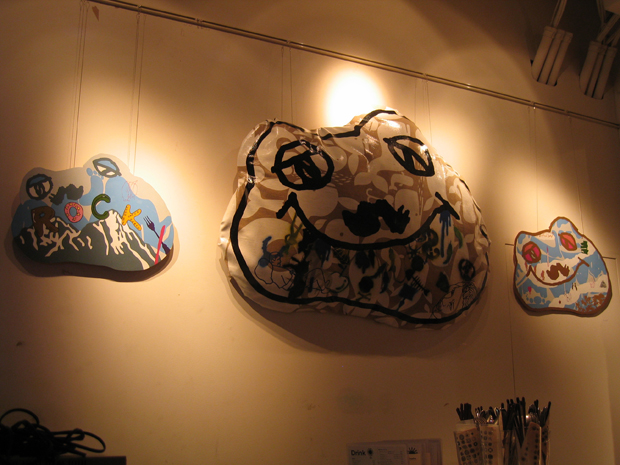 The works are created in the form of Nagaba and Anamachy Painting adding their art works on the extra materials that Geoff left when he decorated the interior of the café. The sight of those works caused a feeling of lassitude and a spontaneous smile, and drove away all apprehensions of how young artists decorate, in a sense, completing the design of a big artist.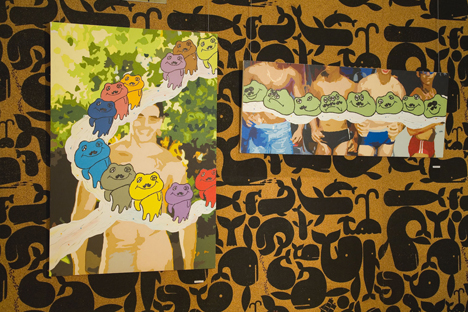 In "Kaeru Rainbow", brightly colored flogs marches on a gayly painted 60cm×90cm canvas. First of all, what I was really impressed by was the sweetness of the "Kaeru Sensei" series. They give us a kind of therapy, as if saying "Take it easy!" Anamachy Painting, in addition, adds colorfulness into them, through fine touch paintings and bold structural outlines, instead of forcibly transforming them into nothing but conceptual works.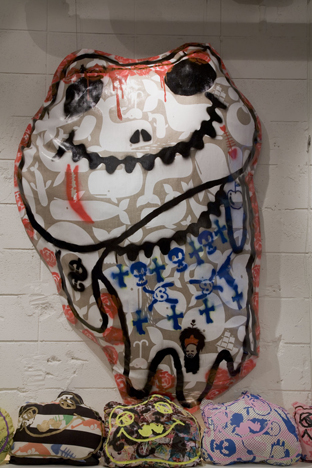 In "Grateful Gaeru", the frog is on a whale pattern designed by Geoff, with symbols of death such as blood, skulls, and crosses. The gruesome and psychedelic cuteness of the frog can also be seen in "Kaeru Addict", in which —under the theme of "desire"—a big greedy frog voraciously eats up some unidentified objects. They have serious themes like "death" and "desire" juxtaposed by obsessive sweetness. At a second look, you also find yourself interested in its details and graphical attraction.
When you drop in at a café, there's no need for serious concepts of works exhibited in it; no need but delicious coffee, merry conversation with your friends, your favorite author's book, and art you can enjoy.
You can buy the works exhibited there on the spot with a few exceptions. Whether or not you are an artist, go to Sunshine Café Studio for something to drink and pleasant art, and there you can find a new network.
QUZILA Exhibition
Date: June 7th – July 21st, 2008
Place: SunshineStudio CAFE
Address: 3-25-12 Jingumae, Shibuya-ku, Tokyo
Tel: 03-3401-0071
http://www.sunshinestudio.jp
Text: Tatsuhiko Akutsu
[Help wanted]
Inviting volunteer staff / pro bono for contribution and translation. Please
e-mail
to us.