– Shayne Ehman & Friends –
The public offering and project exhibition "Nomadic! -Shayne Ehman & Friends-" took place from March 20th through April 20th at Tokyo Wonder Site Hongo.

We, Birdo Flugas, took charge of planning and exhibited the animation "Asphalt watches", which is based on the real experience of the nomadic temperament of Canadian artists Shayne Ehman and Seth Scriver, as well as the works created during their stay as Artists in Residence in Japan. And with Marc Bell, the collaboration room showing the intimacy of such art communities.
Shayne Ehman was born in Alberta, Canada and after he graduated from art universities in Canada and Holland, he studied mythology, folklore botany, environmental preservation as well as anthropology. Now he acts nomadically as an artist using various methods such as photography, illustration, animation in addition poetry while dealing with the occasional carpentry and stone craft work.
Ehman designs CDs as well as United bamboo T-shirts. In fact, Ehman is one of the youngest and most notable artists in the American street art scene−all his expressions create and draw viewers into a world of his own. For Ehma, "Nomadic" indeed represents himself or his style.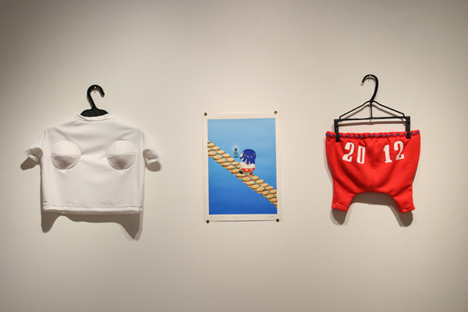 "Terminal Study", original drawing by Shayne Ehman, costume by Kenichi Tanaka
"Asphalt Watches" begins when a mustached Scriver in a black cloak and Ehman, who changes himself into a semitransparent ghost, jump into a freight train from West Vancouver headed towards East Toronto. They immediately notice the freight is out of service, and reluctantly resort to hitchhiking.
In this work, they use quotations from gags and traveling stories of representative characters from books on road movies and wanderings, such as Don Quixote and Sancho Panza, Huck Finn and Jim, Bob Hope and Bing Crosby, Jack Kerouac and Neal Cassady; all developing into a trip filled with such mentioned seminal characters and strange conditions.
A Middle-aged man who calls himself Santa Claus. A macho showing his tattoo off. A Michael Jackson-like jacket. Wendy's hamburgers. All composed by Ehman, the soundtracks are burned into the front of our memory, while the characters written on the wall are all about dancing to the rhythm.
The memorable conversation and people are written on the wall which allows you to be able to vicariously experience their trip after watching the short but rhythmical animation.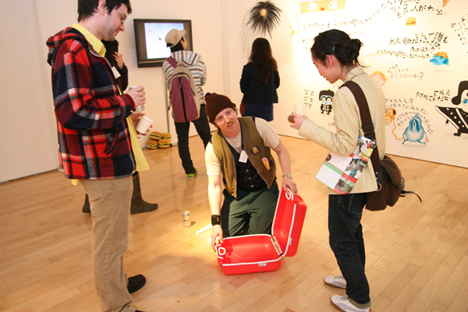 The Suitcase of Hitchhiker, Seth Scriver, 2008
In addition, Seth Scriver created the work, "Suitcase of Hitchhiker" by retouching a kerosene can. On every part of the site you can feel their attitude of showing humorous wisdom for all things living and in the name of creativity- its stimulating as one appreciates their flexibility. It is not a novelty in expression but rather a sense of spaciousness and flexibility that Scriver gives us. Scriver, tells visitors about practical use, then leads an ordinary gallery with the regulation, "DON'T TOUCH" into an open-minded space.
In addition to the exhibition at TWS Hongo, Ehman and Scriver joined the Artists In Residence in the Birdo Space (Shiogama) and Atelier of Kenichi Tanaka (Kyoto). The works during their stay are exhibited in "Collaboration Room."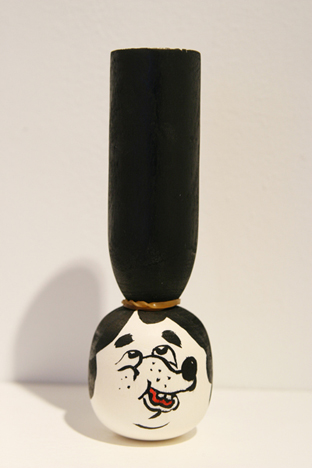 "Kokeshi", Seth Scriver
The representative residence work is "Kokeshi" created by Scriver. He usually manipulates a brush pen on his sketchbook while Matsushima Kokeshi is finely turned into one of his characters. It comes from his nomadic expression to immediately take in local material and culture. Not just imitating the traditional culture, but rather reflecting himself into it, ordinary Kokeshi, which consists of a spherical head and columnar body, is turned into a head with a "Chonmage." You must find yourself laughing when you are confronted with his clownish style.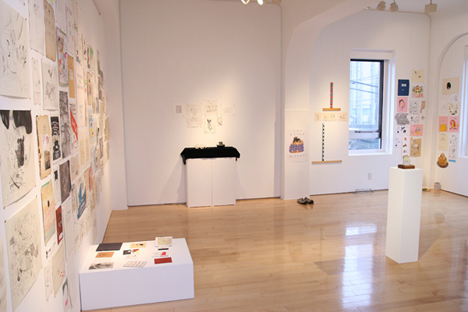 On the wall, drawings and collages chosen by Ehman and are exhibited, being put on carefully. In his works we find a faded piece of paper, poems, clips from magazines, political messages and fine line art work and so for the artist, being nomadic means roaming and desiring better conditions, not just drifting along aimlessly. Even in his work into which nomadic freedom is put, you may find his carefully designed drawings laced in them.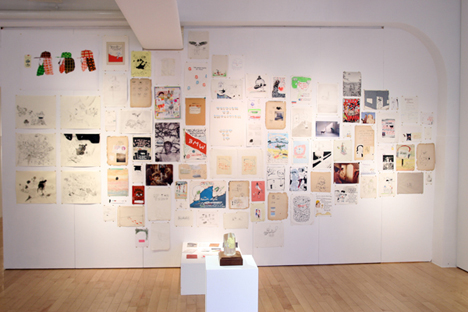 Drawings and collages, Shayne Ehman
It is said that most of the other Canadian artists such as Seth Scriver, Mark Bell, and Amy Lockhart are nomadic as well as Ehman.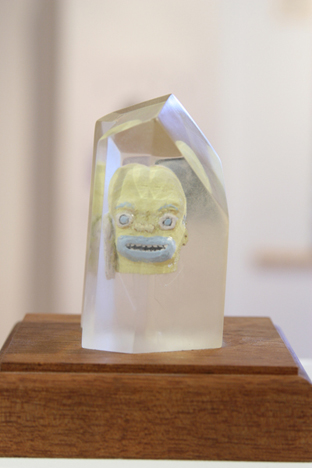 "Winged Homer during Paleolithic Period", Shayne Ehman
As put into "Asphalt Watches," the two artists tell us of strange encounters and make the seemingly meaningless repetitive hours meaningful as well. Born in Canada, where the expansive nature and cultural as well as local assets are put before economic competition, Ehman and his friends show us the importance of enjoying the hours of time purely in addition to expressing ourselves in the workings of nature.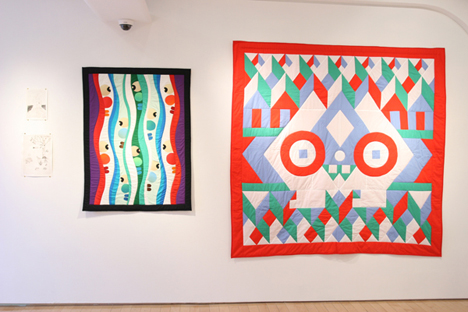 Quilt / Collaboration with Gloria Taylor and Shayne Ehman
Further, this exhibition reminds us of the nomadic sense that we have lost through the everyday dialogue in which we sensitively read gestures or the finer expressions from each other, not through the ones in which we compete with each other over our knowledge of using difficult words.
Birdo Flugas Project is trying to build a network without genres in "expression," where an artist expresses and then connects to another artist; that is, a progressive core or platform of networks endlessly being built up.
Now about 50 Japanese and foreign artists, including some active in the frontline and others in their youth, exchange information with each other for their projects, exhibitions and artistic activity. A genre-straddling network of artists is being built up in order not only to inspire themselves but also to support the whole art scene.
In August 2008, Birdo Flugas are going to take part in the exhibition of 5 Japanese upcoming artists in Vancouver, Canada including Yusuke Gunji, Erika Kobayashi (cartoonist), Itaru Hirama (photographer), Riki Matsumoto (Animator) and Toru Morooka (illustrator). Surely, it will create the field in which Japanese and Canadian artists both express themselves and connect with each other.
Nomadic! -Shayne Ehman & Friends-
Date: March 20th – April 20th 2008
Place: Tokyo Wonder Site Hongo
Address: 2-4-16 Hongo, Bunkyo-ku, Tokyo
Tel: 03-5689-5331
Text: Aya Takada
Photo: Reiji Ohe
Translation: Tatsuhiko Akutsu
[Help wanted]
Inviting volunteer staff / pro bono for contribution and translation. Please
e-mail
to us.