Design Festa, one of the largest art festivals in Asia, was held through May 17th through 18th at Tokyo Big Site. On brilliant summer day, it was filled with excitement of people covering the entire floor. On entering the site, I immediately got caught up in the party mood.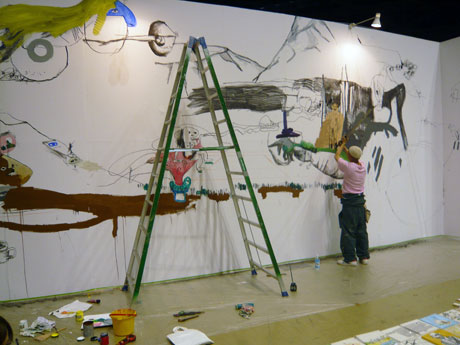 About 7000 artists from 28 countries in Asia, Europe, America as well as Japan exhibited their works in differed ways ranging from art, fashion to music. Each time it enlarges its scale; as it were, it's growing with all the participants.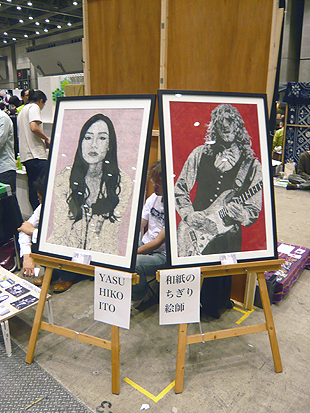 Yasuhiko Ito, who has joined in Design Festa 3 times before, exhibited some highlighted works using Japanese traditional technique of Chigirie (to tear paper to create a collage). By using colored Washi, seemingly impressive subjects such as a vocalist, guitarist, or a smoking lady were softly completed in each of his works. He said, "In Design Festa, we can create the relationship between artists and visitors without any boundaries, and motivate ourselves through communicating them." In the wake of Design Festa, he started to hold a one-man exhibition. He represented this event especially for young artists as a place of "investment in themselves".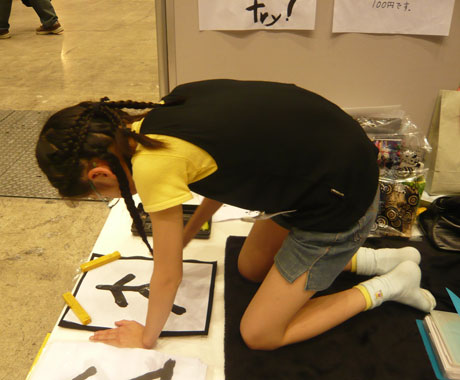 The girl adding touches on a piece of paper is Koide Moeno, 10 years old artist. Complying with our requests, she wrote one of 17 inscriptions on bones and tortoise carapaces in Japanese Shuji style on the spot. Fascinated by their forms, in spite of her youth, she started to learn how to write them and decided this time to have her booth in Design Festa to deliver their attractions. Her earnest eyes and serious attitude in the presence of a sheet of paper reminded us of her spirit of an artist. Without distinction of age or sex, whoever wants to express are welcomed—it is one of attractions of Design Festa.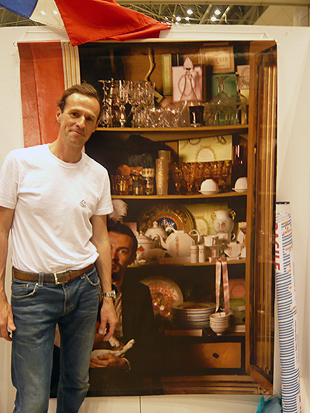 Thierry Choquard, a photographer living near Monaco, coming to Japan to join in the group exhibition in Osaka, exhibited in Design Festa his latest works "Armoires Cupboard", in which he photographs the contents of cupboards traditionally inherited for generations in French family. Its concept is to expose the personality and the private life of each owner by opening those usually kept closed. He talked about the attraction of Design Desta as following, "It's exciting to communicate with the other artists as well as visitors through photos."
I caught a glimpse of Japanese pop-cultural things such as anime, manga, game, and costume play, and those booths were gathered almost by foreigners. I inexplicably found something a bit novel to see them crying out like "Great!" or "Beautiful!" while looking those works, which they simply think stylish or cool. They seemed to realize the importance of the unprejudiced appreciation of those as one artistic work.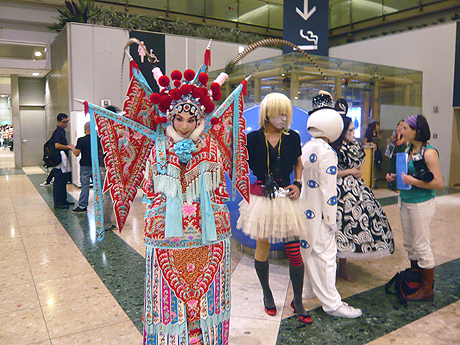 This festival made all the visitors and artists say in the first place "Amusing!" It was filled with pure enjoyment of art generated from chaos or freedom, and enormous energy produced by lots of people. It will continue to grow in quality and in quantity as a place of expressing for young artists, as a bridge linking Asian art scene with that abroad, above all as a festival where all the people purely appreciate the art itself.
Next Design Festa is going to be held November 8th & 9th, 2008. Why don't you join as a visitor or as an artist? Anyway, remember to have something to drink and a handkerchief with you.
Design Festa vol. 27
Date: May 17, 18th, 2008 from 11:00 to 19:00
Place: Tokyo Big Sight
Address: Jingu-mae 3-20-18, shibuya-ku, Tokyo
Tel: 03-3479-1443
Fax: 03-3479-1498
Contact: Design Festa Gallery & Office
info@designfesta.com
http://www.designfesta.com
Text and photos: Tatsuhiko Akutsu
[Help wanted]
Inviting volunteer staff / pro bono for contribution and translation. Please
e-mail
to us.