KIMIHIKO OKADA EXHIBITION
Kimihiko Okada has won many prizes, especially in design competitions. His long-awaited residence will be completed this year. This exhibit could be a pre-cursor for that. You can see a sense of floating or transparency in his works including this piece "Another Geography".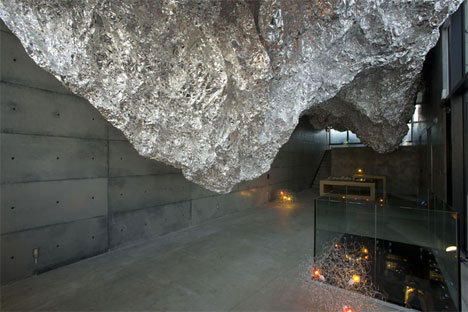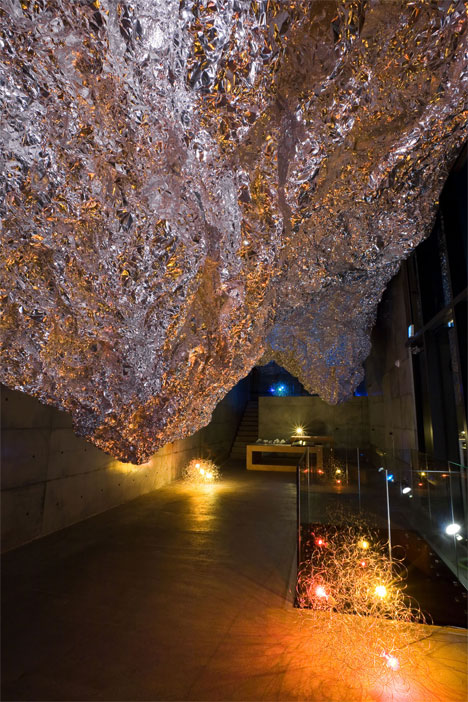 "Another Geography" was inspired by manifold images owned by DIESEL. "New nature in the near future that nobody has ever seen. It is scenery that reminds you of the surface of a far away planet, or perhaps something created by human wisdom." Mr. Okada explains, "this is a place that awakens an instinct within yourself". To rouse the nature of a crystal law as "a shape acted by strength that a material subsists" or "a landform operated by the laws of nature". You will witness the birth of a monolithic site that tells visionary scenes and stories.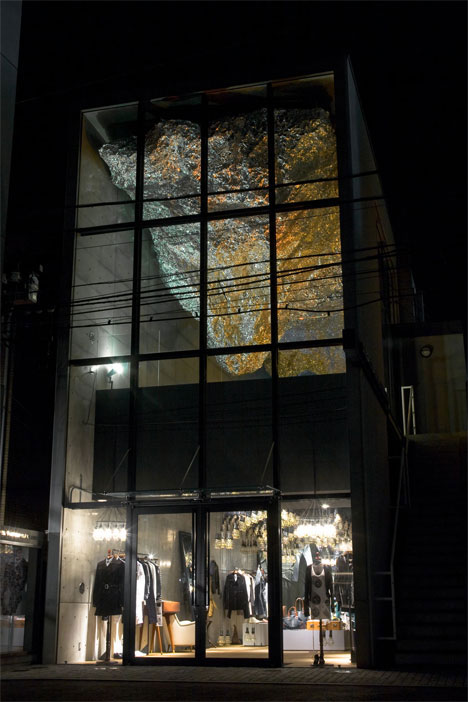 You can see a large-scale version of something like a stalactite that also has some sparkling uncertain materials seen through a window on the second floor as you look at DIESEL DENIM GALLERY AOYAMA form the outside. It gets more mysterious at night. "Where does it hail from?" What you see as you walk up the stairs is a cave, or it could be a big upside-down model too. The lights on the floor become clouds, then it all changes into an upside-down world. You can view it in the wildest sense.
  
The material used is aluminum but it doesn't necessarily seem like that from the lighting. It has both a weighty and ethereal appearance. The appearance also depends on the place where you are viewing from. It looks like something mixed with various materials. In addition, a LED flashlight is also available as an intercommunicative project. So you can take pleasure in projecting the light on it in different colors. The light usually scatters throughout the periphery of the object, however, the LED has strong directivity and you can light up a spot clearly in a complex polyhedron, so that it looks like it radiates itself.
A gallery on the 2nd floor at DIESEL DENIM GALLERY AOYAMA has a pretty good condition. Such as 4-meter- high ceiling, and plenty of light from three directions. It is all the more challenging for artists to make something that stands out and will not be overpowered. Sometimes, an artwork on a pedestal does not carry enough insistence in a large box like this space.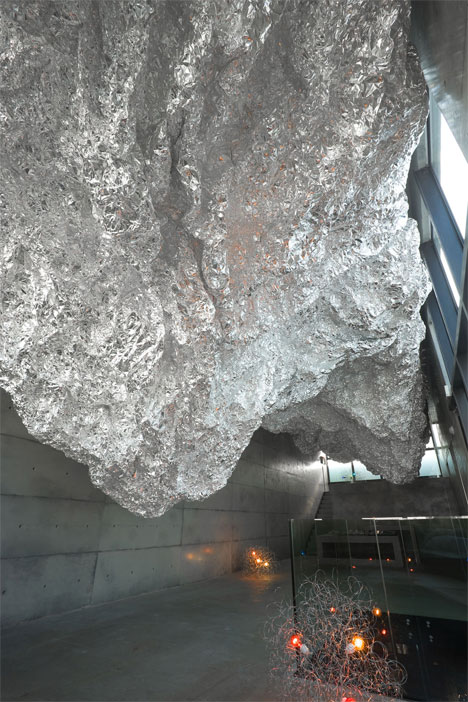 Not to be overwhelmed by the height, you theoretically put it on the floor or hang it from the ceiling as you think of perpendicular lines. His "Another Geography" is also hung with the guts from the ceiling, however, it does look like as if it appears like clouds and covers the whole ceiling drooping here and there. There is nothing inside so that it is actually very light. They patch it together piece by piece because they cannot do it at once. Why then, it comes a bit hard work when they think of where to begin with. It also covers the front side of the ceiling with a stairwell is underneath. A staff wears a kind of umbilical cord and installed it here.
Thus patches small pieces little by little, he climbs up inside when it becomes a certain big size, hangs with guts at key points. And finally, he puts it together and it covers a big hole.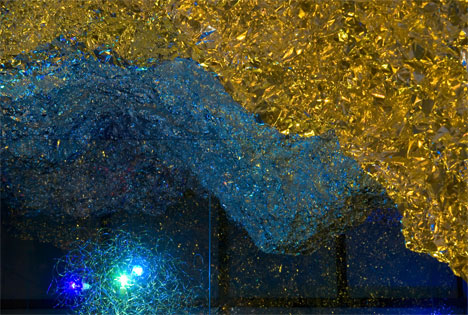 There are wrinkles, creases, and inequalities both large and small on the surface. It is not only a part of an expression of configuration but also a practical reason in terms of strength. It is difficult to keep its figure without them. This aluminum is a little thicker than the one in your house. 0.03mm in thickness. It reaches about 600 square meters and weighs only 20 kg which one person can carry. Hence, this piece of work is very light. In fact, it swings slowly to and fro as somebody passes by.
To make the most of this gigantic work, lighting is a key factor. Ms. Mariko Naito from "KOMOREBI-DESIGN" joins them this time as a lighting designer. She has collaborated with architects on lighting planning. Making a great impact on it as people look at it from the outside, still constant with the inside lighting (colored).
Original lighting 3 on the floor and 2 on the mezzanine are very unique. They look both organic and inorganic. A few light bulbs are floating like steel wire made clouds or like a bunch of lying dead grasses. You will notice that they are not coiled up just anyway but knotted at each point of a loop with care. You notice this when you take a hard look at it. (In the meantime, the lighting on the floor is for sale)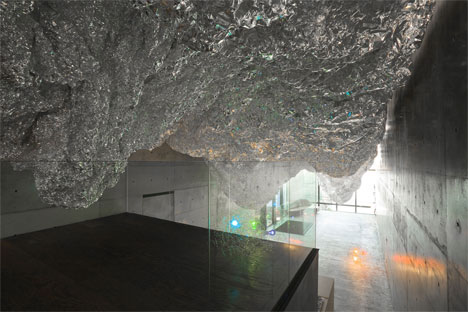 It is a revolutionary attempt to have a show at DIESEL DENIM GALLERY AOYAMA joined by an architect and it is also the natural tide in a certain sense.
People sometimes divide Architecture and Art into different categories. An architect is an artist, a businessman, and a skilled expert. Of course, not every architect can be an artist, however, they have some sense of aesthetic and it is a part of their work to think of formative matters. So to speak, their work can be done by applying an artistic sense and intelligence. Besides, they are in a sensitive position these days. They are directing their attention to various genres including commercial facilities, interior design, furniture, product design, and installations. Needless to say, they are not always all-arounders. In the mean time, one of the major factors for success is these curated architects who carry with them a sense of being an artist.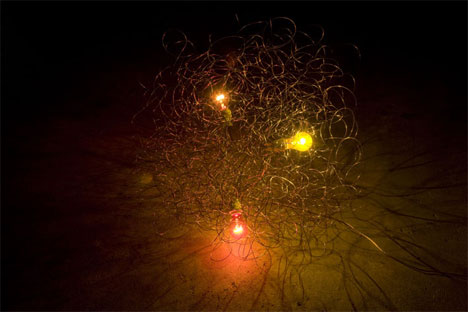 One of the concerns that an organizer has for an art exhibit is what if an artist goes too far on his way and becomes uncooperative or what if an artist loses the conventional wisdom of business. Although some say this is also an aspect of being an artist. On the other hand, an architect is a specialist who plays a roll in society no less than a doctor and a lawyer that have acquired professions. There is a special qualification system for them. Not only do they draft a concept, consider a structure and raw materials but also find out high efficiency in regard to process and push it forward in a rational way as much as possible. They are willing to work on a given exhibit space. It takes a few days for Mr. Okada to work on jammed air-conditioning units on the ceiling making sure of security issues.
 
A way they work at the site is just like as it is, and it makes me realize their wide potential for work. Mr. Okada always lends an ear to others earnestly and he never insists obstinately on anything which can cause stagnation on a project. I feel I am able to witness a construction project that they work calmly on with their client.
I can easily picture all participants including Mr. Okada, staff from his office, Ms. Hasegawa, both graduate and college architecture students, how they do justice to themselves in their fields. Again I would like to express to them my gratitude for the great exhibit!
Kimihiko Okada "Another Geography"
Light Planning: Mariko Naito (Komorebi Design)
Date: February 20th – May 11th, 2008
Place: DIESEL DENIM GALLERY AOYAMA 2F
Address: 6-3-3 Minami-Aoyama, Minato-ku, Tokyo
Tel: 03-6418-5323
Opening hours: 11:00-20:00 (Store on 1st fl.) 13:00-20:00 (Gallery on 2nd fl.)
Hosted by: DIESEL JAPAN
Curator: Masaaki Takahashi (Brizhead)
http://www.diesel.co.jp/denimgallery
Text: Masaaki Takahashi (Curator)
Translation: Yoshitaka Futakawa
Photo: Shuto Mikio
[Help wanted]
Inviting volunteer staff / pro bono for contribution and translation. Please
e-mail
to us.