Guggenheim Abu Dhabi by Frank O. Gehry.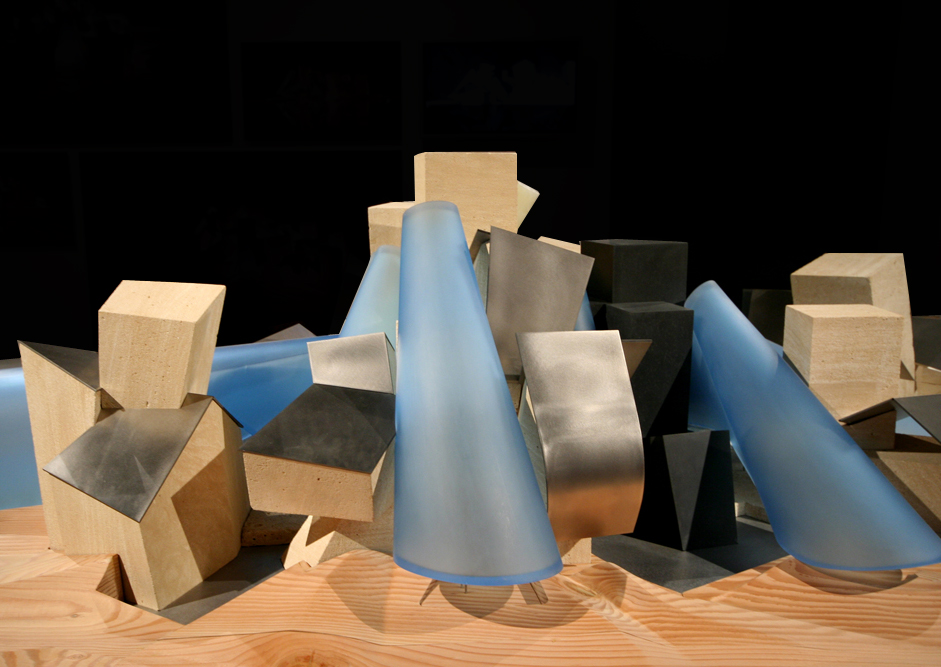 Targeting its completion in 2012, Saadiyat Island art complex project is already drawing world wide attention. Mubarak al-Muhairi, the director of the Abu Dhabi Tourism Authority (ADTA) which is managing the project says, "We're bringing together the top architects of the past 100 years." Each one of four major museums by itself has already great potential to bring visitors from all over the world.
Guggenheim Abu Dhabi by Frank O. Gehry stands out as one of the four. The Canadian born architect who is known for his distinctive design of Guggenheim Bilbao in Spain has now new challenge in the Middle East. This new Guggenheim is to be the world biggest Guggenheim, bigger than the Bilbao.

From the beginning of this project, Gehry had a clear idea that this had to be a new invention. The capital of the United Arab Emirates with its intention to become a world cultural hub has sent an invitation to Gehry to design Guggenheim as an icon of their massive art complex project in Saadiyat Island. The challenge for Gehry lies on Abu Dhabi's environment which is completely different from the places he has conducted his previous projects. This uprising oil rich city has its foundation on Muslim culture, its temperature reaches up to 50 degrees in summer, surrounded by desert and Persian gulf. Gehry took all these elements into his discussions with Tom Krens, the director of the Guggenheim foundation to explore what their invention might be like. Their discussion then created the innovative design of Guggenheim Abu Dhabi.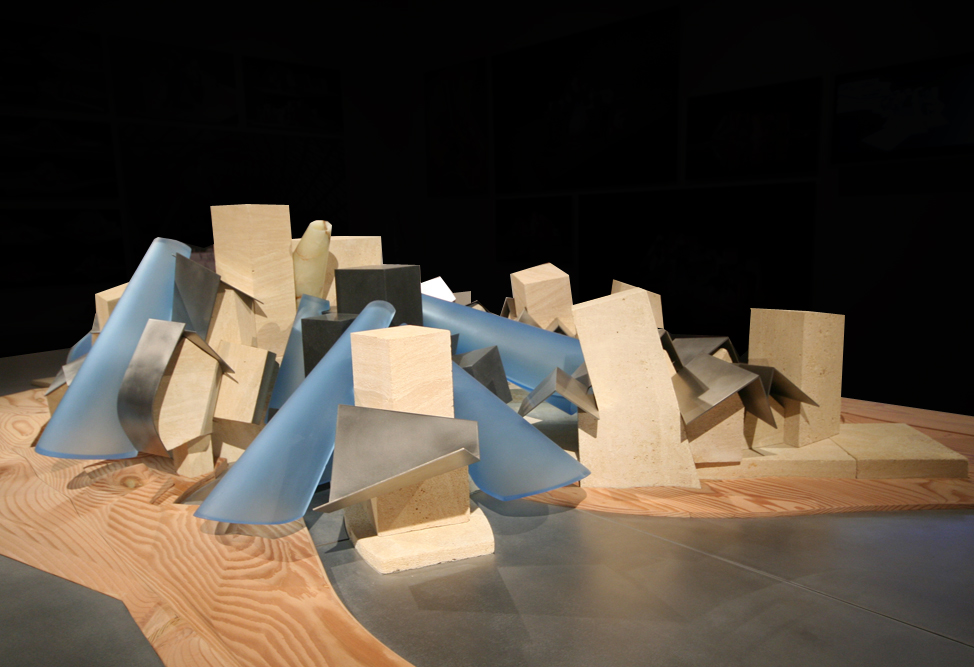 Such a plan or idea to build a museum of contemporary art, in a place like Abu Dhabi has never been discussed before. "The landscape, the opportunity, the requirement, to build something that people all over the world would come to and the possible resource to accomplish it opened tracks that were not likely to be considered anywhere else,'' says Gehry. "Approaching the design of the museum for Abu Dhabi made it possible to consider options for design of a building that would not be possible in the United States or in Europe," he adds.
The idea for the basic concept of this design is based on the experience that Krens had when visiting artists' studios within their large industrial spaces. "They have been able to create works that are way beyond the experience any of us have within the normal museum spaces. So in the end you create a cluster of galleries that allow for a tremendous amount of flexibility in organizing shows with a great deal of variety", explains Gehry.
The Guggenheim Abu Dhabi's collections and exhibitions will focus on modern and contemporary art from all over the world, not only from western cultures. "We don't see financial investment as a major obstacle," Sheikh Mohammed bin Zayed Al Nahyan, Crown Prince, is confident on their plan to collect arts worldwide for the museum by its opening in 2012.
The collection will focus on modern and contemporary art since the Second World War. This era is characterised by the transition from easel painting to the emergence of more ephemeral forms of performance, installation, video and earth art. The museum's exhibition spaces and surroundings can embrace this wide range of arts. "Abandoning the notion of the museum as an insular and self-contained institution, this new model is engaged with and responsive to the vagaries of contemporary culture," says Gehry.
The galleries would be natural and less finished. The exterior walls are going to be in stone with some variety of colour and texture. The core of the museum is galleries forming a courtyard where big arts such as sculptures can be displayed. Around courtyard, there are galleries of various height and sizes to create four floors. The third ring of the galleries would be larger galleries more like raw industrial space with exposed lighting and systems, this space is designed to accommodate a new scale of contemporary art. To enter these galleries, visitors can go through main entrance or can enter by a boat. Then, walkways and covered walkways can lead them out into the desert landscape.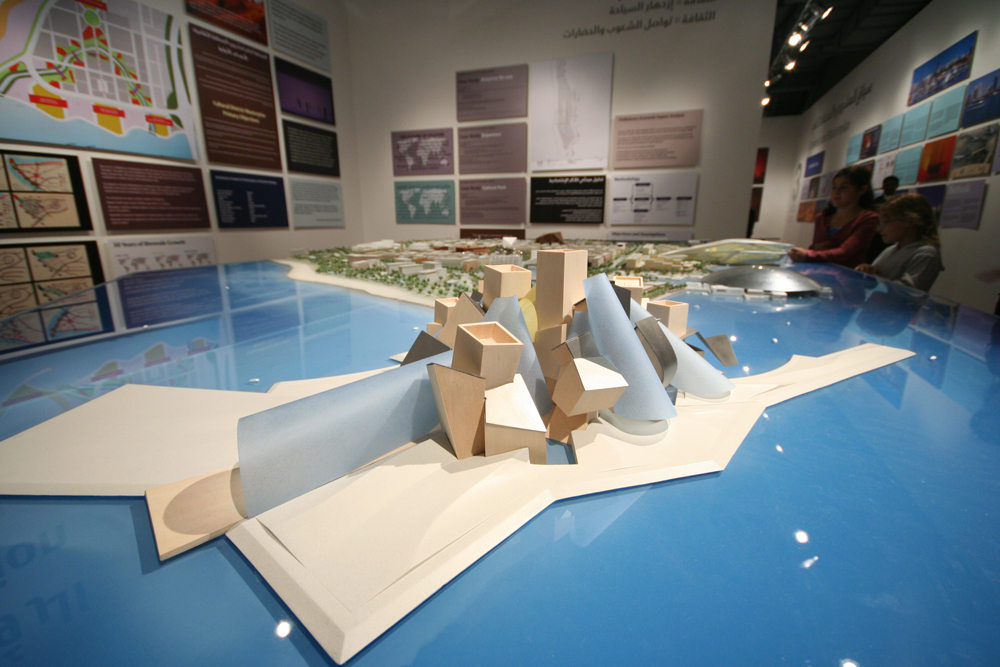 Gehry's Guggenheim Abu Dhabi is not only about its innovative appearance. The unusual design of the museum is also aiming to maximise environmental efficiency and sustainability.
The open top tepee design is a natural cooling system that draws the hot air out of the space based on the very old method. Using this system led the core design concept of this museum.
And these series of conical shaped tubes imitates indigenous wind tower (barjeel in Arabic) of this region that provides cooling.
These are just a part of the energy efficient features that this museum has to be resistant to the heat of summer in Abu Dhabi. Water walls cools down the atmosphere in the main courtyard, night ventilation and/or evaporative downdraft cooling activates exposed thermal mass. There are also radiative cooling through activated floor or water surfaces, reduced or increased cross ventilation depending on temperature and partially evaporative daytime cooling.
As energy saving strategies, there are controlled daylight supply to replace artificial lighting, solar protection of facades and roof opening, well shaded building skin with ventilated cavity, optimised displacement ventilation system to minimize fresh air demand and wind induced ventilation.
As renewable energy strategies, wind turbines at/in wind towers, solar building screen-photovoltaic shading of roofs and facades, solar driven absorption cooling with gas or waste heat back-up and desiccant re-humidification with solar regeneration.
And as low impact strategies, water saving fixtures, low flush/vacuum toilets, grey/brackish water system, local desalination, sewage treatment, waste sorting and durable local building materials are used.
Meeting recent high-rising concern on environmental efficiency and sustainability, Guggenheim Abu Dhabi can be defined as complete form of architecture of new era.
The museum is surrounded by water and water view on all sides. Adding desert landscape to the beautiful sea and the sun suggested some direction of this museum. "I want to play off the blue water and the colour of the sand and sky and sun," says Gehry. The intention for this new Guggenheim is to house contemporary art from all over the world, not just Western culture. He explains, "It's got to be something that will make sense here. If you import something and plop it down, it's not going to work."
Gehry designed this museum to accommodate all sorts of architectural experience which were impossible to fit in existing museums. He defines Guggenheim Abu Dhabi, in other words, as "architecture to accommodate architecture".
Guggenheim Abu Dhabi
Address: Saadiyat Island, Abu Dhabi, UAE (completion in 2012)
http://www.guggenheim.org
Text: Mamiko Kawakami
Photo: Lorenzo the Freshguy
[Help wanted]
Inviting volunteer staff / pro bono for contribution and translation. Please
e-mail
to us.