Awajishima to be the island of Art.
I've been watching current hot art scene in Awaji-island, and "Art NPO Protocol in Awaji island" was held from December 14 to 16. Let me talk about Awajishima Art Center and the appearance of the conference.

First of all, there is an interesting story that how Awajishima Art Center was started. Ms. Kuniko Yamaguchi received a call from the city when typhoon #23 hit the island in 2004. "Your house is half destroyed, and we can offer a little help if you would demolish it." She didn't know even she owned a house there until that moment.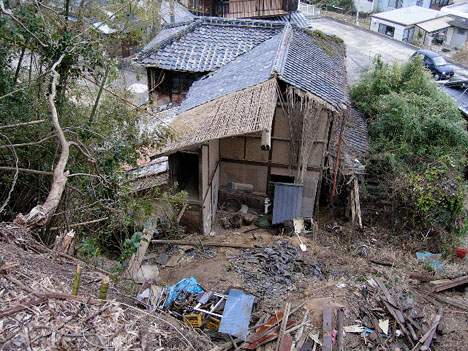 Hinode-tei just after hit by typhoon.
She named the house Hinode-tei and offered it as a place for artists because it took a bit much to demolish the house. Artists started to come over from nowhere and then a talk welled up "Let's have Awajishima Art Festival!". Then "NPO Awajishima Art Center" was established in order to enter into an event by Asahi Beer in 2005.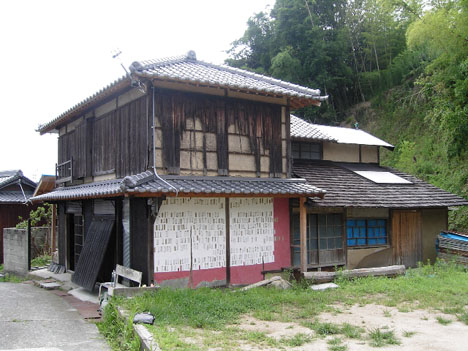 Current Hinode-tei.
Later on, a vacant house renovation and regional communications with local people in 2005, rediscovery their local resource through the art-related attempt in "ART SIGHT SEEING" 2006. In 2007, this movement reached an idea that they turn Awajishima into the island of Art.
First she thought that Awaji isaland was going to be the island of Art quite easily, however, she has had a difficult time since started to live and realized a necessity of solidarity with people from different fields. And now she has been working on it very hard, Ms. Yamaguchi talks.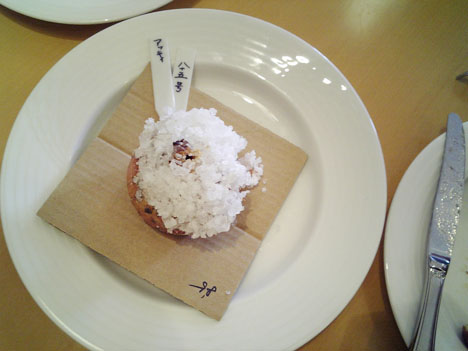 Onion project
In 2007, she became a foster parent of 92 onions entitling Onion project that is a work of whole process from growing onions till having them. I was also one of parents and joined the meal. It was pleasant to enjoy its taste and the nice peculiar atmosphere.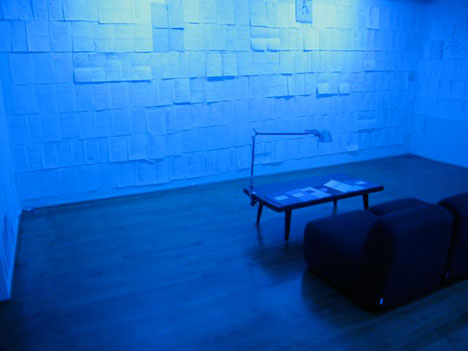 The look of Fishingdiary's exhibit
Gallery artists include Fishingdiary, Japanese mattress workman/creator, musician, Italian cook, and so on.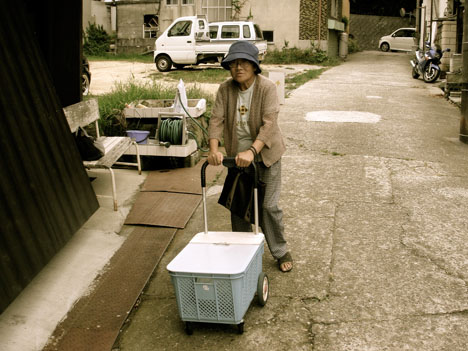 Hinode-tei, Takuya Kubo "Mother and Cart", 2007
Moreover, an event with a local special product "onion", remodeling a woman's cart in neighbor because it was sort of shabby, a bathtub (that you can use for real) at Hinode-tei, etc. Just so unique and powerful.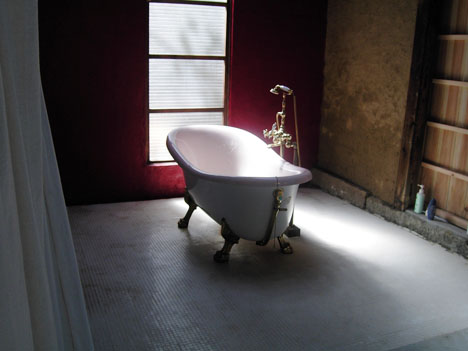 A bathtub at Hinode-tei
People from Art NPO all over Japan from Hokkaido to Okinawa came together at the forum, and discussed on various issues in the daytime. I realized that lots of interesting things are happening in every place.
In the forum, corporate mecenat people indicated that most of groups generally linked with their local but quite few with local business and schools. Some art NPO group told that they have had wanted to be in the big pleasing city, however, it has been worthwhile to stay in local, to find a purpose for life, and to take pleasure in it since an establishment of the organization. That hit my heart and also gave me surprise because I have thought that they just really liked to be there, so that established their organization.
Also, there was a moment that everybody bursted into laughter as a puppet said "I heard that all of you have been big difficulties with running art NPO…" in Awaji-island's traditional puppet show "Ningyo Joruri" at work shop. This made me realized that they are doing with great pain but really like it.
All participants seemed to have good time experiencing various attractions at Awajishima Art Center. What fascinates me in this art scene? Certainly it is something make you feel good, I think. Why don't you come and see for art and sightseeing in Awaji island?
Awajishima Art Center
Address: Honmachi 8-4-11, Sumoto, Hyogo
Tel: 090-5066-4604 / Fax: 0799-22-3322
contact@awajishima-art-center.jp
http://awajishima-art-center.jp
Text: PHIRIP (warabimochi lovers club)
Photo: Takuya Kubo (Awajishima Art Center)
Translation: Yoshitaka Futakawa
[Help wanted]
Inviting volunteer staff / pro bono for contribution and translation. Please
e-mail
to us.