"KI RI GA" is the right word to explain about works of Risa Fukui. She is one of the up-and-coming Kirie artist who creates a picture by cutting lines to make new space in a piece of paper. Kirie is one of the traditional technique of Japanese craft which is making a picture by cutting both white and black paper and putting colour paper between space. KI RI GA is a name of her first book launched at this November.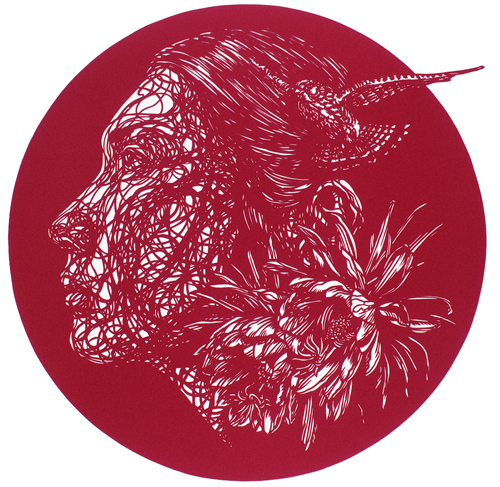 There are very sensitive lines and carefully considered colour plan on the bold graphical pattern. Her works exists on the superb balance. Animals and human beings described in her work are really vivid as it is alive.
Even if using modern and western motif, it reveals "Japanese element" although it is not deliberately. This allows that the motion of organic objects is emphasise. Moreover, her projects became broadly such as design for car's seat, sneaker, T-shirts and making animation. I interviewed with an artists RisaFukui.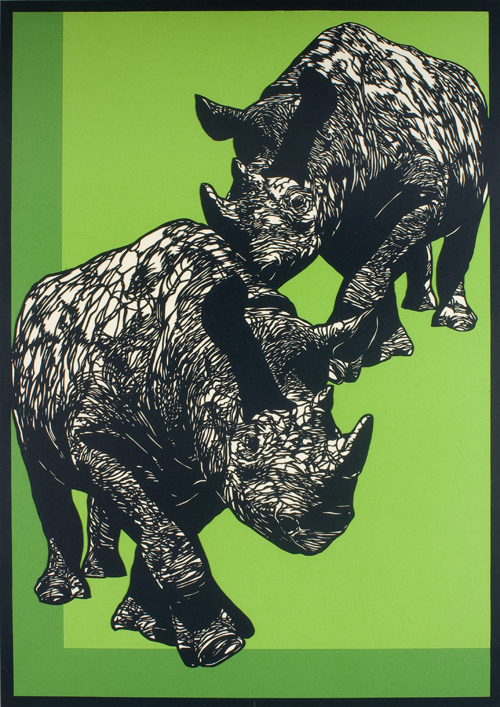 I heard you met Kirie because you were join in a Kirie club at your junior high school but you stop doing kirie after that. Why you restart creating Kirie when you are in the art school?
I had majored in Graphic Design at Tama Art University. In my age, graphic design was more analog; for example, using colour papers to think of pattern, dividing a face to make a construction of colour and drawing a line by hands. It was familiar to use a paper.
There were homework at a class to create works by any kinds of techniques when I was at second grade of my university. At that time, I remember I was good at making Kirie because I was using a paper at usual. I was looking for my style so that a lot of my classmates were superior to me in terms of drawing and making a picture in water-colour. Then, I tried Kirie and it was really fun and worked out. I am making Kirie since then.
How long does it take time to create a work?
For example, I am making one A3 and one A4 white and black works per week for weekly magazine. It is actually hard. If it is necessary to put colours, it will take more. It usually needs two or three weeks to create a piece of work.
As you said, you are working on a regular project for the novel of Natsuo Kirino at Shukan-Bunshu, a weekly magazine. How do you find?
I am glad to have this opportunity as I would like to make pictures for novel. The design should be representation of a story so that it allows to understand of a story immediately even if people have not read before.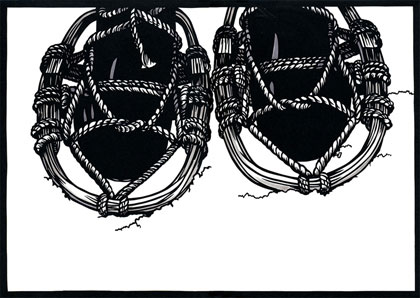 How do you describe your first art book "KI RI GA"?
I would like to emphasise that my work is art rather than Kirie for hobby (The sounds of Kirie insists more hobby than professional art). That is why I used a words KI RI GA.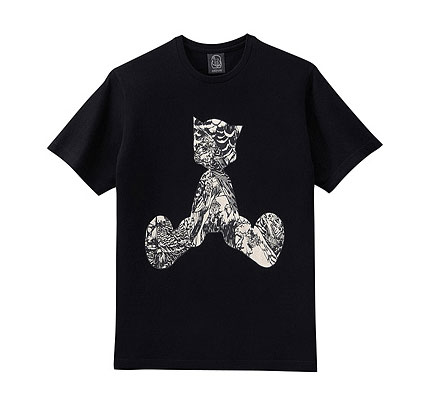 You had projects of collaboration such as a pair of sneakers and CD jackets. What does most impress you?
If I choose, it is a work of CD jacket for Mika Nakashima, a singer in 2004. This projects gave a chance to be my name around. By Collaborating with her, I could challenge new type of pattern like Medusa because Mika's idea and world came into my work. It was like that my hidden creativity was brought by her.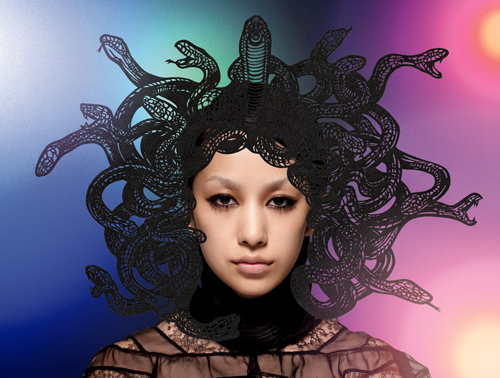 © Sony Music Associated Records Inc.
Kirie normally draw on two dimension. Are there anything you pay attention when you create Kirie for three dimension?
It is the purpose on appearing a work organically by using shapes of an object itself. For example, a carp is choice by according to shape of a sneaker. I designed plans for the car's seat as if it is alive, and I created different design for driver's seat, side and back seat. I would like to make something fun even if people are not sitting.
Read more ...

1
2
[Help wanted]
Inviting volunteer staff / pro bono for contribution and translation. Please
e-mail
to us.