The art and cultural information center providing rich events and programs for green Sendai.
Sendai Mediatheque (smt) opened on beautiful, lined with trees, Jyo-zenji avenue, in Sendai, January, 2001.
Since the opening, the architecture by the architect Toyo Ito became a hot topic for the architects and the builders from all over the world.
The smt has an important role of Sendai by holding local and international events and activities.
"Sendai Mediatheque is a center for activities in the fields of art and film, serving as a public facility to help people freely exchange Information with each other through various media and learn how to use that information" (smt website).
The smtconsists of public facilities such as Information center (2F), Public City Library (2,3,4F), Gallery (5,6F), Multimedia Library and Studio (7F).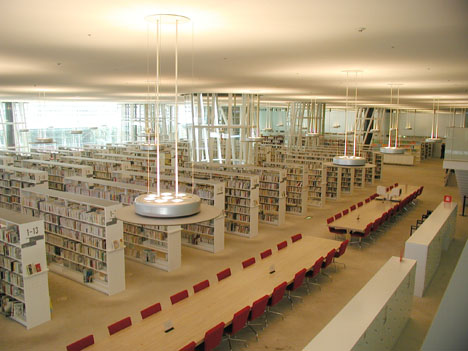 Public City Library, 4th floor © Sendai Mediatheque
The sunlight shines from the glass walls into the spaces inside the building. The visitors can feel the green of Jo-zenji Avenue in summer, and enjoy the street pageant in winter. The building freely changes feelings with the seasonal sceneries in Sendai.
There are also many sophisticated designed furniture; for example, the wonderful bench designed by Karim Rashid on the 6th floor, the chair by Yoshiaki Tetsuka + Hiro Koike on the 5th floor, and the "Flower Chairs" designed by Kazuyo Sejima on the 2nd floor.
They inspire the sense of the smt users in daily sight, and also make the atmosphere and design more friendly and familiar for visitors. The lighting and the meeting rooms are also constructed for the user and the environment.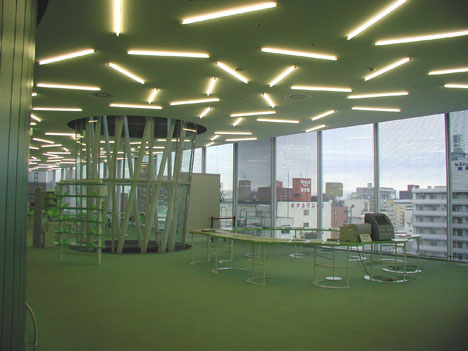 Studio, 7th floor © Sendai Mediatheque
Toyo Ito is the architect who produces architecture like TOD's building in Omotesando, Tokyo (2004) and The Library in Tama Art University (2007). Ito specially worked on the structural system of smt with a new building construction.
Besides the architects and builders, there are many smt users who get interested in 13 tubes coming from the basement to the roof and the building with the full-height glazing.
Guide-volunteers provide the public with a courteous orientation and workshop of smt's architecture and the programming (by appointment only).
"The building is composed of 13 independent steel-ribbed shafts (tubular columns: mainly steel-tube truss construction) and 7 steel-ribbed slabs ("honeycomb"slabs: sandwiched steel-plate construction), giving each floor a different floorplan. basement (b1) structures feature seismic energy-absorbing mechanisms." (smt website).
It's characteristic because there is no columns on any floors inside of the building. It is very fascinating to see the interior with the architectural point of view.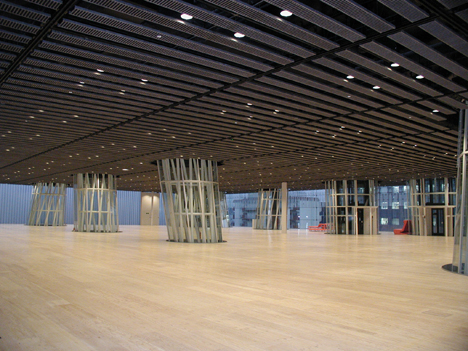 Gallry 4200, 6th floor © Sendai Mediatheque

Not only the architecture is distinguishing, but also the fulfilling events and activities in smt.

There is a special event on November 4th called, "DOTMOV FESTIVAL SENDAI 2007" held by the online magazine Shift at the Open Square in smt.
The goal of this festival is to discover talented artists and provide them with an opportunity to show their work.
The Sendai version includes the special sound by a post rock duo, subtle/ Yuta Segawa.
It will be the best chance to experience both spatial attraction of smt and the selected works by the emerging creators.

Sendai Mediatheque has become a significant place in the city, and it will continuingly show Sendai is a progressive city of art and culture to the citizens and the visitors.

DOTMOV FESTIVAL SENDAI 2007
Date: November 1st – 14th, 2007, 9:30-21:30
Place: Sendai Mediatheque, 7F Studio a
Free of entrance

Live Performance
Date: November 4th, 2007, 18:00-19:30
Place: Sendai Mediatheque, 1F Open square
Fee: Advance 1500 yen Door 2000 yen
For reservation e-mail to dotmov2007@smt.city.sendai.jp

Sendai Mediatheque
Address: 2-1 Kasuga-machi, Aoba-ku, Sendai
Tel: 022-713-4483
office@smt.city.sendai.jp
http://www.smt.jp

Text: Aya Takada

<!- Rubicon OS Player -->