On April 21st I had a chance to join the EAST LONDON ART WALKS hosted by COMMENT ART. COMMENT ART is a group that dispatches information about art in London. They produce the East London art map, which coverts gallery info in London (a PDF file available for downloads). It is a must have book for people who have an interest in art and design. ART WALKS is an event that takes place in show ditch and personal green (where small galleries are gathered). This event is presented and produced by Lean Barber (an ambassador of COMMENT ART). This two-hour tour (guide included) takes visitors on a walking tour of 6 to 10 different galleries. Lean stated, "I want more people to feel the change of the art scene in London that happens everyday in the small galleries. That's the reason why I started the tours."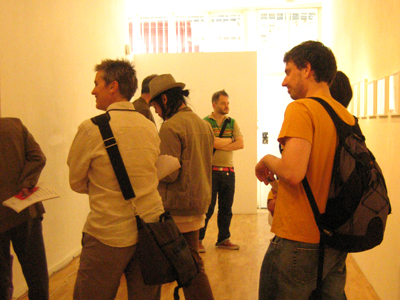 Today's guide is Lucida, a painter, who has a studio in East London. Various people joined the tour, such as a rich Indian married couple who were into collecting art, a young couple from Southern Europe, a Belgian businessman spending what spare time he had on his business trip on the tour, and us. The whole group consisted of about 10 people. A lot of galleries here are small and sometimes closed unless you ring the doorbell, which makes it very easy to miss out on some good artwork. The tour turned out to be a great deal in that we visited many different galleries and didn't get lost. Furthermore, the guides tend to be artists themselves or actually work in some of the galleries and were able to explain exhibition in a short concise way. The guide would explain the exhibit in about 2-3 minutes and let the tourists spend the rest of the time on their own. Each person on the tour was into different things and different styles of spending time; some were into what the guide had to say, others were checking things out at their own pace, and others didn't have much time for either and left.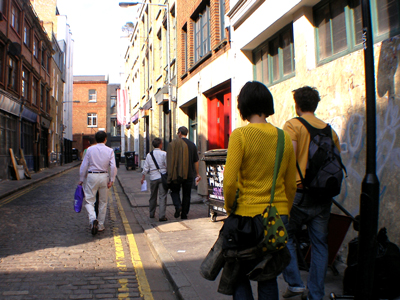 Some interesting spots to introduce.
The White Cube is considered the pioneer gallery for the art scene in East London. They just had an opening for Jessica Rankin's first solo exhibit one day before we arrived so it was pretty busy. Jessica is an artist who expresses her art through abstract imagery like a combination of the universe and nature with some fine embroidery. There were some basic sketches for the projects upstairs. Her pieces showed the viewpoint she had from traveling all over the world as she traced it in her own way. The response from the crowd was great. Throughout the whole of this inspirational area in London, I believe the White Cube was extremely stunning for its powerful significance of existence and with their choice of artists.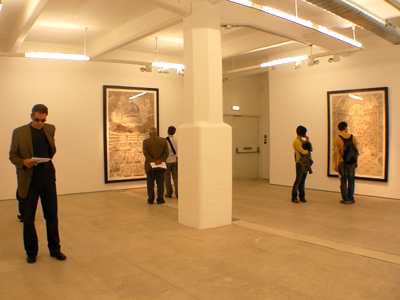 One more place to introduce is this interesting exhibit called the TEA building. As it sounds, it was an actual tea stock room. Now there are two galleries: HALES GALLERY and ROCKET in this building. The former was exhibiting Menageries and Monuments by Adam Dant, who represents modern society with a comic art touch. His gigantic unique art attracted everyone at the show and reminded us of Brueghel, the Dutch painter. The latter had German writer Lars Wolter's exhibition Drilled. Either of the two exhibits didn't have a big enough space for the exhibition, but the structures and artist's choices made people excited and enjoyable. Also the art gallery's office and art bookstore were set up in this building. This whole building was the very happening East London space.
We saw many different works of art from many different artists, there were some great pieces and some that weren't so hot. I thought it was a mixture of chaff and grain, but this is the most interesting thing about the tour. It is always great to go out for pieces that are guaranteed high quality at big museums; however unexpected possibilities of great pieces exist in unexpected places just when you open the door. Question yourself what you think about the piece here is no right answer. You will face your naked self. Being active is an important part of the tour and you will enjoy it that much more. Whenever you ring the bell at a small gallery entrance and see the art curator's smile, you will meet art you never knew existed.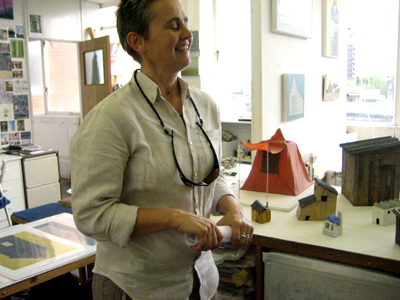 At the end of the tour we visited our guide Lucida's art studio. The studio is in a big normal old building in the outskirts of East London. Amazingly, about 50 artists share this studio. I heard there are many buildings like this in this area of London. I saw cranes for fast developing construction through the window. Looking outside, Lucida said that this area will be redeveloped for the Olympic Games so they will need to move eventually. But where, I asked she smiled, shrugged her shoulders and said, I don't know. Everything is changing in the living city and East London is not an exception. As everything is changing I felt like I just experienced East London's nOW with this five-pound tour.
EAST LONDON ART WALKS
Date: April 21st, 2007
Place: Stand Point: John Holland and Fiona MacDonad "Dirty Nature" / White Cube: Jessica Rankin / La Viande: a group show "Half Seen" / BISCHOFF/WHISS: Olivier Millage "Muster to Custer or Else" / HALES GALLERY(TEA building): Adam Dant "Menageries and Monuments" / ROCKET(TEA building): Lars Wolter "drilled new paintings" / MUSEUM52: Valerie Hegarty "View from Thanatopsis" / Studio1.1: a group show "HOOT" / SEVENTEEN: Peter Davies, David Ersser and Graham Hudson "It was the best of Time Outs, it was the worst of Time Outs"
Hosted by: COMMENT ART
Tel: 020-7739-1743
info@commentart.com
Text&Photos: Sawako Kanematsu
Translation: Kimiyo Nishihara
[Help wanted]
Inviting volunteer staff / pro bono for contribution and translation. Please
e-mail
to us.