The infamous red-light district in Zurich goes along Langstrasse and its side streets. In this seedy part of town you can also find some very good restaurants, shops and a high percentage of designers and artists. At night, it is famous for its bars and clubs. On the night of September 21st, a new creative outlet opened.
It goes by the name of Perla-Mode. A Swiss architect has bought the multi-tenant building in order to build a new hotel. Until the construction begins, however, he decided to rent it to local artists. The name "Perla-Mode" comes from the store that previously occupied the ground floor, selling clothing and textile, and was kept for the new art space. Although the location is close to the expensive city center, the rent is set unbelievably cheap so artists can afford it. In this valuable spot, artists with low budget can now rent a space of their own in the city, to represent themselves and their art works to a wider audience, and to hold various types of events.
On opening night, September 21st, more than 1,000 guests attended. They enjoyed exhibitions, a concert, and a performance happening simultaneously on different floors.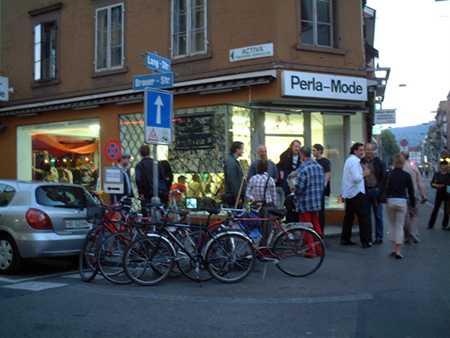 Freymond-Guth & Co. Fine Arts Gallery at the corner of Perla-Mode on opening night
On the ground floor, there are Freymond-Guth & Co. Fine Arts gallery, zine gallery by Nieves Books and an atelier for Ajana Dracula.
An artist himself, Jean-Claude Freymond-Guth introduces the works of young Swiss artists through his gallery. Since 2002 he has been showcasing local artists through a NPO project called Les Complices in an environment free from commercial influence. This project has allowed him to make plenty of contacts with artists whose work he now represents exclusively.
Next to it is Nieves Books, the smallest independent publishing house in Switzerland known for its exclusive zine series and art books. Publisher Benjamin Sommerhalder displays his books and posters in the gallery on the ground floor and has his tiny office on the floor above. At the opening party, he introduced his new book "here and there 2006 vol.6: Unexpected Traveling Issue" in collaboration with freelance editor Nakako Hayashi. The corresponding poster, designed by art director Kazunari Hattori, hung on the wall. Benjamin's mother and sister had baked cakes and snacks for the event. Those were so popular that they were gone almost immediately after each refill.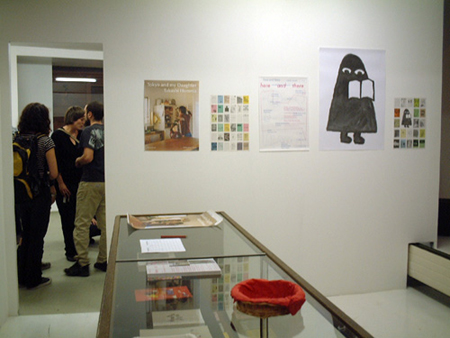 In Nieves Books' zine gallery, rows of zines and art books line up in the antique showcase. On the wall are posters from recent publication
In contrast to Nieves' minimalist gallery, musician Ajana Dracula's atelier looks like somebody's living room, filled with wooden furniture and clothing on racks. There are posters randomly pinned to the colorful wall, and two pianos without cover stand next to each other. The atelier will host a classic concert every Thursday, and at the opening party Gabriel dal Vit and Valentino da Bambino played wonderful music in a dreamy atmosphere. The guests lounged on the sofa and listened to the music while little kids danced to the rhythm on the carpeted floor.
Read more ...
[Help wanted]
Inviting volunteer staff / pro bono for contribution and translation. Please
e-mail
to us.