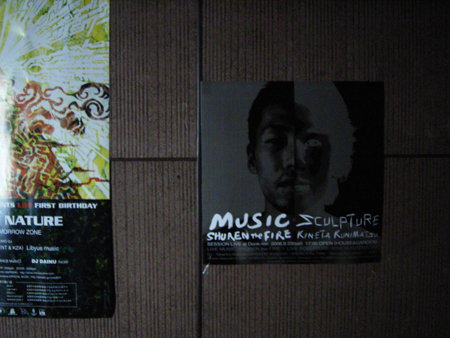 Speaking of art events in Sapporo, usually come up with West side of the city with "Soso Cafe" or Susukino district where you can find nightclubs. What about around Sapporo station? 7 to 8 minutes walk from a North entrance at JR Sapporo station to get to Hokkaido University which is the largest-scale in the city. the enclosure of the Univ. has much nature, and lots of tourists and generals visit in holidays. Pleasure in which it is also different from the surroundings of Susukino and the clock tower to also enjoy the hit. Let's introduce the event held in the area.
'MUSIC & SCULPTURE' You can tell it's all about 'music and sculpture'. Live music and sculpture is also live performance. Produced by 'sastro' (Tetsuya Kino) who carry out an Art and Cultural project on the subject of 'feel the creation' mainly in the city. Starts at 5pm. A venue is 'donkron'. Several min. walk from the station and next to the campus of the univ.. This is a restaurant you enjoy foods and sake at night. Has a fascinating structure. Used to be a old wooden private house. You can find surprisingly old buildings in alley even a centre of the big city like Tokyo. However, not here in Sapporo. Therefore A cafe or a restaurant opened in this kinda old building is held the spotlight and tried to be used as it was.
Easy to find the place following a red lantern nearby the entrance. Just like a real entrance of somebody's house. A reception desk of todays' event is placed inside, It will go into inside of the restaurant if goes immediately to the left there. DJ Takahiro Nakagawa was spinning behind a DJ booth where a drum and the keyboard was also set. A space blending naturally a restaurant and dancing floor, a counter bar in the back like DJ bar with atmosphere. Visitors were enjoying their drinks and meals.
It goes out to the yard. There is a forest and ground becomes hollow overall, and the glance falls. That's why the spectacle outside the site is hardly seen. Touch which lost in the hall of the rave party in the nature which separated distantly from Sapporo city since such spectacles were not in sight at all although it must be a street lined with large buildings when walked also for a minute.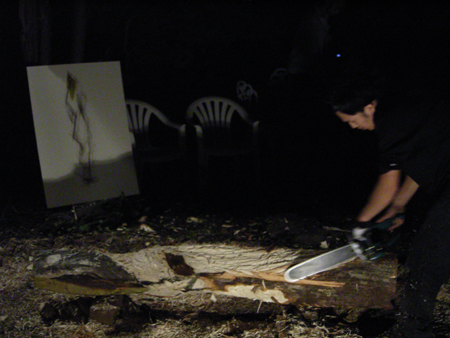 Here, the main one sculpture of this event was performed. A person who was chain-sawing one log among the audience, is a sculptor, Kineta Kunimatsu. Born in 1977, Sapporo. Currently he is an Art lecturer at Bunka Women's University Muroran Junior College and also works himself in Shiraoi town, Hokkaido. Young artist who has been acting aggressively for about three years around in road like exhibit etc.. It is scheduled the work produced in the event, the work is assumed to be on of the stage sets, and live music performance will be played there.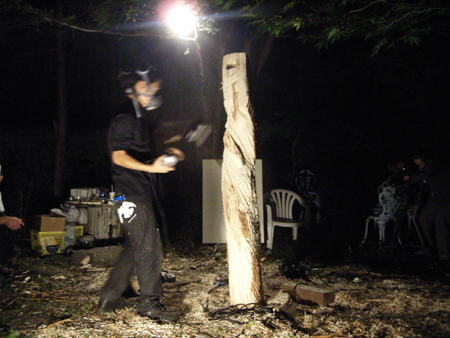 As for the production of the sculpture, there was an image of plugging away with a hammer and a chisel. But this time, a chain saw and a burner are also used for the work scenery of Kineta Kunimatsu. It seems to be also aggressive rather than quiet. The image of his work is a female full-length portrait. Work progresses while looking at the sketch which is placed next to him. Being a living thing, swerving, also shaving a log and completing a female image was felt for the very sexy act to me. Became very mysterious feelings as for surrounded by greens. Not the excitement of the euphoria but the ambient music become feelings done in a relaxed manner of waiting in my vital point.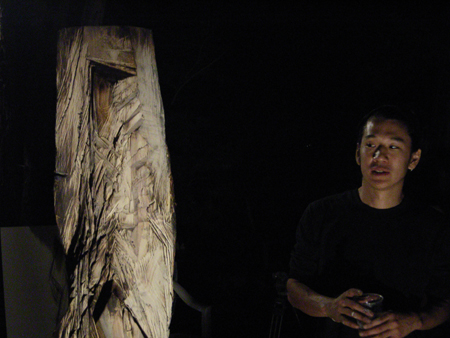 Have 3 hours or more passed. The work was completed. And it was carried to the stage set after an interval. Then SHUREN the FIRE started to play.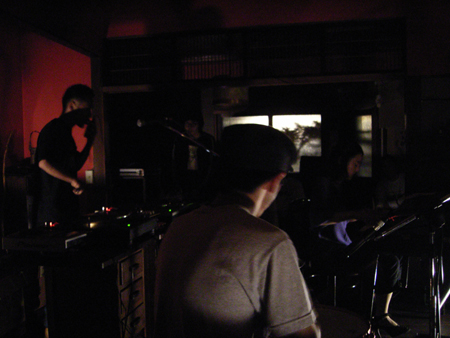 The sound is realistic firmly and there is also atmosphere appropriate for jazz. I think that the impromptu nature of jazz and the sampling of hip-hop have the merit of affinity, if MC is a contemporary 'poet', he will be an artist who presents rather music 'spirit' not hip-hop 'style'. I was able not to think about the genre and to spend great time purely as one 'music'. I felt variety taking element and expressible as their original style in SHUREN the FIRE though I have felt the sense of incompatibility somewhere in Japanese hip-hope scene.
'The Autumn Equinox Day' which tells an arrival of short autumn in Sapporo passes. 'Music' and 'Sculpture'. It was the event which is surrounded by nature and can be immersed in a natural feeling in a place.

MUSIC & SCULPTURE
Date: September 23rd 2006
Place: Donkuron
Live MUSIC: SHUREN the FIRE
Live Sculpture: KINETA KUNIMATSU
http://www.donk.co.jp
Text and photos: Shinichi Ishikawa from Numero Deux
Translation: Futakawa Yoshitaka
[Help wanted]
Inviting volunteer staff / pro bono for contribution and translation. Please
e-mail
to us.