Some people still have a childish look in their eyes. When I look at them, I can clearly imagine their faces as little boys or girls. Something in their eyes and smile still holds some kind of hope. It is hope I see in them. Pablo Dacal is one of those big kids.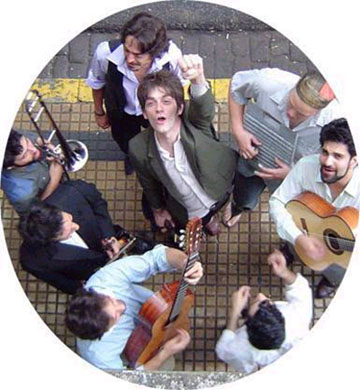 But he's, most of all, a musician. He sings and writes his own songs, he plays the guitar, the flute and the piano. He likes to perform in little cafes for a small bunch of people and he likes to sing with his orchestra, too. He also teaches music. The art of how to sing well, how to breathe properly and how to create a unique particular sound.
For him, this is an everyday job. To wrap songs in papier mache and save them in his pocket for a troubled rainy day. Or a trip.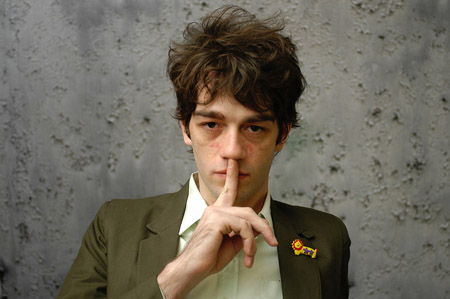 Pablo Dacal started this road trip looking for stories to tell. Then he wanted to escape from serious, so he chose funny. "I began singing when I was a kid; it was like a game to me. I used to put old Beatles records and sing along with them", Pablo says with a grin. "I have a musical family. My father plays guitar and my mother sings".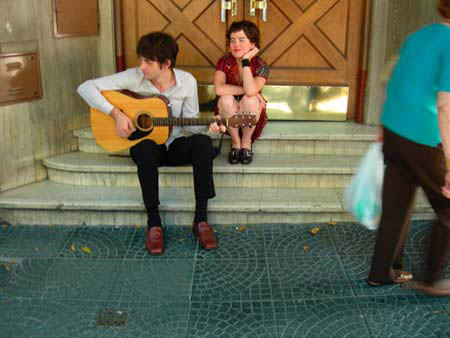 Pablo began studying music when he was 13 and he went on and on. In this "lonely period" he began writing songs, buying music magazines, playing while listening to albums, going to live shows, buying records. It was a whole spontaneous learning program for Dacal.
While he was learning the know-how, he formed several bands, started performing in live shows and edited many records. But he didn't wait for the big brands to call him; Pablo prefered to solve his own problems by editing his own albums. And he succeeded.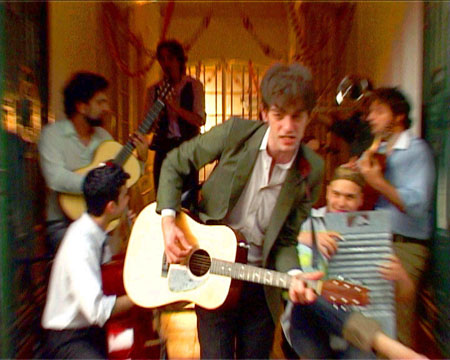 Right now Dacal is working on a new album called "The age of sound" where he plays with his orchestra, "La Orquesta de Salon". The concept of the music he's been making with the orchestra is the recreation of the 1950s and 1960s sound, the sound before rock'n'roll. He wanted to find the violence of rock in melody and harmony.
Pablo believes "The age of Sound" will be his last album.
"I find the idea of no more albums interesting. Before, it made me sad but now it almost makes me happy", Pablo says, "I believe this will determine the end of a rigid structure and the return to the singles period. To me, songs are like things to put inside your pocket and carry with you wherever you go. The ideal format for music is no format at all".
Even if Pablo believes in free music format, he and a group of people created a record label of their own which already edited three albums.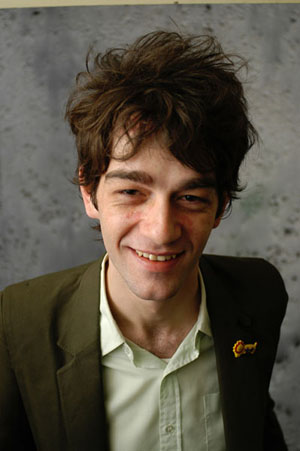 Pablo knew what he wanted since he was very little, and he stood for it. He was never selfish or egotistic. He likes to share and he always did. That's weird for a musician. Every leader would sooner or later break apart from the band. Pablo does the opposite. He reunites with his band, he plays with others, he invites and gets invited by the rest. And he enjoys it, as a part of the process.
"What I like most is live shows. I enjoy playing on my own, and I also like to rehearse with the band. Eight people in one room during a whole hour playing one song can be very funny. I like concerts because they are based upon a moment of communication when you can see what happens between your songs and the people", Dacal tells me.
When I ask Pablo about his next projects, he tells me about his last trip. "I went in a small tour around the provinces, I really like to travel and take my songs everywhere. We have many shows with the band from now until the end of the year. In December I'll perform live shows in a weekly basis in a San Telmo theatre, El Nacional. And my album will be edited in Colombia next November, so we want to go there and play".
Play here, there and everywhere. For big crowds or small groups. Pablo Dacal likes to watch the faces of the public while he's singing. "I look at them all the time, I try to generate a relationship with the public". He whispers his everyday songs to the close ones. And still with the childish look in his face, he picks the guitar and leaves the show as one more guest. The special one.
Text: Gisella Lifchitz

[Help wanted]
Inviting volunteer staff / pro bono for contribution and translation. Please
e-mail
to us.