The first time I saw a Henrik Vibskov creation was in a grimy club in Berlin. It was late, very late, and a vision suddenly struck me from across the dancefloor. It moved towards me, nothing more than a graphic pattern, of intertwined, multi-coloured rubix snakes, that jogged a part of my hazy memories of the 80's.
And it whispered in my ear, it whispered… Well, that part I can't remember, and anyway it's irrelevant, because that sweater-top shined in my eyes like a beacon from outer space (and I never saw that man again). If that's the sort of effect a floppy, fleecy-lined sweater can have, then I want more of it.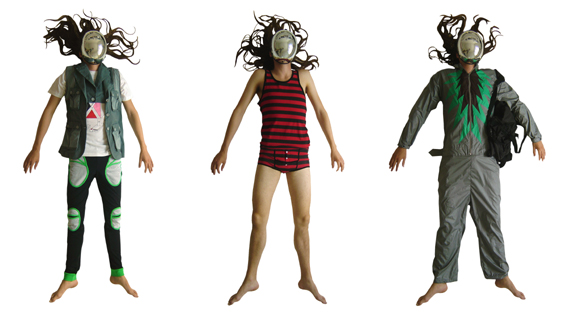 Henrik Vibskov Menswear 2005
Henrik Vibskov grew up in a remote part of Denmark, amongst the grass and the trees and a family who made frequent trips to the seaside. He started his career young, a keen drummer by the age of ten, and by twelve he was getting awards for break-dancing, drumming and beat-boxing his way across Europe. Pop antics soon gave way to more serious study at a design school in Denmark, followed by a stint at a traditional fashion house, and a string of exhibitions thereafter. He then went onto study fashion at Central Saint Martin's College in London, which not surprisingly, considerably raised the profile of his work. By the time he graduated, the young Vibskov had set himself on course to pursuing various directions in art, fashion and film, and gaining a lot of recognition.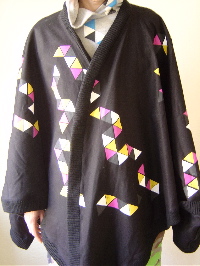 His list of credits is impressive, from his independant film work 'The Monk', which won first prize in the Beck's Student Future film competition, exhibitions at the ICA in London and Sotheby's Gallery in New York, and a scholarship from the Danish Art Foundation which gave Vibskov the chance to develop his fashion projects.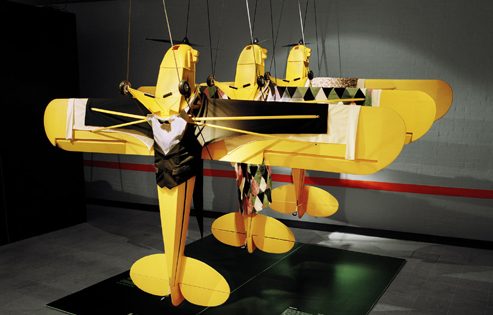 Henrik Vibskov installation, Danish Design Centre 2004
How the hell does he do it? So much creative output can hardly be generated from a set of one-off, random musings. In Vibskov's case, not dissimilar to other notable designers, it's not so much about the medium as it is the message. Film, fashion, art and back again. Take your pick.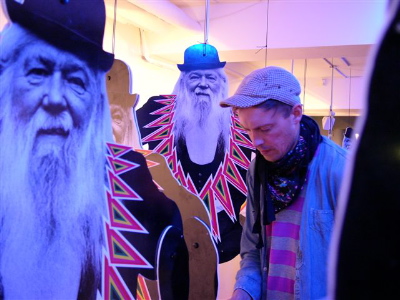 Henrik Vibskov and his 'Madsen' installation
In his 2006 'Madsen' collection, he is inspired by two characters, creating a story that manifests itself both as an art installation and a menswear line. There's an oddball doctor fooling around with quicksilver, and Vibskov's real-life neighbour, with an uncanny likeliness to the doctor. The neighbour then becomes part of Vibskov's social experiment, and is eventually used as a central image.
The spring/summer menswear collection is streetwear on a new level, with playful geometrics and some cute tailoring. It's as if the quicksilver from the doctor's medicine bag has sunk in and morphed his long grey beard into a kind of hi-tech medieval chest-piece.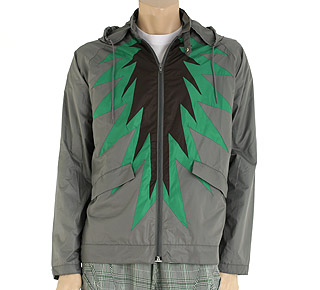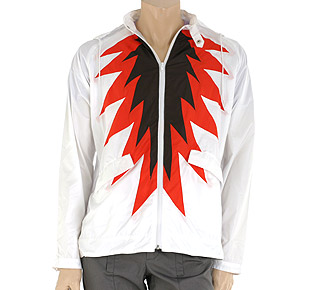 Henrik Vibskov 'Madsen' collection, spring/summer 2006
The autumn/winter collection tells more of perverse fairytales, with psychedelic coloured prints on t-shirts and jackets, jester-style leggings, and black capes over cherry red suits. In all of this wonderland, Vibskov does show some restraint, by making room for more basic streetwear items that scream 'practical' instead of 'look at me now'.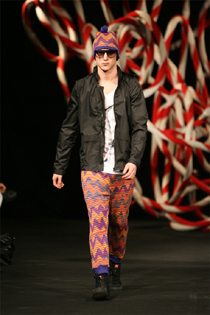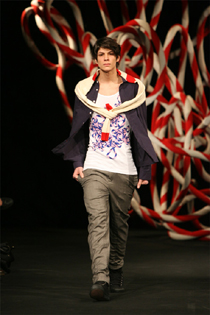 Henrik Vibskov Menswear Autumn/Winter 2006
But Vibskov's clothing is not just reserved for court jesters, flaunting fashionistas and mysterious late-night party people hiding in dark corners.
One look at his 2006 women's wear collection and the trip into fantasy land turns into more of a star trek adventure. Feminine and futuristic, with a more subdued colour palette. Has Vibskov decided to shift into accessible ready-to-wear, to be snapped off the shelves at designer department stores in the world's biggest cities?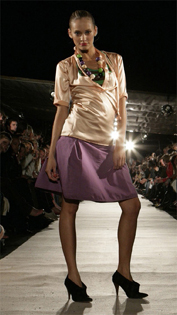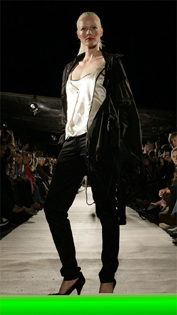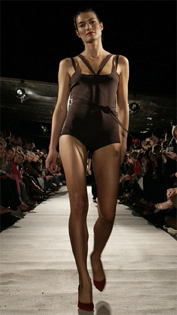 Henrik Vibskov Women's wear 2006
That's not likely for now, but it's not to be completely ruled out. His deft talent for balancing art and fashion projects will keep him a darling of the left-of-centre fashion crowd, with Colette in Paris, Pineal Eye in Hong Kong and NO-ONE in London currently stocking his collections.
The fantastical world of make-believe, of unicorns and jesters and kings and queens, is a style which has almost nearly run its course in fashion and graphic design, but Vibskov pulls it off, and then some. He's the creative 'quack', fashioning his designs and installations together with the precision of lego fanatic and the artistry of a tailor. And he's also a catwalk model. And a musician. And a breakdancer. And a…. well, you get the picture.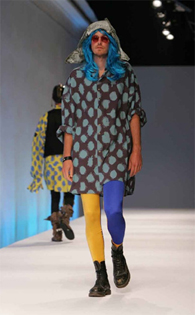 Henrik Vibskov modelling for Patrik Soderstam at London Fashion Week 2005
Picture: Shoji Fujii, courtesy of Diane Pernet
The world is intrigued, and Vibskov is a very busy man. I persuaded him to take some minutes out from his hectic schedule as Director and 'Creative Quack' to ask him a few questions.
What was it like growing up in the countryside in Denmark?
I had a brother and a sister that were quite a lot older than me, so i was often on my own, and ended up playing by myself, in my own world. I had a lot of time to kill, especially when I went to the sea with my parents. I had to make my own fun, by playing with lots of lego and amuse my self with my own imagination.
You studied at Central Saint Martins College of Art and Design – a coveted place of study for most aspiring creatives. How did you find it as a learning experience?
Before I went to St Martins I was studying for quite a while under an old woman, a classic coutourist, which was interesting, but a bit like being at a tea club. When I got sick of tea, I decided to take more formal study at Central Saint Martin's College. I was 26 at the time, a bit older than the majority of students there, so I had a bit more technical knowledge and life experience. The school itself is not giving you anything, it's just giving you the chance to follow your own direction, which worked for me. There's loads of possibilities there but you have to kick it off yourself.
In your 2006 menswear collection, you were inspired by the miracle doctor 'Phillipus Bombastus von Hohenheim' as the basis for the collection – a 15th century doctor who used minerals and quicksilver. Can you tell us a bit about him?
He was a professor, experimenting with quicksilver. Some of his experiments failed, and he eventually went mad, from the quicksilver, and had to flee to Austria. My neighbour, with a long white beard, seemed a lot like this miracle doctor. I had been watching him for a while, and I thought 'who is this guy', and so I approached him to do something with him. I told him about the project, and he told me amazing stories, about how he was in the Vietnam war. And there was always this old woman buzzing on the door of his place. It was very funny. So he ended up as the real-life inspiration for the project.
Is this often a basis for creativity – being inspired by real life characters?
No, using this character was something i did for that particular project. But there were different elements to it – the medicine man, the social experiment (using my neighbour), and the jumping jacks. The jumping jacks were the installation component. I showed them in a small gallery in my hometown where I was born. That was interesting, because no one really understood the project, they were like 'what's this all about'.. quite a funny experience.
What visual artists or designers impress you most at the moment?
Ernesto Neto, a Brazilian artist, who works mostly with fabric. He's creating these imaginary landscapes out of fabric, and I remember one amazing sculpture he made, completely out of books. He had a solo exhibition in Sweden recently, and one in Zurich. I like his work a lot.
You are an artist, a fashion designer, and also a drummer, and have made numerous films. From what do you get the most creative satisfaction?
Running a fashion business is a bit like a regular job, where I go into the office every day. None of it is boring because it all feeds into the other, whether it be fashion or art or film. I would say though, that at the end, music is what i've been doing for a long time and it still holds a lot of interest for me. I haven't been doing much of it in the past years, until recently, when I had the opportunity to do a solo drum routine with Tandemilla, a Danish artist. He's an established electronic music producer who has done remixes for Pet Shop Boys. My drum solo is on a track of his which is coming up for release in Autumn. I just heard it a couple of days ago and I'm pretty happy , even if it's a bit hard to hear my part!
I read a small snippet on your site about how you criticised the Danish Cultural ministers after one of your shows. Will you tell us why?
I was awarded the prize for 'best fashion name of the year', and it was presented by the Danish Cultural Minister at the Tivoli Concert Hall in Copenhagen . Everyone was clapping, and he was saying how fantastic it is, that the government can provide this support for creative people, and so on. But one of the reasons why my label became successful was because I got this working grant from the Royal Danish Art Foundation, which was abolished as a part of the new government. He was standing there all cool, and when I gave my acceptance speech I said – thank you very much, but how I started this project was due to a grant from a program that you actually closed down. It's just a little bit hypocritical. The organisers drowned out my speech with 'thank you, thank you', and nearly pulled me off stage. And I also started talking about the Iraq war, and how I didn't agree with the decision the Government made. Clearly I was going in the wrong direction for this event!
You're working on a new women's and menswear collection. Can you give us a few clues?
Wet shiny boobies! Just because all the things we've been doing have been very playground, and a bit asexual. That's all I can say for now!
How about Shift cover this month?
The Shift cover is a small scale model of the installation/show I will make for men's fashion week in Paris beg. of July. I then spiced it up to make it look a whole more Shifty! Thanks.
If all of your creations were at a party, where would it be and what would they be drinking?
There'd be some grown-ups sitting in a pool outdoors drinking vodka cocktails and some little children would be splashing around in the kiddie pool, drinking soda pop…
Text: Peta Jenkin
Photos: Courtesy of agentur V and Henrik Vibskov
[Help wanted]
Inviting volunteer staff / pro bono for contribution and translation. Please
e-mail
to us.