The second day of the festival starts by finally offering access to the Showplace. Joshua Davis shows an installation where the visitors' drawings are inserted into the generative art software.
Casey Reas has three generative processing pieces at the exhibition where different processes generate beautiful organic forms based on simple mechanisms and rules.
The SYSTEM_C by Marius Watz is a drawing machine which is based on different agents leaving their marks through time. An image is generated and mutates over time.
There are two more projects which we would like to mention: One is the motion piece by James Paterson, which applies some computer generative principles to a more rudimentary manual animation of different works of art. The other one is an amazing installation by Zachary Lieberman . The visitor can draw anything on a paper sheet using a brush. The result is digitalized immediately and lets the users play with the virtual representation of the paint. Pulling, dragging and rotating the forms which you have painted with your own fingers a few seconds ago makes for great fun.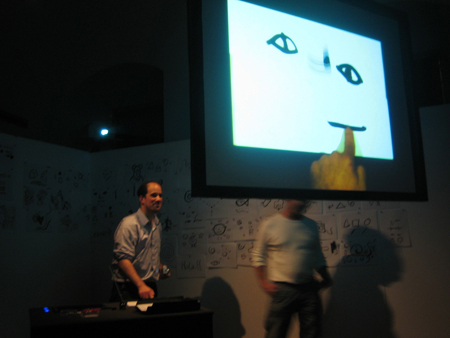 Zachary Lieberman shows his Drawn Installation
Waskman, a small agency located between Bilbao and Madrid, is known for building surprising interactive installations for different events or special locations. Their conference is a great review on different installations ranging from public space interventions to wall advertising and interactive applications for events.
Waskman shows great installations that react to motion capture, audio input, SMS messages, the sound of wind and more. They also show some of the working processes of their work. Other Waskman activities are based on organizing events which involve some specific social help tasks.
Folkert Gorter presents his conference "Art and technology in the collective imagination". Folkert is one of the founders of News Today, one of the most visited design portals on the Internet.
He presents a project called "Space Collective", a piece encouraging the visitors to participate in the evolution of the species. Folkert explains how the Internet connects huge numbers of individuals letting them communicate, share and contribute to evolution. With a very critical view to the current world's situation, Folkert talks about how fast our communication systems are improving and voices his opinion that humans should come to terms with their own world before searching for other civilizations in outer space.
Chuck Anderson explains how he started applying for freelance illustration jobs without being able to show any commercial work. Nowadays, he is doing stuff he couldn't imagine doing before, like designing Reebok shoes, painting big walls in a store in NYC or collaborating with other artists. A very positive and inspirational speech for those of us who are planning to move ahead trying to do what they really want to do. Chuck admits that the only thing he can do is drawing.
Then Ze Frank comes on stage to speak about "Interestingness" and he manages to capture the audience from the very beginning. In his ironic speech filled with jokes Ze keeps up an impressive tempo for the next 60 minutes. He explains how things can get really bad when there's either too much or too little information communicated (i.e. when there's an airplane involved). Ze makes the crowd laugh and gets a big applause after his speech.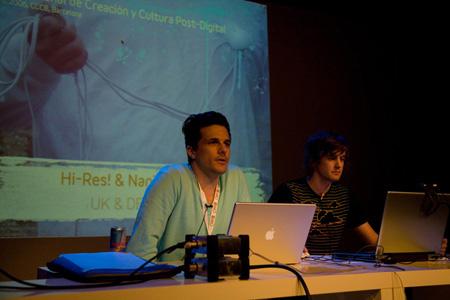 Hi-res presentation. © Borja Delgado
Next Hi-Res!, a well known studio based in London, present some of their latest commercial and experimental work. One of their very nice commercial projects is the Beck's website, full of nice transitions, animations and sound based on a collage look. They also show a full style campaign about hijacking reality, which they have been developing for MTV including a very cool packaged styleguide.
They also show a new experimental project called Seasons. Seasons is made from 4 different experiments, one per season. Every experiment is based on an individual text piece reacting to a 3D environment. Using motion-tracking to link every experiment to a specific pattern, the experiments result in a real-time filmed environment. As they introduce pattern recognition, they also show a project where the system is able to recognize facial expressions and link them to funny graphical responses. This actually turns into a kind of augmented reality since the system is able to link additional virtual information to real-time shot images of smiling or serious faces.
The second day of the festival is closed by Kyle Cooper. Kyle shows some of his motion graphic pieces and explains how he prefers manual to digital work.
Read more ...
[Help wanted]
Inviting volunteer staff / pro bono for contribution and translation. Please
e-mail
to us.