HIDEHITO SHINNOU EXHIBITION
Being connected with the cover and the interview in SHIFT Feb. 111 issue, "HIDEHITO SHINNOU EXHIBITION" was held at SOSO in Sapporo during the whole month of February. Undergoing a complete change from colorful and vivid "HUMANS BY MIKE MILLS" exhibits in the previous month, this month's SOSO welcomed cheerful and pop fellows in pastel pink and light blue.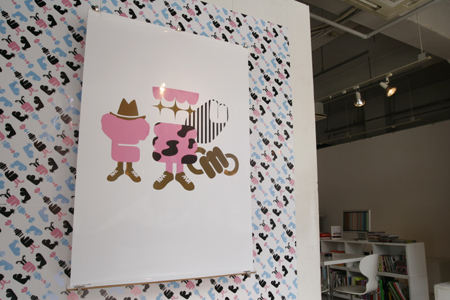 Hidehito Shinnou is a young graphic artist from Aichi, Japan. He learned designing at a shool in his homeground Nagoya, and currently working for illustlations while having another job, then the end of last year, one of his works was selected for "SHIFT Calendar Competition 2006". If you are using "SHIFT 2006 Calendar", you must had seen his graphic in February. If including "SHIFT 2006 Calendar Exhibition", it is the second time that his work decorates SOSO, and at the same time it is his first solo exhibition in Sapporo.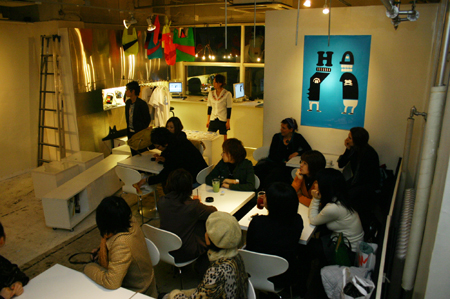 On Saturday 11th of February, while the "Sapporo Snow Festival" was about to reach its climax, there was a live performance event with Hidehito himself. It had already passed more than 10 days after displaying his original large-sized posters and cute T-shirts at SOSO and having his pleasant SHIFT cover animation on the mac screen. Nobody could expect what kind of perfomance he would show after that on the big white wall in the center, and Hidehito also hinted at its improvisational with the interview "I would like to enjoy drawing while reacting on what I drew at the venue." Character painting? Collage with his original motives? The event started with everyone's expectations.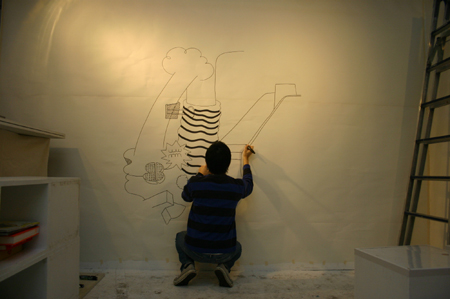 It was a black marker that Hidehito picked up in front of the white wall. He faced to the wall for a while having everyone's attention, and all at once, the mountainous lines appeared in the center. "I have been getting interested in lines and it has been my basis," said Hidehito in the interview. His style with lines were developed with hand drawing in monochrome througout a delicate nuance of thin lines, thick lines, curved lines, straight lines and dots.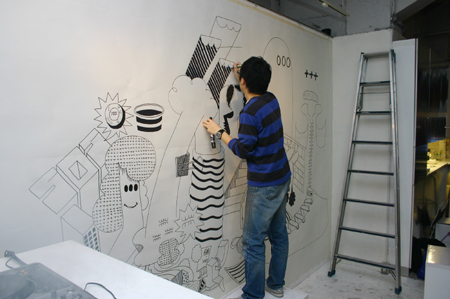 It's fast! This might be the first thing everyone was surprised at. It was expected to take a long time to fill out the space in approximately 2.5m x 4m just with a marker, but jumping to the conclusions, it was achieved only in 2 hours. Starting from the center, the drawing added various motives around like a chain reaction making rapid progress.
Sometimes these were the familiar objects such as an escalator, sneakers, glasses, SOSO logo and coffee cup, but other times these were somehow amusing and non-distinctive shapes or lines which made us give full scope to our imagination. These seemed disconnected but connected, and also seemed considered but sensual.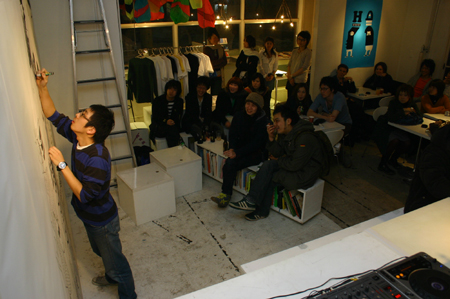 It's fun! It was so fast that we didn't get tired of watching it, and therefore every moment was enjoyable. Visitors really concentrated on the point of his marker, listening to the sound collaboration driven by a DJ, and sometimes laughing as if children watching an animation. The reason that the whole atmosphere was peaceful and delightful must be becaue everyone could feel that Hidehito himself was really enjoying to draw. The time had passed too soon.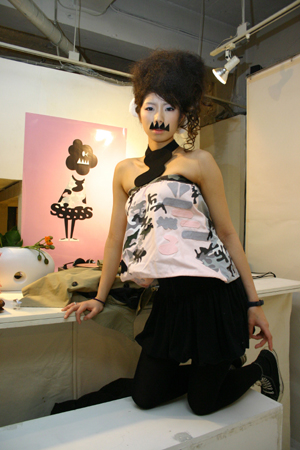 And it's cute! Just before the completion, a girl in his original poster "a Girl" suddenly showed up in the real world. It was a nice and surprising project to Hidehito, planned by a Sapporo based makeup artist Miwa Yokoyama and her "TGMU" members. A model got mixed with the venue, well dressed in a characteristic that Hidehito's graphic had.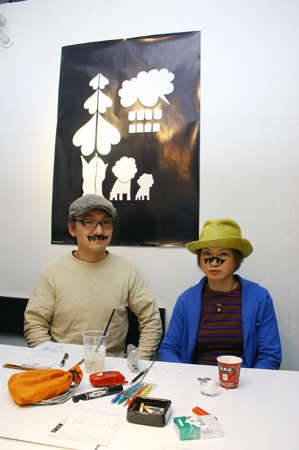 A Sapporo based illustrator Chisato Shinya and a designer Hiroshi Kotake were also smiling with a mustache. "Looks fun! I want to join it!", Chisato said watching Hidehito's drawing. What if the hartful and pop character world of Chisato, who is also taking an active part in the world, joined in his drawing,,, it was just exciting to picture their collaboration in the future too.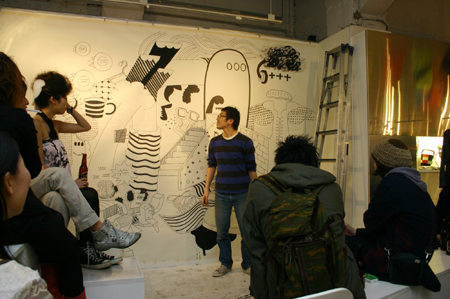 With a balloon saying "finish!", Hidehito Shinou's hands, which were moving without rest, stopped there. And a warm clapping praised his completion. If the time permited more, inside of his brain must kept showing up on the wall forever, but the white wall was already filled with cheerful black.
According to Hidehito, the number of motives he drew was almost exactly as what he saw and felt or the topic speaked about on the day, from what he felt in the street of Sapporo to a happening in a restaurant he had a lunch. Finding out that he drew such things really concretely, I thought it as if a diary. If we could draw such a delightful diary everyday, we must be able to make any sad things happy.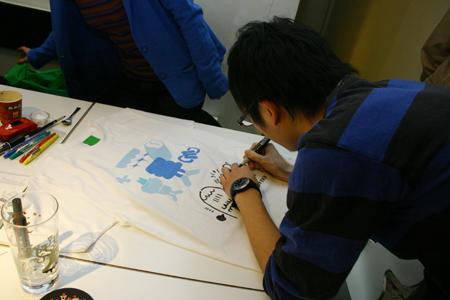 Even after the drawing, Hidehito kept having the black marker and responded everyone's demend for drawing on T-shifts or notebooks. Visitors importantly took an original design home.
"If it's enjoyable or not." Hidehito Shinou's philosophy in designing was here. Lines and shapes produced by his free style. And his attitude to meet, take, and try but also losing strength in a good way. These are the reason we cannot take our eyes off to the Hidehito Shinnou's world with a lot of possibilities.
*Hidehito Shinou's posters and T-shirts are available at "SHIFT FACTORY".
HIDEHITO SHINNOU EXHIBITION
Date: 1st – 28th Feburary, 2006
Open: 11:00-21:00
Place: SOSO
Address: 1F Sansei Bld. S1 W13 Chuo-ku, Sapporo, Japan
Tel: +81-11-280-2240
Supported by: BEAMS T, PRINT'EM, Pioneer
Text: Yurie Hatano
Photos: Sharima
[Help wanted]
Inviting volunteer staff / pro bono for contribution and translation. Please
e-mail
to us.