"My dream is to make a bar with media art.", "I'd like to live in a room which has usually media art to always play with."
Now it's usual to have a desire of living to be enclosed by an art and design for computer generations like us. The voices given first are all due to the woman. It is helpless hardness of an old generation that we can see IT only in the man aspect in the age that everyone uses PC and the Internet. For us who always have to associate with a new technology, there must be an art and a design to make it comfortable and to master it so that we can use it as we want.

The media art makes your lifestyle more fun. You can actually feel it by playing with the work. The exhibition overflowing in wonders is held in Yokohama "BankART Studio NYK" until March 14th.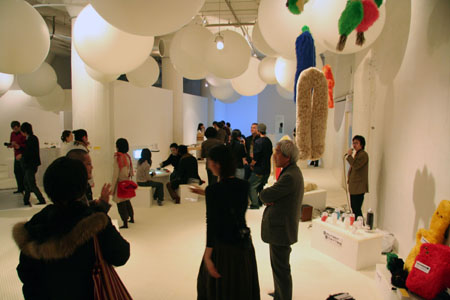 The theme of this exhibition "Electrical Fantasista" is "Fantasista who polish the lifestyle in the IT age". It consists of works by "Fantasista" in our generations who can make the game machine such as the robot and even the IT equipment made by indivisuals.
It's impossible to have a rich life without an art and design. The world of web expression represents it the most. If there is no rich media expression with web, we couldn't fill everything in our life from online nor enjoy broadband. However, the web design that supports such richness hasn't been evaluated as an art in the museums in Japan. The evaluation of the net art in this country is still in the place focusing on the programming or the connotation in the technology.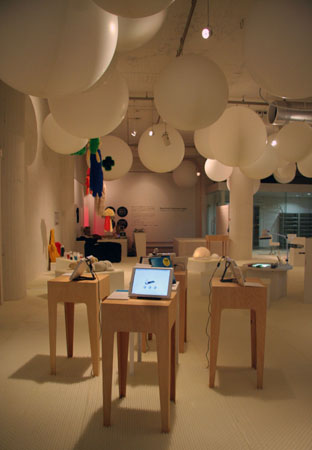 What is the web design as the value of creative that shines by experiencing as a work in the museum? In this exhibition, standing out works by Fantasista are exhibited with the theme of "Flash Fantasista". Individual works, which are presented in a minimum tablet PC we can face directly, are showing its depth, and enjoyable enough even for people who don't usually take account to the web design.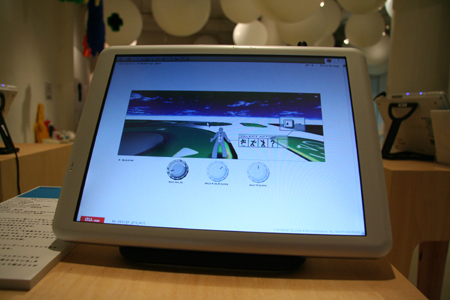 One of the exhibits is a special site of "talby", KDDI design cellular phone by Tohsaki. It's a humorous work that you can play with the designed cellular phone. This is a limited opening to the public during this session.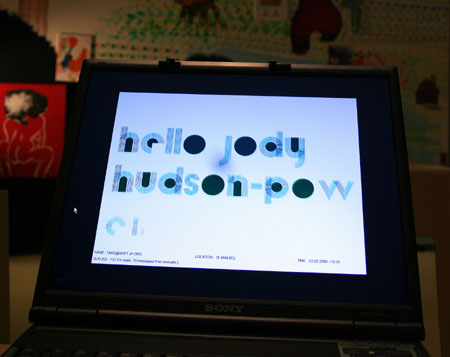 Responsive Type by Hudson-Powell is a site where pursued interactive creativity of Typodesign on the web.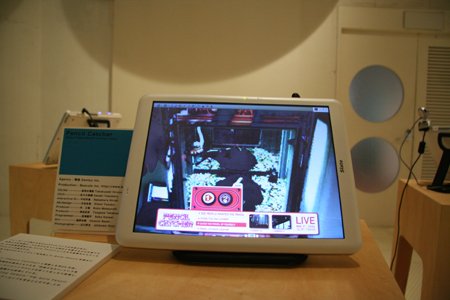 "Pencil Catcher" by Bascul is a site where you can virtually catch the pencil trophy from "One Show", an International Interactive Advertising Award. You can experience the difficulty to capture the prize by using remotely UFO catcher.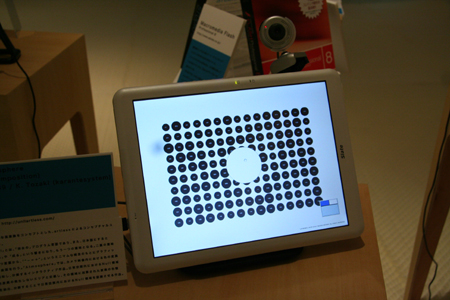 At last, "null*" contributed their work "Factoral Dots" and "Atmosphere" that keep changing the minimum design by the ourside voice and images.
Live presentations by each Fantasista are additionally held with "Flash Fantasista" in the hall. On 10th of March, there will be a presentation by "null*" members and DJ live from 19:30. This will be the preview of their exhibition at "SOSO" in Sapporo, starting from the next day. The SHIFT publisher Taketo Oguchi also will visit the hall and participate in the talk.
Moreover, from 20:00 on 5th of March, there will be an another talk show featuring interesting creative of interactive advertisement by Hisayoshi Tosaki who steps forward as a representative of "The Strippers" and a Dentsu creative director Hirozumi Takakusaki who keeps publishing a creative interactive advertisement.
The work that heals every day life by the media art and the design is created.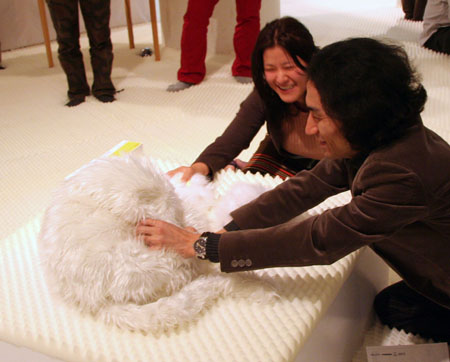 Don't you want to touch this stylish fluff ball of "tabby"? "tabby" keeps expand and contract or shines when you touch like a pet please. A writer Ueki Aturo said "Comparing with the limit of the mechanical pet which is got tired, it becomes loved existence by making the interior like the pet." Most of the woman coming to this room touch this and get excited. An announcer of Fuji Television Network who came to cover talks for the unknown existence also said that she can't say "indescribable" as a professional announcer, but she said inadvertently that in front of the camera because it was. She also said that starting from this mysterious charm, it begins to born the development of high interior as new PC peripherals from this exhibition.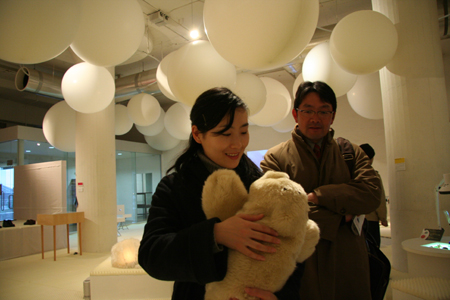 On the other hand, there is a robot putting the theme on healing, too. The robot named "PARO" is reproduced seal's child and introduced healed design and gestures. The prettiness is helpful for the place of nursing and also for a lonely elderly person. It is said that the mechanical pet is got tired, but "PARO" promotes the dependence for the owner by introducing the prettiness as technology. Each robot is sent out after cleaning and proper hair cut. Two creators of "tabby" and "PARO" will held a talk show about healing design by technology from 19:30 on 12th of March at the exhibition hall.
The power of the science changes even the sculpture. "Molfotower", a sculpture with the magnetism liquid changing its shape freely is that. The metal that moves dynamically and delicately creates a sense of impossible existence.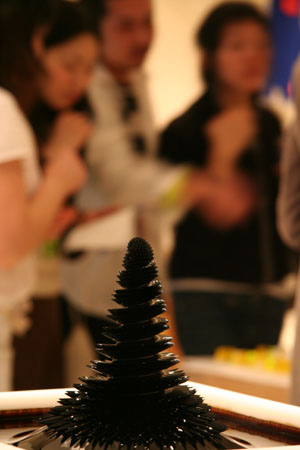 There is also a work to pursue new interpretation in space. One of these "plaplax" continues creating fantastic works with a shadow effect. The latest product "hanahana" visualizes a smell into CG. It is natural the smell to change by environment, but there is a new approach to change environment by smell here.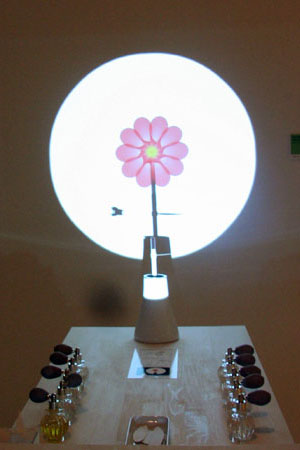 The world of the TV game continues competitions in advanced technology. The TV game developer keeps checking media art that go more ahead than it.
"PainStation" is considered as a legendary machine in the stylish TV games.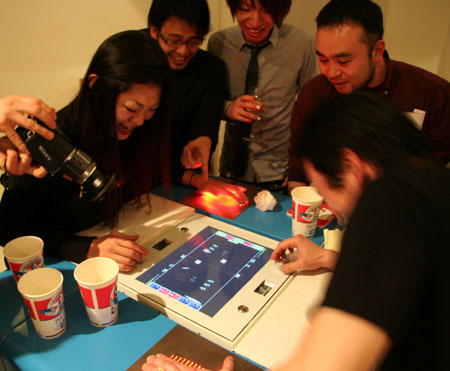 It's just a simple table tennis game. However, my heat beat fast when I play with it. It's because I get electronic shocks when I lose the game. If you can't stand the pain, you will lose the game. Though a game has to be safe merchandise for the demanding of stimulation, this machine is possible to exist because it's an art.
There is an art created from advanced technology, too. "through the looking glass" is a hockey game that you can fight with yourself inside a mirror. The game with sight technology won the prize of the president of The University of Tokyo.
Staying in this work space with many other works elsewhere, you can feel the future where isn't limited by marketing or technology and the future you've ever imagined.
Art will let you realize that there is stimulating technology life which is not cold but warm and tender. Having a new understanding of it might create a new lifestyle we want to have. It was the exhibition letting you feel the sign and a challenge of "Fantasista" go towards the future life.
Artists/Work
//////////fur//// / PainStaion (shown for the first time in Japan)
++X [plaplax] (minim++ (Motoshi Chikamori + Kyoko Kunoh) x Yasuaki Kakei) / Scenting Device Project (new work)
Crispin Jones (UK) / Mr. Jones Watches (shown for the first time in Japan) + katazukue (new work)
Takanori Shibata (Intelligent Systems Reseach Institute, AIST) / PARO
Furi Furi / Mutant Critte
Taruto Fuyama + Trigger Device / co-animation table
Taro Suzuki / Kaze no Michi (new work)
Sachiko Kodama / MorphoTower
Yasuaki Kakei + Ken Naemura (Faculty of Engineering The University of Tokyo) / through the looking glass
Atsuro Ueki / tabby (new work)
United Bows Asao Tokolo + Ken Imai + Eiji Aramaki / MisLeading MisReading
Electrical Fantasista 2006
Date: February 24th – March 14th, 2006 11:30-19:00 (No holidays during the term)
Address: 3-9 Kaigandori, Nakaku, Yokohama, Kanagawa, Japan
*5min walk from Bashamichi Station, Minatomirai Line
*10min walk from JR Sakuragi Station, Kannai Station
Ticket: 500yen
Organized by: Creative Cluster
Grant: Japan Arts Fund
Contact: Tel +81-3-6219-0112
info@creativecluster.jp
http://fantasista.creativecluster.jp
Text and Photos: Tomohiro Okada
Translation: Maki Otomo
[Help wanted]
Inviting volunteer staff / pro bono for contribution and translation. Please
e-mail
to us.