"My dream is to make a bar with media art.", "I'd like to live in a room which has usually media art to always play with."
Now it's usual to have a desire of living to be enclosed by an art and design for computer generations like us. The voices given first are all due to the woman. It is helpless hardness of an old generation that we can see IT only in the man aspect in the age that everyone uses PC and the Internet. For us who always have to associate with a new technology, there must be an art and a design to make it comfortable and to master it so that we can use it as we want.
The media art makes your lifestyle more fun. You can actually feel it by playing with the work. The exhibition overflowing in wonders is held in Yokohama BankART Studio NYK until March 14th.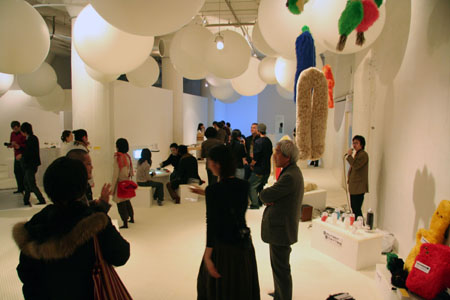 "Electrical Fantasista" Exhibition view
The theme of this exhibition "Electrical Fantasista" is "Fantasista who polish the lifestyle in the IT age". It consists of works by "Fantasista" in our generations who can make the game machine such as the robot and even the IT equipment made by indivisuals.
It's impossible to have a rich life without an art and design. The world of web expression represents it the most. If there is no rich media expression with web, we couldn't fill everything in our life from online nor enjoy broadband. However, the web design that supports such richness hasn't been evaluated as an art in the museums in Japan. The evaluation of the net art in this country is still in the place focusing on the programming or the connotation in the technology.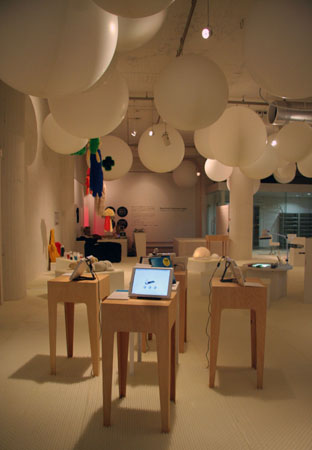 "Electrical Fantasista" Exhibition view
What is the web design as the value of creative that shines by experiencing as a work in the museum? In this exhibition, standing out works by Fantasista are exhibited with the theme of "Flash Fantasista". Individual works, which are presented in a minimum tablet PC we can face directly, are showing its depth, and enjoyable enough even for people who don't usually take account to the web design.
Read more ...
[Help wanted]
Inviting volunteer staff / pro bono for contribution and translation. Please
e-mail
to us.