Shimukappu Village is one of the coldest areas in Hokkaido, the northernmost island of Japan. There is a big resort called Alpha Resort in Tomamu, Shimukappu. It's not unusual this time of year for days to get severely cold with temperatures below -20?. Visitors from all over the world are attracted to witness the best snow conditions being made by the coldness. Even if you are not a skier nor a snowboader, you can enjoy all other kinds of winter activities in the facilities around the mountain. They boast the world's highest twin skyscrapers in a mountainous region, which maybe you've heard about.
However, it is not well known that a fantastic space, with a scholar's idea and engineers' skill, coupled with Tomamu's temperature was also lurking in this resort. In fact, the space has been developed over the last 9 years, but they just started emphasizing the space from this season as the highlight of Alpha Resort. We visited the space where ice domes are clusterd, Ice Village. It was the day that begins the coldest time of the year called "Daikan" in Japanese. To the coldest village on the coldest day!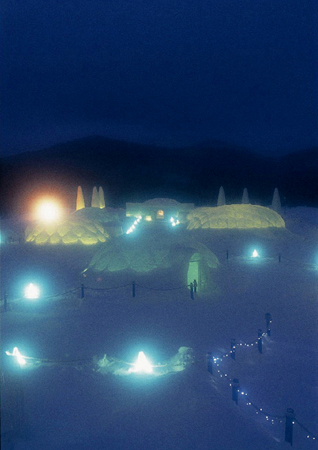 © Tomamu
The Ice Village opens, filled with sparkling illuminations at 5 pm after sunset when it gets colder and colder. Aiming to make the opening time, we took a JR line. Tomamu was less than an hour and half away from Sapporo. The place was closer and easier to access than we had expected. Soon after we arrived at Tomamu Station, the resort was extending in front of our eyes. As a free pickup bus runs in the train's arrival time, you don't need to wait nor lose the way to the resort's area you will visit.
What is the most special feature of this Ice Village in Tomamu among that there are many festivals with snow and ice artworks during the winter months in Hokkaido? It's in an original architectural technique of the huge ice domes being scattered about the small village. Researched and developed by Tsutomu Kokawa who teaches at Hokkaido Tokai University, it became possible to build huge ice domes which are also safe and easy. The place where it meets this possible requirement best was Tomamu in Winter, where it gets severly cold and keeps minus temperatures even in the daytime.
Spraying ice and snow on a big balloon with vinyl sheets and ropes, and making the ice wall grow. That is the original technique. Using this technique and in a good condition with below -10?, a dome with a diameter of 15m can be completed in a few days. It's much easier than the other ways like hollowing out a snow mountain, or piling up ice blocks. The shape can be controlled depending on its usage. The biggest ice dome they had built in the past was one with a diameter of 30m. It is also possible to make a fantastic space with soft lighting because the ice domes have high permeability unlike igloos.
In addition, the most important element is "safety", which is perfectly maintained by intuitions and the skills of Tomamu's production staff. Taking care of temperature and spraying snow, they keep 15cm thick of ice walls based on consistency of 0,6. To avoid direct sunlight, the dome's face is covered by moderate amount of snow. It seemed that the ice was a delicate "creature", living in strict condition.
Read more ...
[Help wanted]
Inviting volunteer staff / pro bono for contribution and translation. Please
e-mail
to us.