This month's SHIFT cover was designed by a young graphic artist Hidehito Shinnou whose work was featured in Shift Calendar Competition. He studied graphic design at school in Nagoya, Japan, and is currently working as a designer. His first solo exhibition in Sapporo will be held at "SOSO"
First of all, could you tell us a bit about yourself?
I am Hidehito Shinnou, born in 1981 and living in Aichi, Japan. I learned design at a school in my home town Nagoya. I'm now doing illustration in spare moments from work.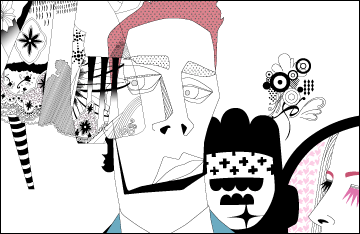 What is your recent main activity?
I have been given jobs from oversea companies after my works appeared in the Calendar Competition. I think it is great to communicate with the people who live in different places. As I joined the second "all you need is… STICKER GRAPHICS" (All Rights Reserved Ltd. Hong Kong) and worked on stickers, I would like my designs to be around our lives in the future too.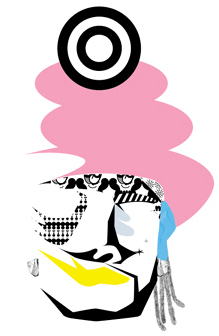 What made you to apply SHIFT 2006 Calendar Competition? And please describe about the winning work.
When I turned 24 years-old there were huge difference between my ideal picture and the real one. Since I expected to be defeated and it would make me stimulated, I could not believe when I got the winning notification and thought I was deceived by someone.
The model for the image is a star player from the NBA Allen Iverson. His feature on the magazine gave me lots of inspiration. When I got home I found some articles about him in a magazine I had, so I worked on the calendar seeing the magazine.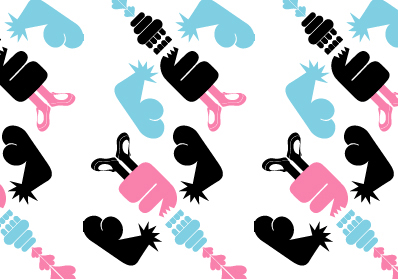 Please explain about the works of "HIDEHITO SHINNOU EXHIBITION" at "SOSO".
When I got the request of the exhibition at SOSO and the cover design for SHIFT, I wanted to make each of them have some connections because I thought it would be boring if they have different themes. You will be able to find some characters from the works for the exhibition after watching the animation for the cover design. About the representation, I made the posters brighter looking than the animation. Because I wanted to make the poster more familiar in your room, rather than have an impact
How the performance at SOSO on Feb 21st will be?
I haven't decided yet. I would like to enjoy drawing while reacting on what I drew at the venue. I think the Sapporo Snow Festival will also give me some inspiration.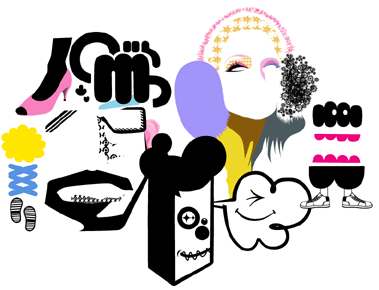 What is your philosophy in designing ?
If it's enjoyable or not.
Is there anything, person, or matters that your current style has been influenced by?
The most influencial thing is that I had been drawing sneakers and basket ball shoes from my childhood. I liked designing by myself and had been thinking how I can make things unique and interesting. Since the impression of drawing can be changed by little differences of lines, I have been getting interested in lines and it has been my basis.
Please tell us about the art scene of your main active area Nagoya.
We can see the illustrations have strong characters more than abstract graphics. I am also one of the people who is influenced by those features. However, I don't think it is important where we work if we have a bigger book store.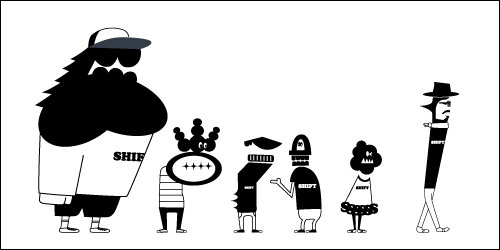 Please tell us about the Shift cover design.
I tried to express the feeling that someone would get by looking at this website, or something similar, combining with what I had. 6 characters came to mind when I was in the first steps of thinking of an idea, mainly I used them and developed each word of "S" "H" "I" "F" "T" in order. As for the expression, I tried not to have a concrete concept, and made it freely not to leave any bias afterwards.
What are you planning to do near future?
I made a movement to my drawings for the first time in this cover design, and got lots of things to express, so I would like to learn more about the animation from now. I feel I can do something interesting.
Please leave a message to readers.
My work is successful if you think "Oh!"
Hidehito Shinnou
Address: 2-13-22, Nishiyama, Asahi, Owari, Aichi, Japan
Tel: +81-90-4164-4351
h.shinno403@cyber.ocn.ne.jp
www.shinno.info
Text: Yurie Hatano
[Help wanted]
Inviting volunteer staff / pro bono for contribution and translation. Please
e-mail
to us.